Metroparks Volunteers Honored at mParks Awards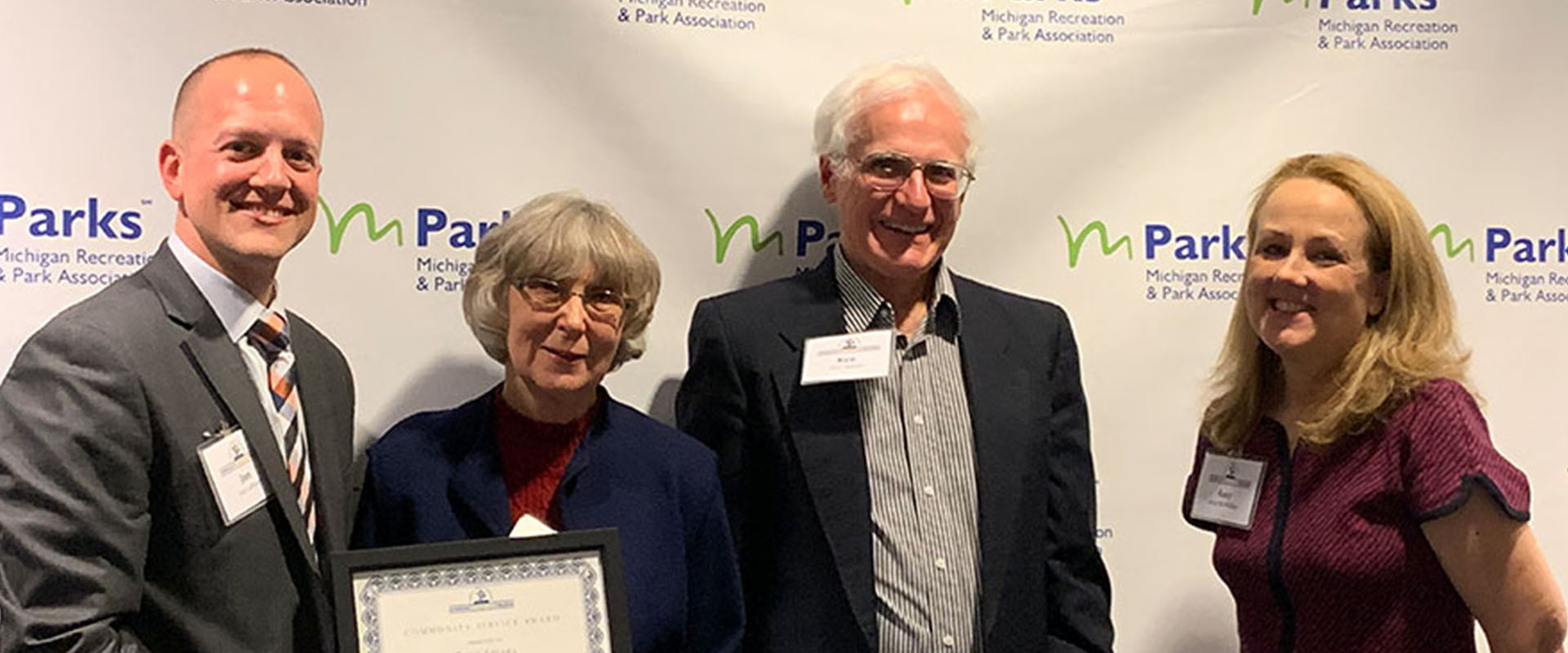 Metroparks Volunteers Honored at mParks Awards
The Metroparks are excited to announce that three of our regular volunteer groups were awarded mParks Volunteer Service Awards at a ceremony last night. Our nominees and staff traveled to Lansing where mParks awarded Toni Spears, CRAMBA and Beyond the Seed Greenhouse & Gardens for their committed service to the Metroparks.
Volunteers contribute upwards of 28,000 hours per year to the Metroparks, and their efforts help us achieve goals we otherwise could not.  We appreciate each and every one of our volunteers, but we were pleased to nominate three exceptional volunteer groups for the mParks Volunteer Service Awards this year. We were even happier when all three were awarded! Congratulations to these volunteers on their continued service.
About These Awesome Volunteers
Toni Spears has been a long-time volunteer for the Metroparks, contributing thousands of hours of service to the Natural Resources department removing invasive species since 2017. In 2018, Toni volunteered over 500 hours removing invasive species and helping with land management at both Hudson Mills Metropark and Dexter-Huron Metropark, located in the Dexter and Ann Arbor areas of the Metroparks' Western District. Because of the strategic plant management and the countless hours of hands-on work Toni has done at Dexter-Huron Metropark, we are proud to have the main woods area of Dexter-Huron Metropark filled with desirable and exciting wildflowers. It is exceedingly rare to have such a vast natural area virtually free of invasive species in southeast Michigan. We are grateful to Toni for her commitment and applaud her great work in removing non-native species throughout Washtenaw County.
Stony Creek Metropark has a strong, long-term partnership with the Clinton River Area Mountain Bike Association (CRAMBA). CRAMBA volunteers hundreds of hours every year towards trail maintenance work and has become a major supporter, and advocate, for the Shelden Trails Development Project. CRAMBA volunteers started helping maintain the Shelden Trails, a 14-mile multi-use trail system at Stony Creek Metropark in 1990. CRAMBA volunteers help with trail maintenance throughout the year, setting up regular volunteer workdays to help with clearing overgrowth and doing minor restoration to the trails. The partnership has evolved into a deeper partnership as CRAMBA has become heavily involved in the Shelden Trails Development Project- a three-year project to redevelop the Shelden Trails system and will address the safety and navigability concerns as well as define a single-track loop while respecting the natural habitat of the area.
We are honored to also partner with the Cerku Family and the Midnite Riders 4-H group on their major accomplishments and contributions of their greenhouse and garden project: Beyond the Seed. The greenhouse has been a great asset to Wolcott Mill Metropark and has become an attraction for park visitors and students, alike. In addition to the greenhouse itself, the Cerku family and the 4-H group have expanded outdoors, including 42 raised beds for vegetables and a 70' x 70' floral garden.  The 4-H members are responsible for planting, watering, and maintaining the flowers and crops throughout the season. Most recently, a hydroponic system was installed, which is bringing about more interest in farming. The hydroponic demonstration stations include six different types of water systems growing over 530 plants. Faye also launched an entrepreneurial farming project for the 4-H members, specifically designed to teach them about running their own business.
If you are interested in becoming a volunteer yourself, be sure to visit our website.  We have a variety of opportunities for you to get involved year-round! To learn more about volunteering with us, click here!