31300 Metro Parkway, Harrison Township, MI 48045

(586) 463-4581

Park Hours:
7 a.m. – 8 p.m.
Park Office Hours:
Monday – Friday 8 a.m. – 4 p.m.
Saturday & Sunday 8 a.m. – 5 p.m.
Park Fees: $10 Daily or Annual Vehicle Pass DETAILS
Here at Lake St. Clair Metropark, you'll find recreational activities for every interest. Whether it's bird watching, windsurfing, kiteboarding, boating, bicycling or swimming, we've got it here on the shores of Lake St. Clair. Come bike, hike, jog or in-line skate on our paved trail or hop out on the water from our marina. Better yet, jump in for a swim in the lake or our Olympic-sized swimming pool, featuring waterslides and a massive spray ground. Got a taste for golf? We've got that too. With a Par 3 course, an Adventure golf course to test your putting finesse, and a foot golf course too. Winter brings even more fun, with ice fishing, cross-country skiing and ice skating with friends and family. 
Click an icon for more information.
Your Huron-Clinton Metroparks are committed to removing barriers, creating and improving access and increasing recreational opportunities for all.  As we look to the future, we will develop, update and improve facilities to meet or exceed ADA requirements – and look for ways to remove barriers to access so that individuals of all abilities have equitable access to Metroparks facilities, programs, services and activities. Click here to learn more about accessibility and how to request an accommodation at your Metroparks. 
Fishing Pier & Observation Deck
Located along the Black Creek, near the North Marsh Boat Launch Area, our accessible fishing pier and observation deck features low railings, benches with back and arm rests, elevated tackle box surface and other amenities that enhance accessibility. The site also has cement pathways leading to the platform, accessible van parking spaces and accessible portable toilet next to the path.
Golf Cart
An accessible golf cart is available, when playing a round, at the Lake St. Clair Metropark Par-3 golf course. Reservations can be made by calling the course, (586) 463-4581, a minimum of 24 hours in advance.
Hike-Bike Trail
A 3.75-mile flat, paved trail leads through the park and connects to the Freedom Trail along Metro Parkway.
Dogs are allowed on the trails, but must be on a 6-foot leash at all times.
Picnic Shelters
We're adding new accessible picnic tables and grills to several picnic shelters throughout the park system. Work continues on installation of new concrete grill pads and securing picnic tables in arrangements that allow for unobstructed movement around them. Picnic shelter rental information will be updated on our website as changes are made.
Playground
Located near the Park Office, this large fenced-in playground has areas for kids ages 2-5 and 5-12. Play features include tot, belt and harness swings, spinners, rockers, slides, climbing structures, a cable net structure and transfer stations. Equipment is on poured-in-place rubber surfacing. Accessible water bottle filling station is available. Shaded seating areas throughout the space.
Metropark Express
First ever public transit connection to a Metropark kicks off September 3, 2021. The Huron-Clinton Metroparks and SMART announced the launch of a joint collaboration aimed at promoting health and improving equitable access to parks and recreation. Metropark Express is a pilot transit program in partnership with SMART.  Visitors can take a SMART Flex on-demand service from the Gratiot & 15 Mile bus stop to popular destinations within Lake St. Clair Metropark.
Mobility Carts & Shuttle Service
Mobility carts are available for rent at the Park Office on a first-come first-served basis. There is a $20 deposit and a $5 per hour charge for use of a cart.
Shuttle bus service from parking areas to Huron Point picnic area, the wedding gazebo and shore fishing area is available on weekends and is wheelchair accessible. Please verify Covid-19 operating precautions before planning to use this service. 
Nature Center
Exhibits inside the Lake St. Clair Metropark Nature Center include an interactive, audio-capable touchscreen, tactile objects for hands-on learning and sensory stimulation and an accessible exhibit wall featuring tanks with live reptiles, amphibians and fish. New low-pile carpet, lever-style door handles, realistic artwork and reading materials with appropriately sized text and high contrast colors have been installed.
Click here to learn more about accessibility at the Nature Center.
Nature Trails
The 1.5-miles of nature trails are comprised of compact gravel substrate with easy curves and very little increase in elevation. These paths cross over two wooden plank bridges and allow access to a ¼ mile long boardwalk and a rustic grassy pathway that is off the main trail. Pets, bicycles, and running on the trail are prohibited.
Pool & Squirt Zone Spray Ground
The pool facility can be accessed from a paved walkway from the parking lot. A ramp path is provided to get onto the pool deck. A portable lift is available to enter the pool. Family, men's and women's changing rooms are available for use.
The Squirt Zone Spray Ground located outside of the pool complex can be accessed by paved walkways. All ground spray features and water cannons are accessible and located on poured-in-place rubber surfacing. Many benches and five small shade structures area on the concrete pavement surrounding the facility.  Family, men's and women's changing rooms are available for use at the pool complex.
South Marina
Located at the South Marina, four accessible floating docks area available at the North end of the marina. Accessible picnic tables are available around the marina area.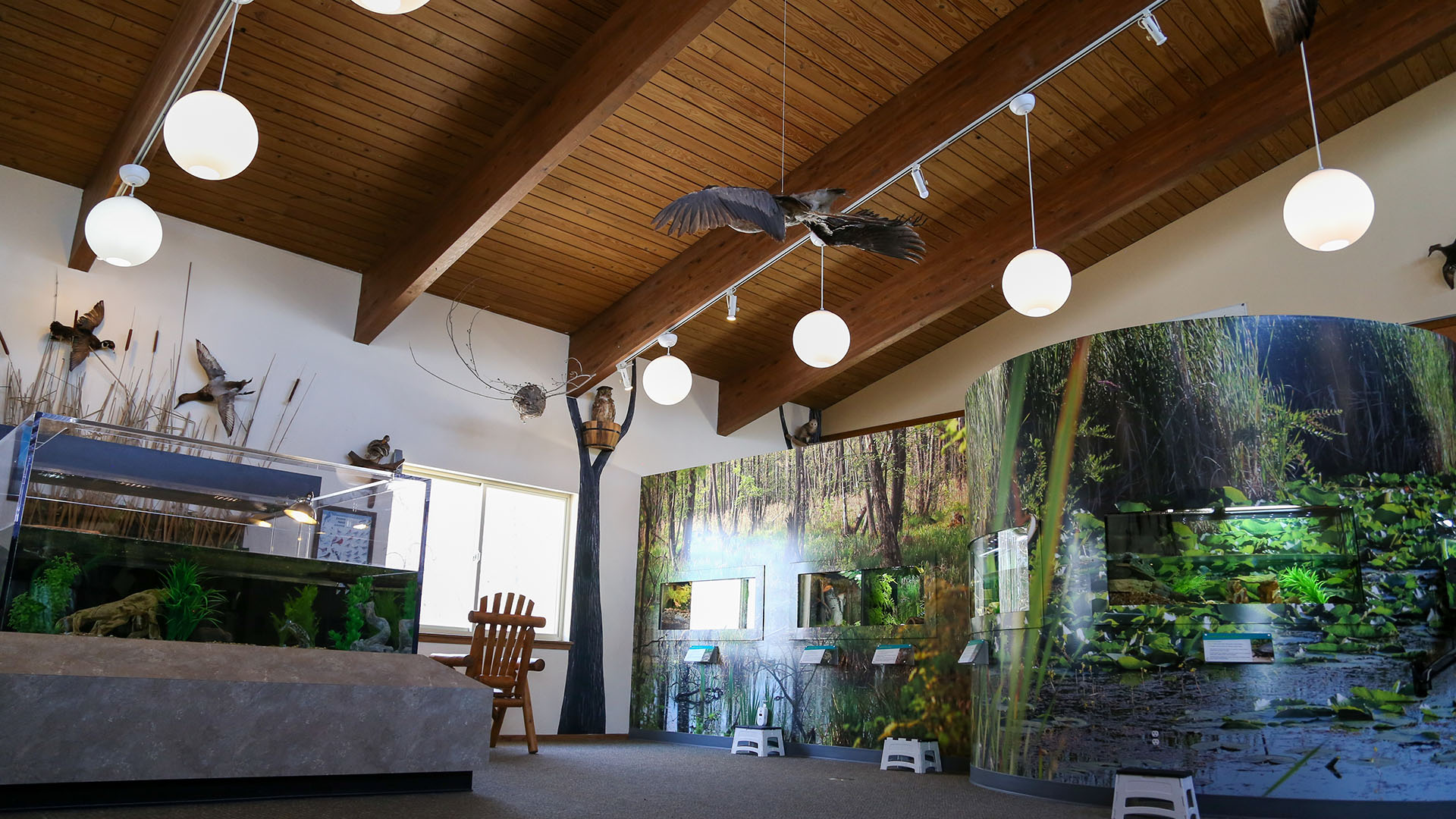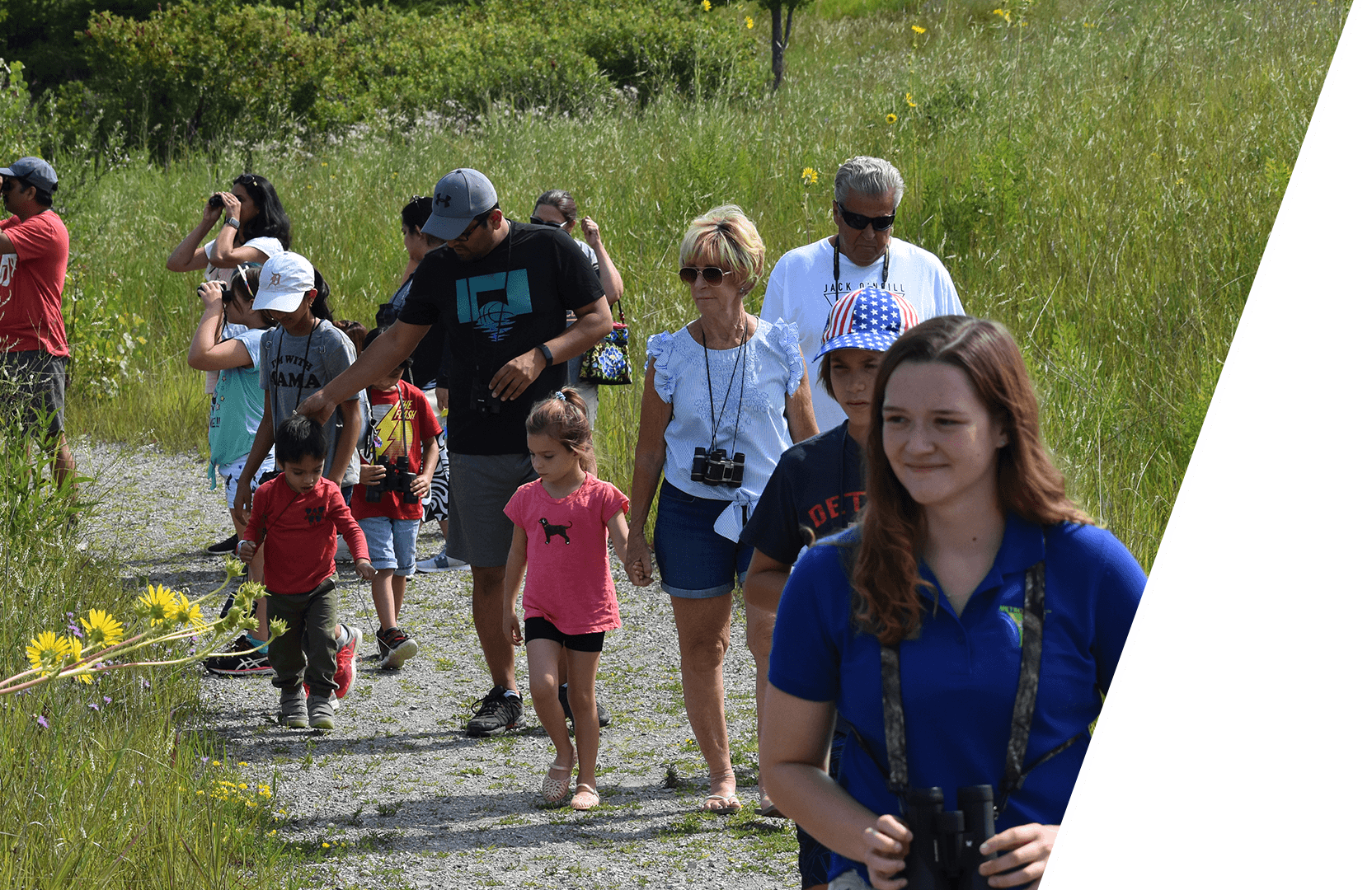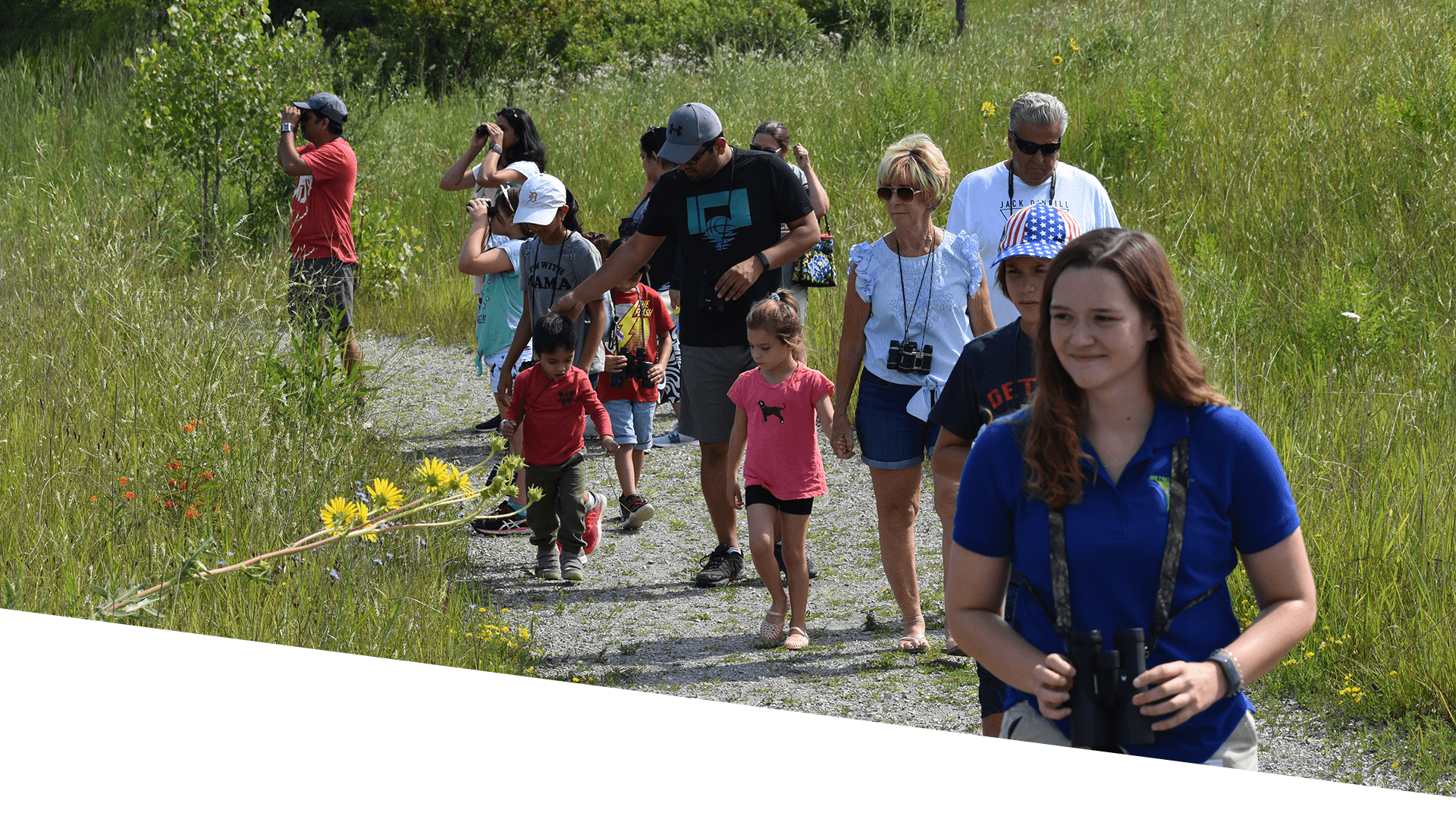 LAKE ST. CLAIR PHOTO GALLERY