THEY'RE YOUR METROPARKS.
HELP KEEP THEM AWESOME.
Love the Metroparks? Enjoy time in the Metroparks? Want to know more about the Metroparks? Then consider volunteering at the Metroparks. It's a wonderful way to do good for the community while having a great time in 25,000 acres of woods, water and recreational facilities. Learn more below, then sign up soon.
VOLUNTEERING
We're going to be real honest: The Huron-Clinton Metroparks relies on volunteers. After all, those 25,000 acres under our care need a lot of attention. And while we have a lot of paid staff, both full and part time, it's our volunteers who make it possible to give the 13 Metroparks as much attention and TLC as they need … and deserve. 
The great thing about volunteering at the Metroparks is there's something for everyone. Love animals? Help out at our Nature Centers and Farm Centers. Got a green thumb? Help us care for natural flora and fight invasive species. Into golf? We've got eight courses you can volunteer at. 
Springtime is particularly important when it comes to volunteering. It's when we get ready for the summer months ahead. Volunteer workdays are held both on weekdays and on weekends, typically for two to four hours, all year long. And don't forget, volunteering can be an excellent team-building exercise: Volunteer workdays can be specially scheduled for organizations, businesses and other groups.  
The daily park entrance fee is waived for volunteers on the day of service. And you're welcome to enjoy the park when your shift has concluded. A liability waiver is required; if under 18, a parent/legal guardian must sign as well.  
And don't worry. When you volunteer at the Metroparks, we supply all the tools and equipment you'll need. 
VOLUNTEER OPPORTUNITIES
Every year thousands of volunteers donate countless hours to the Huron-Clinton Metroparks. Become an invaluable member of the team by joining efforts to preserve the Metroparks and enhance the environment for generations to come.
Community & Scout Projects
Looking for a one-of-a-kind group activity for your company, club, neighborhood association, or church group? Collaborating with the Metroparks on a special volunteer project can make for an unforgettable experience. 
Scouts – and scouting groups – can also make the most of volunteering at the Metroparks. A number of volunteer projects can qualify for merit badges and help earn rank as an Eagle Scout. 
If you have any questions or to learn more about available projects, please contact our Volunteer Services Supervisor, Katie Kowalski, at katie.kowalski@metroparks.com. 
Company & Organization Volunteering
We invite companies and organizations to to volunteer! Think team-building activity or a great way to spend the day at the park giving back by removing invasive species, collecting native seeds, picking up liter, building picnic tables or helping at events.
Typically, we hosts corporate groups of 5 to 25 people, but we can accommodate larger groups. On average, volunteer days range from two to six hours in length. Materials and tools needed are provided for volunteer days, but volunteers are asked to bring work gloves, and dress to be outdoors, wearing closed to shoes.
To set up a volunteer day is easy.  Simply contact Volunteer Services Supervisor, Katie Kowalski, at (810) 494-6020 or katie.kowalski@metroparks.com and she will work with you to coordinate a date, time and activity.
Golf Volunteers
If you love the great game of golf (like we do), you'll find all kinds of ways to volunteer at the Metroparks. We ask our golf volunteers to make a commitment of one shift per week and – of course – have prior knowledge of the game. Some responsibilities of a golf volunteer can include:  
Maintaining pace of play

 

Filling divots

 

Repairing ball marks

 

Moving tee marks

 
Our golf volunteers also have the perk of FREE golf! To sign up to volunteer, download and complete the application and volunteer waiver forms by clicking on the button below and then return to the course where you would like to volunteer: 
Natural Resources Volunteer Days
Volunteers are an essential part of our fight against invasive plant species and the continued work of restoring and conserving our natural areas. We're always looking for volunteers to help with ecosystem management and restoration. Without the work of our volunteers, many native plants, wildflowers and animals would be crowded out. 
The Metroparks Natural Resources Department typically holds two to four volunteer events each month from March to November.  
When you volunteer, please be sure to dress for working outdoors and in areas that may include poison ivy (long pants, long sleeves, closed-toe shoes, rain gear, bug spray/sun screen, etc.). If you have favorite work or gardening gloves, bring them. If not, we will provide some. 
To volunteer, download and complete the application and volunteer waiver by clicking on the button below and return to naturevolunteer@metroparks.com. 
Remote or Self-Guided Volunteering
Your Metroparks value the work and impact that volunteers bring to our park system. We are excited to offer remote or self-guided volunteer opportunities this year. Groups, families, individuals, and companies are encouraged to participate.
Volunteer to Make Nest Boxes
The Metroparks are inviting volunteers to, remotely, help make nest boxes to be used at the Farm and Nature Centers throughout the Metroparks. Nest boxes are used by birds and bats for seasonal nesting, roosting and storing prey year-round.
Volunteers will sign up to make a specific type of nest box for a specific Metropark Farm or Nature Center. Once registered, use the instructions provided to build your nest box. After your box is complete, please contact Katie Kowalski, Volunteer Services Supervisor, at Katie.Kowalski@metroparks.com to arrange drop off and then staff will install boxes.
To sign up visit https://www.signupgenius.com/go/30E0A49A8A72CA7F49-remote.
Please note, volunteers are responsible for purchasing all materials and should follow the instructions provided. If volunteers have their own plans, they will need to seek approval to use those plans.
Nest Box Instructions
| | | | |
| --- | --- | --- | --- |
| Screech Owl Boxes: | Kestrel Boxes: | Bat Boxes: | Native Bee Houses: |
Ready to volunteer?  Simply, download and complete the volunteer application and volunteer waiver. You can return it via email to our Volunteer Services Supervisor, Katie Kowalski at katie.kowalski@metroparks.com.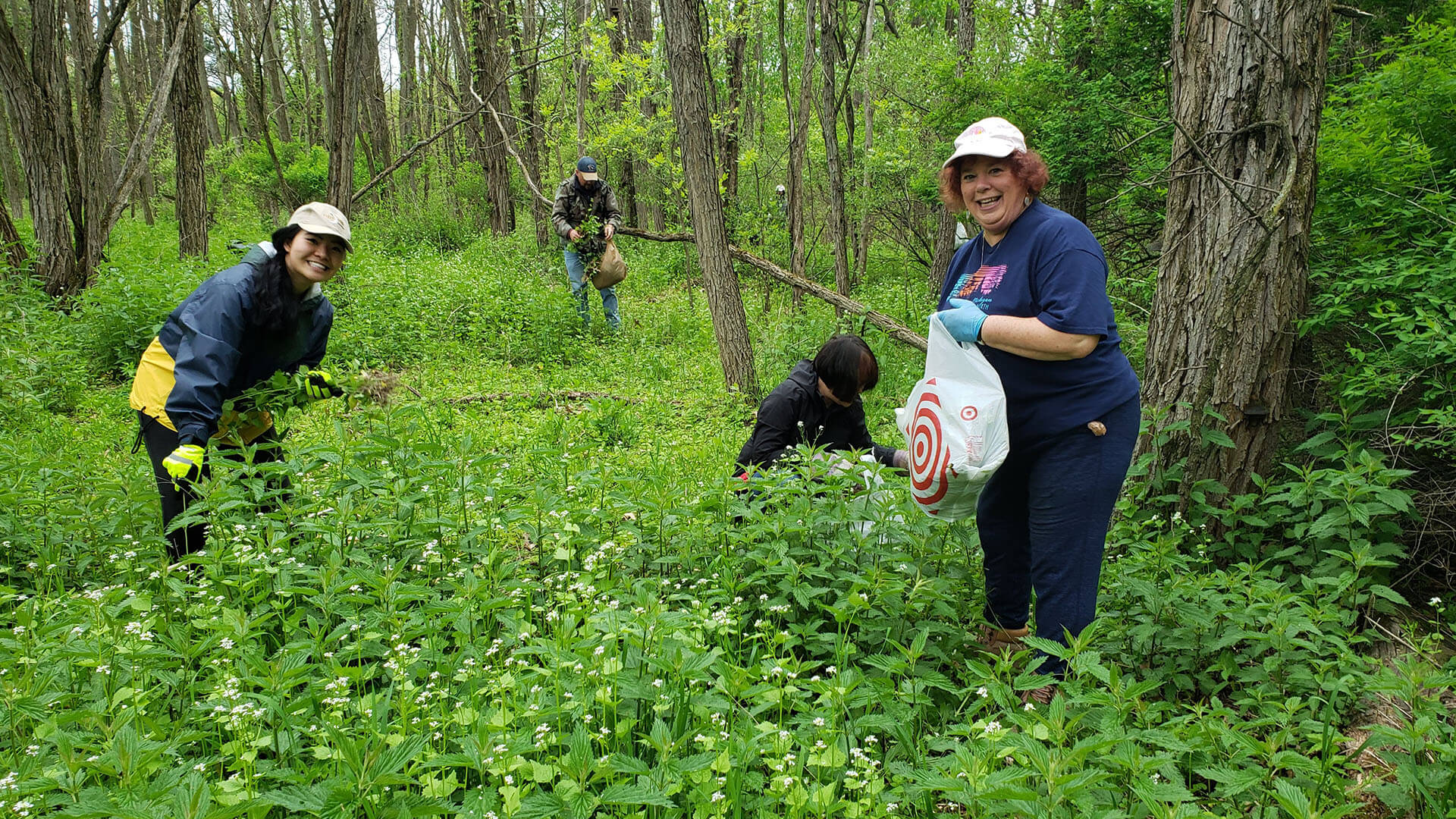 Frequently Asked Questions
Do I have to apply to be a volunteer?
Yes, volunteers must fill out a volunteer application and a liability waiver. No previous experience is necessary. Workday leaders will orient volunteers to the procedures and safety precautions of each activity.
How fit do I need to be?
If you are in good physical health and can handle carrying or dragging 10 – 25 lbs., walking on uneven terrain and bending or stooping, you should have no trouble with our workday activities. If you need accommodations for your volunteer workday, please contact Katie Kowalski at katie.kowalski@metroparks.com.
Do I have to sign up or can I just show up?
Pre-registration is required for all workdays. We ask that you pre-register so we can provide the number of tools for everyone expected to be in attendance. This also helps us adjust the activity to the number of volunteers and make sure that your valuable time is not wasted. For help with registration, please contact Katie at katie.kowalski@metroparks.com.
What do I need to bring to the workday?
Please come dressed for outdoor work. This means long pants, closed-toe shoes or boots (waterproof shoes in wet conditions), layers for varying weather conditions, a hat to protect from the sun, etc. While the Metroparks will provide water, it is always smart to bring your own water or reusable container.
Is there a minimum age limit?
Volunteers of all ages are welcome, however, volunteers under 14 will need a parent or adult to volunteer with them. Some activities are more appropriate for young children than others. For example: Garlic mustard pulls and native seed collections are appropriate for all ages, while invasive shrub removal involves using sharp tools, herbicide and handling thorny plants and is better suited for older volunteers. Please use discretion or ask a Volunteer Coordinator before bringing young volunteers to workdays.
How do you decide whether to cancel a workday?
If there is impending inclement weather, we may decide to cancel a workday. Also, if very few volunteers register, it may not be effective to go through with the workday. In the event that a workday is canceled, look for a cancellation email to registered volunteers.
Do I have to stay for the whole workday?
No. We are grateful for any amount of time you can volunteer. If you cannot stay the entire time, we do ask that you arrive on time and leave early. We often hike a short distance to our worksite from the parking area. If you arrive late, you may not be able to find the group.
Will there be bathrooms at the workday site?
Workdays are almost always scheduled at sites with restrooms within walking distance. 
Can I get community service credit for volunteering at workdays?
Yes. Workday leaders are happy to sign any papers required to give volunteers community service credit. If you are expecting credit for the full duration of the workday, please stay until the end. 
How do you decide where workdays take place?
Our workday sites are chosen based on volunteer accessibility, restoration need and ecosystem quality. Because there are so many sites that need volunteer attention, we try to get volunteers out to as many of our Metroparks as possible. You can always be sure that the area you are working in is in need of restoration help and that the work you are doing will be lasting.
Can we do a workday on a different day/time than is listed on the schedule?
Yes. We are flexible in scheduling special workdays for groups or organizations. If you are interested in scheduling a workday for your group, contact Katie Kowalski at (810) 227-2757 x6086 or katie.kowalski@metroparks.com.