THEY'RE YOUR METROPARKS.
WITH SOMETHING FOR EVERYONE.
Diversity. Equity. Inclusion. As Southeast Michigan's regional park system – created and maintained for the benefit of everyone who calls this region home – those three words are more than just good ideas. They are at the heart of our commitment to be the best place to be yourself.
DIVERSITY, EQUITY & INCLUSION
Our Diversity, Equity and Inclusion Department was created in December 2018 by the Huron-Clinton Metropolitan Authority Board of Commissioners. Our purpose is to help make the Metroparks a more just, more accessible and more enjoyable park system for everyone in Southeast Michigan.
Our approach to DEI is based on our unwavering belief that the Metroparks were created for all the people of Southeast Michigan. And that the Metroparks are at their best when all people feel welcomed, respected and valued by our organization and across our footprint.
Since our founding, we've focused on four key tentpoles: Collecting actionable data about DEI challenges and opportunities as they relate to the Metroparks; converting collected data into action; developing and implementing comprehensive staff training; and the commitment to serving ALL members in our region.
From building accessible playgrounds to providing internet hotspots in underserved communities to improving hiring practices to hosting focus groups across the communities we serve, DEI at the Metroparks is active, ongoing and focused on people. We are committed to staying ahead of the challenges the Metroparks face as an organization while being innovative and helpful partners to the community.
At the Metroparks, diversity, equity, and inclusion are intrinsically linked – one affects the other and we won't succeed unless we succeed on all three. We're here to be stewards not only of a leading metropolitan park system, but the public trust of a region that sustains us with its tax dollars and support.
We believe in a win-win approach to solving DEI challenges – when the parks are more accessible for everybody, the entire community benefits.
Our current initiatives include:
Creating a custom training curriculum specific to the Metroparks' unique needs and challenges. All Metroparks full-time, part-time and seasonal employees go through this training, which is regularly evaluated to ensure we're achieving meaningful progress towards our goals.
Coordinating ongoing, specialized training for the Metroparks Police Department, led by third-party experts in law enforcement to make sure that we're implementing best practices for our team members and the communities they protect and serve.
Making our hiring process more accessible to diverse candidates and establishing a values-based interviewing process to ensure a greater culture of equity and opportunity.
Establishing partnerships across diverse communities throughout Southeast Michigan to help inform our programming, gain helpful feedback on our performance and increase visibility and accessibility to underrepresented groups across the Metroparks system.
Moving Forward
Looking ahead, the Metroparks will follow up on our initial Climate Survey, assessing the progress we've made toward our diversity, equity, and inclusion objectives. We'll continue to collect pertinent data (including customer surveys, census data, attendance figures and more) that will help us gauge the DEI culture at the Metroparks and identify opportunities to further enhance our offerings.
Building a culture more attuned to the values of diversity, equity and inclusion isn't always easy. But we believe it's always the right thing to do – and always worth the effort it takes. Honestly, addressing our DEI challenges and pursuing our DEI goals is an expression not only of the letter of the Metroparks mission, but the spirit of stewardship as well.
The Metroparks have always been about bringing people together. We affirm that responsibility and commit to making this park system better and more inclusive for all.
METROPARKS ADVISORY TEAM
The DEI Advisory Team was formed in 2019, with the purpose of supporting the work of the DEI Department across the park system by becoming trained advocates, facilitators and thought partners.
Dale P. Alexander, Lieutenant
"I joined the DEI Advisory team to try and make a difference."
Tracy Houser, Customer Service Representative
"I joined the DEI Advisory Team to help spread the feeling of belonging throughout the organization for employees and park patrons. I feel it is important for the growth of the organization to share DEI information and have a safe space for employees to come for discussion."
Sue Knapp, Park Operations Supervisor
"I joined the DEI Advisory Team to help create safe space conversations while learning and developing more respect and understanding of diversity, equity and inclusion. I believe DEI is an important factor in the growth of any organization, while also encouraging personal growth for employees."
Katie Kowalski, Volunteer Services Supervisor
"I joined the advisory team because I value the principles of DEI and I want to turn my advocacy for these principles into action. I am particularly interested in accessible recreation, but I'm excited to learn more about inclusivity and how my position within the Metroparks can help with diversity and equity."
Bruna Salerno, Building Maintenance Specialist
"I have been a proud employee of the Metroparks since October of 1999 and my desire to join the DEI team came from a place of wanting as many people as possible to feel as welcome in the Metroparks, just like I have."
Steve Sebert, Park Operations Supervisor
"I joined the DEI Advisory Team to help better understand points of view from other groups of people in the world. In turn, I then hope to improve the experience of our employees and patrons as they interact in the Metropark environment. I have enjoyed a long career with the Metroparks and appreciate the excitement each new day brings, as well as interacting with co-workers and patrons alike."
Victoria Sluder, Interpretive Services Supervisor
"I joined the DEI Advisory Team to participate in thought-provoking conversation and to gain topical insight and new perspectives that I could share with my interpretive team and beyond. I have always loved being inspired by asking the "why" and looking at facts from new angles. I love the fact that the Metroparks is over 80 years old and yet is continuing to invent itself to be the best possible reflection of the community's needs."
Maria Tejada, Diversity, Equity & Inclusion Assistant
"I am passionate about creating safe spaces for everyone to learn, connect and challenge their own narratives. My favorite part about the Metroparks is the peace and joy the parks can provide toward my physical and mental health. I am currently continuing my education in DEI with a focus on learning more about Indigenous Peoples and the history of the land I currently reside on."
The Metroparks' DEI Speaker Series and DEI Conversations are a way for us to share in open conversations, to expand our learning and advance the concepts and practices of diversity, equity and inclusion as it relates to our parks, community, region, state and beyond.
Throughout the year, we will feature national, regional and local speakers presenting on a variety of topics related to the theme "Growing with the Future in Mind".
If you have any speaker or topic recommendations, please send them to Artina Carter, Chief of DEI at Artina.Carter@metroparks.com.
---
Upcoming Speakers & Presentations
DEI Speaker Series: Gen Z in the Workplace
We invite you to join the Metroparks Board of Commissioners at a special board session on Thursday, September 14 at 11:00 a.m. either in-person or virtually. At this special board session, we will welcome panelists Imani Foster and Jeremiah Steen for a live panel discussion, moderated by Danielle Macon, DEI Specialist at the Metroparks.
This live panel will explore the benefits of generational diversity in the workplace. The panelists will discuss the importance of Gen Z and multigeneration perspectives and inclusion. They will explore topics such as workplace policy, staff engagement, and commitment to community engagement. Each panelist will dissect their experience in carving out youth-led spaces and challenges with working in multigenerational spaces as young professionals.
Panelists include:
Imani Foster, Communications Director, 482Forward
Jeremiah Steen, Executive Director Steen Foundation, Board Member at Friends of the Rouge and Detroit Audubon
Date: September 14
Ages: 13 and up.
Time: 11 a.m. – Noon
Cost: Free!
Location: Lake Erie Metropark, Great Wave Area Food Bar & Zoom, https://metroparks.zoom.us/j/87595566113
Pre-registration is not required.
---
Cultural Awareness: Indian Immigrants
We invite you to join us virtually to hear Dr. Arifa Javed give a presentation titled "Indian Immigrants in the Metro Detroit Area- A Socio-Cultural Profile". Dr. Javed will discuss immigrant experiences, culture, and stereotypes/myths about Indian American communities in the Metro Detroit Area.
Dr. Arifa Javed is a Sociologist and Documentarian. Her research interests have been in areas of social transformation and minorities and ethnicity focusing the interplay of faith, race and culture in the formation and reformation of one's social identity. After moving to the United States, her focus broadened to include the role immigration, acculturation and changing family dynamics play as a cause or an effect in the overall social transformation of immigrant minorities and ethnic groups.
Date: October 6, 2023
Ages: 13 and up.
Time: Noon – 1:10 p.m.
Cost: Free!
Location: ZOOM Webinar, https://metroparks.zoom.us/j/81443429421
Pre-registration is not required.
---
Cultural Awareness: Native History in Michigan
We invite you to join us to hear Eric Hemenway give a presentation titled "Native History in Michigan: Untold Stories in the Wolverine State". His talk will look at how Michigan's tribes helped shape Michigan and American history.
Eric Hemenway is an Anishnaabe/Odawa from Cross Village, Michigan. He is the Director of Repatriation, Archives and Records for the Little Traverse Bay Bands (LTBB) of Odawa Indian, a federally recognized tribe in northern Michigan. Hemenway works to collect and preserve historical information for LTBB Odawa. That information is used to support the LTBB government and create educational materials on Odawa history, such as: exhibits, signage, publications, presentations, curriculums, and media.
Date: November 2, 2023
Ages: 13 and up.
Time: Noon – 1:10 p.m.
Cost: Free!
Location: ZOOM Webinar, https://metroparks.zoom.us/j/83831900251
Pre-registration is not required.
Past Speakers & Presentations
Culture Awareness: Sound Bath Healing
A presentation from Dr. Rose Moten, Clinical Psychologist and owner of Bloom Transformation Center, spoke on the history, cultural significance, and health benefits of sound bath meditation and healing. This presentation focused on health and meditation mindfulness and the rich culture of the sound bath experience.
A sound bath is a meditative experience where those in attendance are "bathed" in sound waves. These waves are produced by various sources, including healing instruments such as gongs, singing bowls, percussion, chimes, rattles, tuning forks, and even the human voice itself.
Click here to view the presentation.
---

Anthony Abraham Jack discussed the topic "Access is NOT Inclusion". In this talk, he encouraged the audience think about the topics of recruitment and retention differently through the examination of taken-for-granted policies and practices that advantage some and place undue burdens on others.
Anthony Abraham Jack is currently a Junior Fellow at the Harvard Society of Fellows, an Assistant Professor at the Harvard Graduate School of Education, and the Shutzer Assistant Professor at the Radcliffe Institute for Advanced Study. The New York Times, Boston Globe, The Atlantic, The New Yorker, The Chronicle of Higher Education, The Nation, American Conservative Magazine, The National Review, The Washington Post, CNN, Vice, Vox, and NPR have featured his research and writing as well as biographical profiles of his experiences as a first-generation college student. The Privileged Poor: How Elite Colleges Are Failing Poor Students, which was awarded the 2020 Mirra Komarovsky Book Award, 2019 CEP Mildred Garcia Award (Junior) for Exemplary Scholarship, and the Thomas J. Wilson Memorial Prize and named NPR Book's best Book of 2019, is his first book.
---

MLK 101 is a series of special events created in partnership with Huron-Clinton Metroparks, the Howell Carnegie District Library, and the Livingston Diversity Council. MLK 101 is designed to expand and deepen our understanding of who Martin Luther King, Jr. was as a person, a pastor, a nonviolent activist, and his lasting impact on the civil rights movement.
Dr. Tiffany Gill, PhD will deliver a 30-minute presentation on Black Women's Activism in the Civil Rights Movement, followed by a 30-minute Q&A session.
---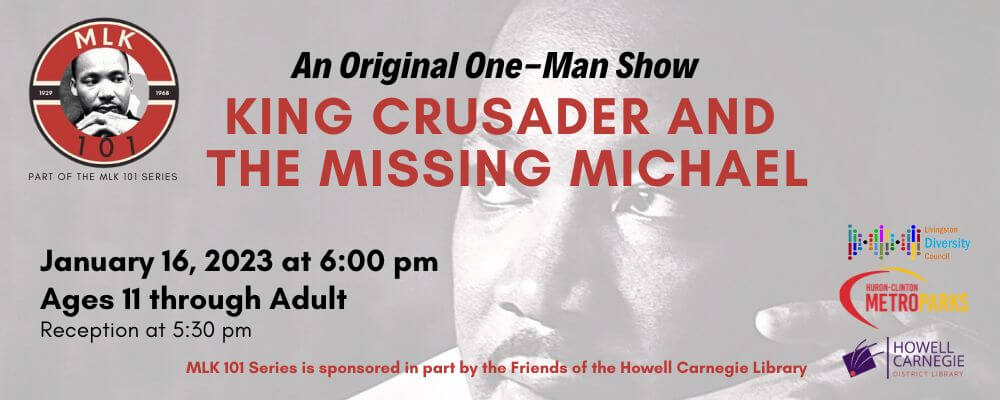 MLK 101 is a series of special events created in partnership with Huron-Clinton Metroparks and the Livingston Diversity Council. MLK 101 is designed to expand and deepen our understanding of who Martin Luther King, Jr. was as a person, a pastor, a nonviolent activist, and his lasting impact on the civil rights movement.
As part of our MLK 101 Series, the Howell Carnegie Library, in partnership with the Livingston Diversity Council and Huron-Clinton Metroparks, presents King Crusader and the Missing Michael, an original one-man show from the Black and Brown Theatre of Detroit. This is an interactive show exploring the life of Martin Luther King, Jr. Using a combination of historical facts and fantasy in storytelling, creator Edmund Jones entertains with an educational and fanciful look at the civil rights icon. Click below to view the recording of the show.
https://www.youtube.com/watch?v=2D-6Gqp7igI
---

Diversity, Equity and Inclusion (DEI) conversations are a way for us to share in open conversations, to expand our learning and advance the concepts and practices of DEI as it relates to the Metroparks, our community, region, state and beyond.
We invite you to join the Metroparks Board of Commissioners at a special board meeting on Thursday, December 8 for a DEI Speaker Series with Ellen Ochoa. In this virtual Zoom program Ellen Ochoa will talk about her incredible journey to become the first Latina in space, women in STEM education and leadership.
---

Join the Metroparks Board of Commissioners and Metroparks Director, Amy McMillan at a special board meeting on Thursday, September 8 for a DEI Speaker Series with Wayne County Executive Warren C. Evans.  This virtual Zoom program will include a 30-40 minutes conversation followed by a Q&A from the Board of Commissioners.  Warren Evens will speak on diversity, equity and inclusion efforts in Wayne County, the impact on nature, opportunities for collaborations with the Metroparks and more.
Wayne County Executive Warren C. Evans is a lifelong public servant. From leading Michigan's most populous and diverse county through dual health and economic crises, to restoring fiscal responsibility following the Great Recession, Executive Evans is a proven leader who does not shy away from a challenge.
Evans' effective, no-drama approach to governing in the state's largest county serves as a strong model for ethical leadership and fiscal responsibility. In his first term, Evans prioritized restoring fiscal stability to Wayne County, eliminating its $82 million accumulated deficit and $52 million structural deficit. Wayne County was able to exit a consent agreement with the state in just 14 months despite many thinking the County was headed to bankruptcy. Under Evans' leadership, Wayne County streamlined operations to better serve its residents, including the consolidation of the Department of Health, Veterans and Community Wellness to ensure our most vulnerable residents can access the resources they need easily and efficiently.
He earned a Bachelor of Arts degree in Social Science from Madonna University, a Master of Arts degree in Criminal Justice from the University of Detroit, and a Juris Doctor degree from Detroit College of Law. Mr. Evans is a member of the State Bar of Michigan, the D.C. Bar, and the Bar of the Supreme Court of the United States. Prior to his service as Executive, Mr. Evans was appointed as Wayne County Sheriff in 2003, where he served until 2009. He also served as Chief of Staff of the Wayne County Commission, Assistant County Executive, and Chief of Special Operations of the Wayne County Prosecutor's Office.
---

In this conversation, Dr. Zhang will discuss the cultural and spiritual history of the Lotus flower in China. She will uncover the lotus flower's religious, cultural, and aesthetic significance in Chinese culture. Dr. Yunshuang Zhang is an Assistant Professor of Chinese Literature and Culture in the Department of Classical and Modern Languages, Literatures, and Culture at Wayne State University. She specializes in literature and cultural history of middle period China (800–1400), with a focus on poetry and literati culture. She is now working on her first book project, tentatively titled Porous Privacy: The Literati Studio and Spatiality in Song China.
---

Join us for our May conversation on Tuesday, May 17 at 1 p.m. where Dr. Warsaw will talk about the history of the Environmental Justice Movement, the impact of Redlining and its implications regarding access to green space and offer solutions on what we can do today to address Environmental Injustice. We invite you to join us and join in the conversation.
Dr. Warsaw is an Assistant Professor of Ecological Economics and Environmental Justice in the Department of Community Sustainability at Michigan State University. His research takes an interdisciplinary approach to questions of environmental justice, economic development, and sustainability, combining approaches from economics and the other social sciences. He holds a PhD in Economics as well as a Masters in Environment and Resources from the University of Wisconsin-Madison.
Click here to view the webinar.
---

The second presentation in our DEI Speaker Series in 2022 will take place on Thursday, June 9 at 11 a.m. Join us to hear from acclaimed author, Jessica Nordell.
Unconscious bias is at the heart of some of our most pressing issues we all face. We see it across all communities, industries, and settings. But the question remains: how can we uproot prejudice that we are not consciously aware we have? Bias that operates, hidden in plain sight, against everything we say we stand for? In a talk based on her stunning debut book The End of Bias, acclaimed journalist Jessica Nordell weaves gripping, real-world stories with fascinating research to reveal how minds, hearts, and behavior changes. She scrutinizes diversity training, deployed across the land as a corrective but with inconsistent results. Most importantly, Jessica arms you with the knowledge and tools you need to confront bias in all forms and create a more equitable environment for everyone.
---

You can watch a recording of the third speakers in our series, featuring two exceptional women, Angelou Ezeilo and Kristine Stratton. During a special board meeting of the Huron-Clinton Metroparks Board of Commissioners on October 20, 2021, Angelou Ezeilo and Kristin Stratton spoke on why Diversity, Equity and Inclusion is important for parks and recreation.
Angelou Ezeilo is the Founder and CEO of Greening Youth Foundation. Angelou realized the disconnect between the land that was being preserved and the education of people about that preservation—particularly as it related to our next generation. This was the motivation for creating the Greening Youth Foundation. As CEO, Angelou is at the helm of a movement to provide environmental and wellness education and career pathways to a new generation. The Greening Youth Foundation is cultivating a generation of youth of color to be stewards of our land and natural resources, ultimately shifting the demographics of the environment conservation movement.
Kristine Stratton, President & Chief Executive Officer at National Recreation and Park Association (NRPA), is responsible for the nearly $20 million national organization that works to ensure that all people have access to parks for health, conservation and recreation. NRPA believes access to quality parks and recreation is a critical component to an individual's success and to strong communities and focuses on underserved communities to give everyone access to a great park.
---

You can watch a recording of the second speaker in our series, Dr. Elizabeth Perry. During a special board meeting of the Huron-Clinton Metroparks Board of Commissioners on July 20, 2021, Dr. Elizabeth Perry provided a keynote address followed by Q&A to commissioners, staff and public listeners about how climate change is altering global systems, including parks and their resources worldwide and in our backyards. This creates challenges for management of these places, the recreation opportunities available, the visitor experience, and equity considerations. In this talk, Dr. Elizabeth Perry defined and illustrated climate change impacts across these park conditions and invited discussion on navigating the impacts as individuals, communities, and park stewards.