Metroparks partnered with Organizations in Southeast Michigan to teach kids how to swim.
Your Metroparks are committed to improving water safety so that all Michiganders can safely and confidently enjoy the pools, lakes and rivers our state has to offer.
Every summer, more than 25 people drown in Michigan, and that number has nearly doubled over the last year. Teaching children to swim is essential to decreasing the likelihood of water-related injuries and deaths.
Last year, the Metroparks worked with an external consultant to identify the barriers to swim instruction and the gaps in water safety. Thanks to responses from all across our communities, we learned that the cost of swim lessons were too high, particularly for people of color and for city of Detroit residents. The consequences are stark: studies show 70 percent of Detroit kids have little to no swim experience.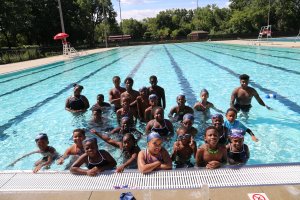 So the Metroparks partnered with multiple organizations in the region to begin filling some of those equity gaps. The result was the opportunity to offer free swim lessons in eight different locations throughout the summer, with a total of 1,095 students enrolled.
The partnerships focused on teaching children how to swim through free swim lessons, as well as providing equipment. Our goal is to remove cost as a barrier. That's why we provided funding to cover the cost of instructors and equipment, including swimsuits and goggles for all the students.
"It's really great to join forces with so many extraordinary organizations to address a long-standing barrier to safe recreation in our community," said Metroparks Director, Amy McMillan. "Everyone deserves to enjoy their summer in a safe and fun way, and we can make a greater impact together than we can on our own."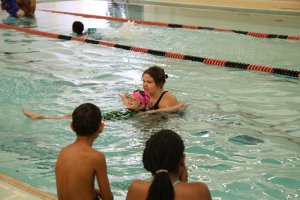 We want to send a big HUGE thank you out to all of partners. We could not have done this without them. See the full list of partners below:
Detroit Riverfront Conservancy & Detroit Parks and Recreation
Friends of Rutherford Pool
Howell Schools and Highlander Aquatic & Fitness Center
Macomb Family YMCA
Michigan DNR – Pontiac Lake State Park & Team Swiftgear
Michigan DNR – Belle Isle State Park & Team Swiftgear
Oakland County Parks, Oakland County Sheriff PAL & Aqualyfe Swim School
Wayne County Parks & Aqualyfe Swim School
We're already having conversations about how to extend these types of lessons into the school year and how to continue the program next year with hopes to expand enrollment and add additional partners for an even greater impact on swim safety.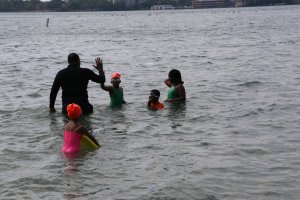 "Next year we hope the swim program is bigger than this year's, and bigger the year after that," said McMillan. "Our biggest hope is that every single child who lives in southeast Michigan learns how to swim and will be safe in the water for their entire lives."
But we think the proof is on the kids' faces who participated, so we hope you'll take a few minutes to watch this video and see and hear the impact for yourself: https://www.youtube.com/watch?v=Zk-NTkf6Aqo