THEY'RE YOUR METROPARKS.
AND THEY'VE GOT A PLAN.
It takes a lot of work to make the Metroparks work. Learn more about the ways our Planning & Development team helps us fulfill our mission.
PLANNING & DEVELOPMENT
Here at the Metroparks, our Planning & Development Department plays a critical role in making sure the improvements and enhancements we bring to our 13 properties are informed by relevant, accurate and useful data and analysis. 
The Planning & Development team focuses on creating and assessing ways to expand and strengthen our infrastructure and other assets, guided by three main goals identified in our Strategic Plan: Listen & Connect, Maintain & Invest, and Conserve & Steward.
Our staff has a deep academic and applied experience in a diversity of related disciplines, including urban and regional planning, landscape architecture, grant writing, policy, and public engagement. They're responsible for leading and coordinating initiatives in: 
ADA Transition Plan
Approved by the Board of Commissioners in November 2019, this plan is an update to the original Metroparks ADA Transition Plans developed in the mid-1990s.
Community Recreation Plan
The 2023-2027 Community Recreation Plan was developed and approved by the Board of Commissioners and the Michigan Department of Natural Resources (DNR) in 2023. The structure and contents of this planning document are specified by the Michigan DNR, and the Metroparks updates the plan every 5 years. The next planning process will be facilitated in 2026.
Park Access Plan
This plan identifies opportunities to connect the Metroparks to public transportation and nonmotorized transportation systems to increase access for all residents of the region.
Park Master Plans
The original park master plans were completed and approved by the Board of Commissioners between 2016 and 2018. These plans include assessments of conditions existing at the time of the plan development, a summary of public input, needs and opportunities, and action items for a 10-year planning horizon.
A five-year update was conducted for all park master plans, as an opportunity for each of the 13 Metroparks to review their master plan and make sure it is still relevant. This review included 1) major changes to facilities, infrastructure and programming in the park; 2) updated needs and opportunities; 3) completed action items; and 4) any new actions necessary to implement the goals and policies for the park.  The Board of Commissioners approves all updated master plans.
Stormwater Management Plan
Approved by the Board of Commissioners in September 2019, the Metroparks Stormwater Management Plan (developed by OHM Advisors) identifies project recommendations regarding stormwater conveyance structure maintenance and replacement, streambank restoration, shoreline protection, and green infrastructure projects throughout the system. The plan is divided into chapters by park. If you would like to provide comments and feedback on the Stormwater Managment plan, please click here to submit a contact form.
Livingston County Trail Connection Feasibility Report
The Livingston County Trail Connection Feasibility Study was funded by Ralph C. Wilson, Jr. Legacy Fund through the Community Foundation for Southeast Michigan in order to determine a final safe and efficient non-motorized connection between four large regional parks: Brighton Recreation Area, Huron Meadows Metropark, Island Lake Recreation Area, and Kensington Metropark. Funding through Congresswoman Slotkin's FY 2022 Community Project Funding program will assist with the design engineering of the selected route alternative.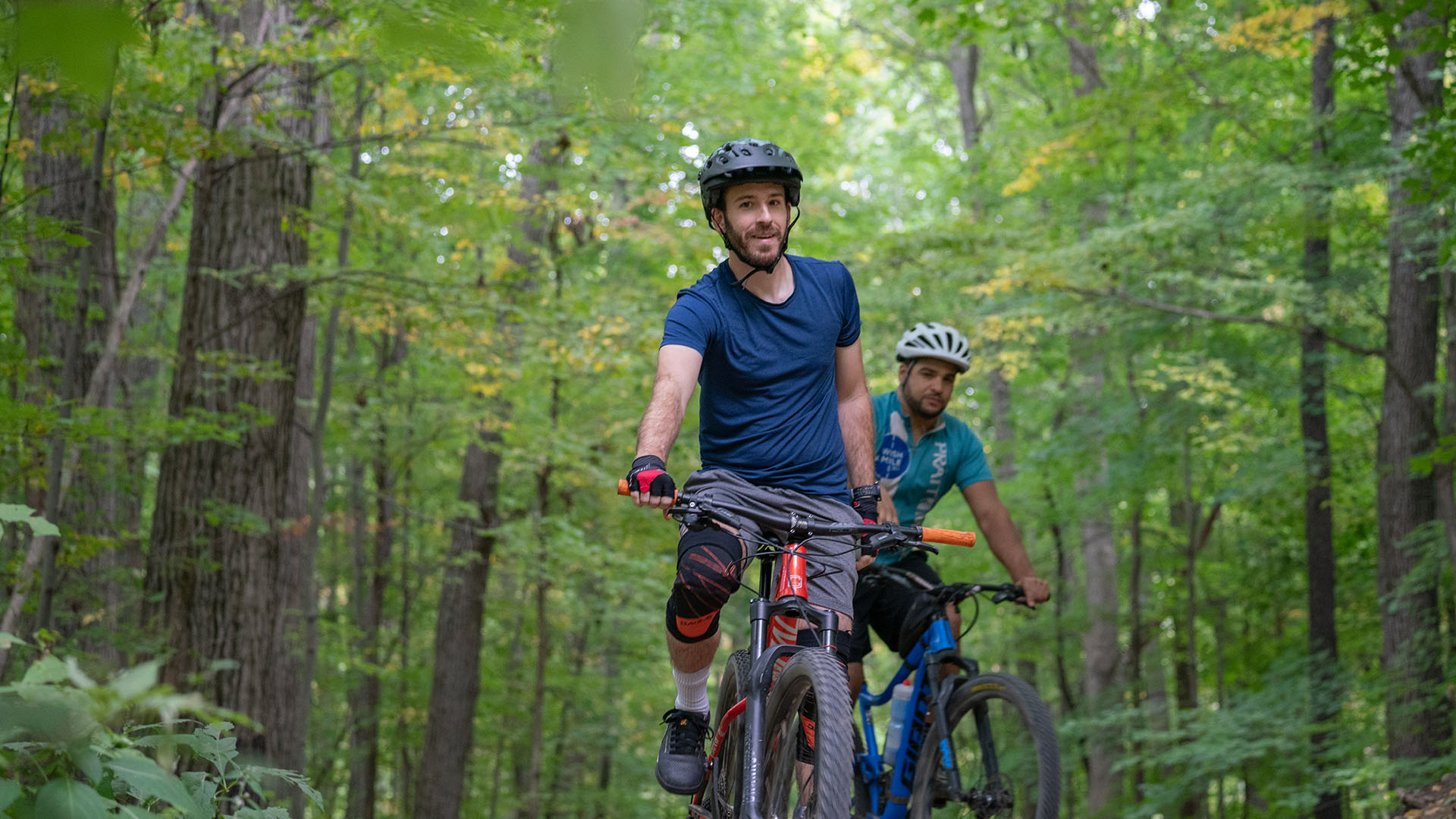 PUBLIC FEEDBACK
Throughout the year our planning and development team has a variety of opportunities for visitors and community members to provide input on projects and plans. Check back here periodically for how YOU can help guide future projects at the Metroparks.
Help Shape the Future of the Metroparks Non-Motorized Trail Connections
We have just launched this interactive webpage, and we want to hear from you! We are working to figure out how to connect all 13 Metroparks using trails across southeast Michigan in the future. So, if you're into trails and outdoor adventures, this is your chance to have a say.
You might not know this, but we have around 400 miles of trails here inside the Metroparks, and it's no surprise that folks love them. People are always asking for more trails and trail improvements! In some of the Metroparks you can use non-motorized trails to hop between them and nearby communities. For example, there's the B2B Trail that goes through Delhi, Dexter-Huron, and Hudson Mills Metroparks, or the Iron Belle Trail that goes through Lower Huron, Willow, Oakwoods, and Lake Erie Metroparks.
Now, we're teaming up with partners and the community to work towards connecting ALL 13 Metroparks with non-motorized trails. We want everyone to enjoy safe and fun trail experiences, whether you're walking, running, cycling, or just loving the outdoors. The first step in this project is to do a study and get feedback from you to help pick the best routes for these new trail sections.
We've been working hard with consultants and local stakeholders to figure out possible routes. We looked at things like whether it's doable, how easy it is to access, safety, and how close it is to residential areas. Now, we want your thoughts on these proposed routes.
In this online tool, you can explore proposed connections and give your input on possible routes between Lower Huron Metropark and the I-275 Metro Trail, Hudson Mills to Huron Meadows Metroparks, Kensington to Indian Springs Metroparks, Indian Springs to Stony Creek Metroparks, and Wolcott Mill Metropark to Macomb Orchard Trail.
Your feedback is super important because it's going to help us choose the final routes. Most of these routes will use public land or existing rights-of-way, which will reduce the need to obtain new property. But there will still be some challenges to work out with partners and communities. The survey will be open through the end of October, and the Metroparks plan to pick the routes by the end of the year.
These trail connections are a big deal for the Metroparks, and we're excited about creating more connections to parks and communities in the region. However, it might be a little while before you see construction start on these routes. Once the routes have been selected, we'll start working on getting the money and design plans together, and your input today helps make grant and outside funding requests stronger. So, speak up and stay tuned for more trail adventures in the future!