THEY'RE YOUR METROPARKS.
AND HERE'S WHAT WE'RE UP TO.
The Metroparks never stop getting better. And here's where you can learn about what we're doing right now to make the Huron-Clinton Metroparks a better, more accessible parks system for all the communities we serve.
PROJECTS
The Metroparks never stop getting better! That's because our staff are always working on improving facilities, removing barriers and making your park experience the best it can be. Maybe you've seen equipment or cones and construction fencing in the parks, and wondered what was going on. If so, you can learn more about park projects and see progress updates below.
Hike-Bike Trail Improvements
The Metroparks are investing in trail improvements to maintain an exceptional experience for visitors. The Metroparks are committed to removing barriers, creating and improving access, and increasing recreation opportunities for all. All future trail projects are designed to meet or exceed ADA requirements, and look for ways to remove barriers to access so that individuals of all abilities have equitable access to Metroparks facilities, programs, services, and activities. When adding, repairing and improving trail segments, our designs consider grade changes, surface type and width to make using our trails easier for all visitors.
Visitors can expect to see multiple trail projects throughout the year. Ones currently scheduled include:
Hike-Bike Trail at Hudson Mills Metropark
In April 2021, trail work will start at River Grove intersection and end at Pineview parking lot. The trail will be closed during construction. This reconstruction project includes crushing the existing pavement and installing brand new pavement with some minor regrading. It is expected to be complete in May.
Hike-Bike Trail at Kensington Metropark – COMPLETE
In June 2021, trail work will start between West Boat Launch and the Nature Center as well as between Maple Beach and Playfield. The trail will be closed during construction. This reconstruction project includes crushing the existing pavement and installing brand new pavement with some minor regrading. It is expected to be complete in July.
Hike-Bike Trail Between Willow and Oakwoods Metroparks – COMPLETE
The Hike-Bike trail connector between Willow and Oakwoods Metroparks will be reconstructed starting in May of 2021. The project will reconstruct approximately 2,200 feet of path. The reconstruction will include crushing and shaping the existing path and placement of a new smooth asphalt surface. In addition, the project includes the replacement of culverts, two within Willow Metropark and one at the southern entrance to Lower Huron Metropark. The completion of the project is targeted for July of 2021.
Hike-Bike Trail at Lake St. Clair Metropark – COMPLETE
The Hike-Bike trail from the entrance of Lake St. Clair Metropark to the Nature Center will be reconstructed this year. The existing surface will be crushed and shaped with a new smooth asphalt surface installed. The project will begin in May with an expected completion in July of 2021.
Stony Creek Off Leash Dog Area
The first off-leash dog area within the Metroparks is being built at Stony Creek Metropark. Construction will start in 2021 at the Oakgrove picnic area. Dog owners can look forward to two fenced areas of nearly three acres each (allowing for small dogs and all dogs alternating to reduce turf wear). Visitors will access the space with a 10-foot wide asphalt path from the parking lot to the bullpen area. Owners and furry visitors will enjoy a concrete bullpen with water bottle/pet filling station, benches, planting bed, and dog waste stations. Within the dog areas, accessible aggregate gravel surfaces will be used in each high traffic area and to create 6-foot wide paths extending into the off-leash areas. An accessible unisex portable toilet will be placed on concrete outside of bullpen area, and accessible parking spaces will be created.
This project is being partially funded by a $50,000 Michigan Department of Natural Resources Trust Fund Grant. The Metroparks is providing in-kind services in the amount of $38,500 and the remaining outlay of $75,007.80 will come from the Metroparks Capital Project Fund.
The project is expected to be complete in 2022.
Lake St. Clair Beach Area Improvements
The Huron-Clinton Metroparks are working with the U.S. EPA and the Department of Environment, Great Lakes, and Energy (EGLE) through a non-point source pollution grant to improve water quality at Lake St. Clair Metropark's beach. This project aims to address historical challenges with Escherichia coli from avian sources (gulls and geese) by discouraging gulls and geese from landing on the beach through planting native grasses and plants, and installing acoustic bird deterrents, which will help to improve water quality. The total project is estimated at $400,000 and $300,000 in grant funding was awarded to assist with this project.
Why Native plantings?
Gulls and geese prefer to land on wide open spaces, so by planting native grasses, flowers, and trees, it will help break up the wide-open spaces, and help deter them from landing. Native plantings also help to reduce stormwater runoff and provide habitat for wildlife such as birds and butterflies.
Why Acoustic bird deterrents?
You might notice some small speakers in the planting beds. These solar powered speakers use bird calls used to keep birds away. The sounds from the speakers replicate authentic goose and gull distress sounds which lets geese know to evacuate, but they do not harm insects, pets, or birds. You will likely not notice any noise coming from the speakers, and eventually geese and gulls will learn not to return through behavior modification.
Once installation is complete, the Metroparks will enter into a contract with the U.S. Geological Survey (USGS) to perform water quality monitoring in coordination with the Macomb County Health Department through 2023.
In addition, visitors will notice a separate project taking place near the beach. Crews will be replacing the East boardwalk decking which had become weathered and damaged. The project began in March 2021. The end result will be an improved 1200 foot stretch of boardwalk to last into the future.
Lower Huron Woods Creek Playground
Lower Huron Metropark will be home to a brand new signature playground by the end of 2021! Planning for this project began in early November 2020 and the Woods Creek location within the park was selected due to its visibility from the main park road, abundant parking, and the relatively open area.
The Metroparks want to provide visitors and the community with a play experience that sparks the imagination of those visiting and stands out with a design unique to the surrounding area. Metroparks Planning and Development staff engaged stakeholders such as the Detroit Association of Black Organizations (DABO) and the Detroit Riverfront Conservancy during the development of this concept. A virtual engagement meeting was held with 25 members of DABO in late November, and an online survey was posted from Nov. 18-24, 2020.
Penchura has been selected as the contractor for this project and their proposed space-themed playground will be coming to life this year.
Shelden Trails Redevelopment
Stony Creek Metropark
The highly anticipated redevelopment of the Shelden Trails at Stony Creek Metropark is officially underway! The redevelopment was identified as a need during the master planning process for Stony Creek in 2016. In 2018, The Huron-Clinton Metroparks started the multi-year redevelopment with a goal to extend and develop the Shelden Trail system to create a premiere multi-use natural surface trail system in southeast Michigan.
The Shelden Trails were not originally designed as a multi-use trail system. Today they are best known for their mountain biking experience but are used year-round as hiking and skiing trails as well. A large portion of the current trails are composed of the historic Shelden estate, gifted to Stony Creek Metropark by Elizabeth Shelden in 1981 for public recreation and developed mainly from old roads, footpaths, and trails. The roads and footpaths ran among the estate's nine buildings (no longer in existence).
Although this land is now protected as part of Stony Creek Metropark, its previous lack of purposeful design has led to off-trail paths being developed, a lack of safety for users, and trails running too close to sensitive habitat areas. Renovations to the trail system will be specifically designed to help protect and preserve this area and its biodiversity, making it more sustainable and discouraging users from leaving the trails and creating "bandit" trails that encroach on critical habitat. Taking an ecological approach to trail redesign and reconstruction will serve to protect the earth's beauty and bounty.
The Metroparks have been working closely with an advisory group of trail users and long-time mountain biking partner organization, Clinton River Area Mountain Bike Association (CRAMBA), to provide input on the wants and needs of regular users of the trails. The outcome has been a collaborative development process that has highlighted problem areas of the existing trails so that creative solutions can be found, and a premier trail experience can be developed.
In June 2020 the first phase of construction began.  Included in this first phase are brand new trail loops, now named Beach and Bee Line, and the Northern Connector segment as identified in the field design plan for the trail system developed by Applied Trails Research in May 2019. Loop A (Beach) consists of the Metroparks' first natural surface handcycle accessible trail. Also included is developing an improved signage and wayfinding system to implement on new trails and eventually continue through existing trails. The first phase of that signage can now be seen on Beach, Bee Line and Grom trail segments.
The contractor, Flowtrack, was on site through summer and fall 2020 working on new segments. They will be back in 2021 to continue work on other trails. We're asking you to please stay off construction areas to ensure there is no damage done to trail segments under construction. Construction will continue throughout the summer and early fall, and finished trails remain open for users to enjoy without interruption.
Follow the project progress on our social media channels or subscribe to our emails for future updates.
Boat Launch Parking Lot Redevelopment
Stony Creek Metropark
In November 2019, the Metroparks Board of Commissioners approved site plans for what Stony Creek Boat Launch area would look like after a three phase redevelopment project.
Work on phase one bagan in summer 2020. Phase I included the completion of the parking lot, demolition of the old hike-bike trail alignment, and development of naturalized swales between the lot and park road. One of the projects identified during the recently-completed storm water management planning process, a culvert in poor condition under the old hike-bike trail, was addressed with the completion of this first phase. This new parking lot configuration will improve safety of the Hike-Bike trail by eliminating the entrance crossing, improve traffic flow in the lot, provide accessible boat parking, and address the surface and drainage structures by remove curbing and strategically incorporating additional plantings to improve storm water management.
Phase II will include the design and construction of the new restroom building and associated site amenities and will begin in 2021. Phase III will include the demolition of the existing restroom building and construction of a new shade feature on site. The existing restroom building/warming shelter does not meet accessibility standards. Plans will demolish the existing building following the construction of a new restroom building on the opposite side of the boat launch driveway. The new building is proposed to include four universal access restrooms and a warming area facing Stony Creek Lake.
Border 2 Border(B2B) Trail Segment D3 & Relocation of Skip's Canoe Livery
Delhi Metropark 
Work is continuing on the B2B trail system connecting communities and parks throughout the region. A project agreement and easement for Segment D3 (which will connect the B2B trail through Delhi Metropark) will be brought for approval before the Board of Commissioners in July. Washtenaw County Parks and Recreation is leading this project.
Work on the B2B trail will bring connectivity between multiple Metroparks and the surrounding communities. The current alignment is designed to travel through the area of Delhi Metropark where Skip's Canoe Livery currently exists.
Historic Mill Structural Improvements
Wolcott Mill Metropark Historic Center 
In 2019, the Historic Center at Wolcott Mill Metropark was closed as a precaution after staff observed hollow sounding areas beneath the basement floor of the mill. An Engineering firm was hired to investigate by using ground penetrating radar, coring through the existing concrete, and taking measurements to the material below. Soil borings and excavations were also completed on the outside of the building to assess the ground conditions and the existing foundation.
Contractual bidding is taking place to complete floor grouting work. This work will address voids underneath the basement floor that were found during the inspection.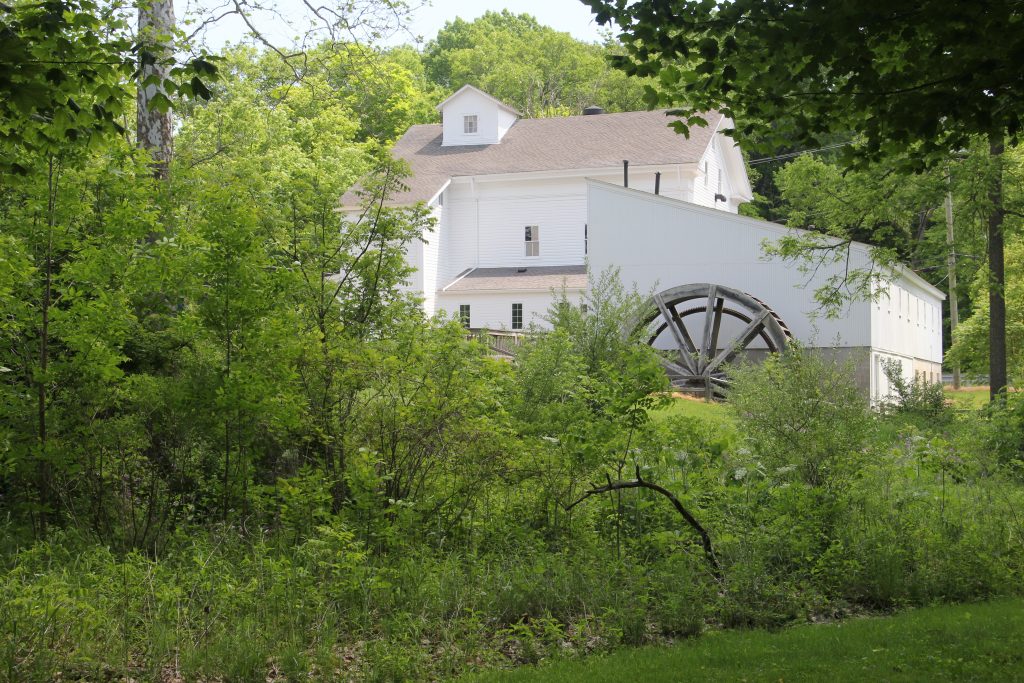 New Park Office
Willow Metropark 
Currently, the Park Office at Lower Huron houses staff and operations for Lower Huron, Willow and Oakwoods Metroparks. A larger office is being developed at Willow Metropark to address current issues with the aging building and use areas for the public at the existing office and to create a more centralized office location for the three parks.
Site and Architectural drawings are being finalized for the new office building. Visitors may notice some clearing and survey work at the location of the new office building. The project is targeted to be started in late fall and will take approximately one year to complete.
1/25/21 – Project Update
Ground was broken this month for the new Willow Park Office. The contractor is North American Construction Enterprises. They plan on working on earth work and utilities during the winter months. The tentative completion date is November 2021.
Washago Pond
What happened to Washago Pond?
At Washago Pond, a pipe beneath the water that is part of the control structure of the dam developed a leak and drained the pond. The water drained through the Regan Drain to the Huron River. The structure is considered a low hazard dam due to the fact any failure would not have an impact on people or other properties.
Our staff is following our previously established action plan and working with all relevant state agencies. We are currently evaluating options and developing a plan for the area. We will be providing updates to the public on our website as these plans are developed and implemented.
What is a control structure?
The control structure is what controls the water level in the pond. For Washago pond that is a vertical corrugated metal pipe under water. When the water level goes above the opening in the top of the pipe, the water drains down to Regan Drain. When the water level is lower than the top of that pipe, no water drains into the lower part of the Regan Drain and Huron River.
When will it be restored?
Our engineering, natural resources, planning and operations staff have been evaluating options and developing a plan for the area. We will be providing updates to the public on our website as these plans are developed and implemented. We don't yet have any expected timelines for when a plan might be finished or implemented.
What happened to all the fish and waterfowl that were there?
Water drained steadily and slowly over 24 hours through the water control structure into the Regan Drain and then into the Huron River. We anticipate that a large amount of fish were able to drain safely into the river. We did not encounter a large number of stranded fish on dry land or in the remaining pond.
Under guidance of the DNR Fisheries Division volunteers worked to net and transfer large fish (that were over 6") to the Huron River.
Washago Pond did not provide any permanent waterfowl habitat previously. It was used by water fowl for transient feeding and bathing. There continues to be a large basin of water in the center of the pond that is still providing these resources for waterfowl.
Is the pond still draining or has it stopped?
The pond has finished draining and is currently at its natural equilibrium as part of the watershed. Water is supplied to Washago Pond through the Regan Drain. The Regan Drain is a small tributary that runs through Washago Pond and into the Huron River. The level of water flow in the drain is dependent on rainfall and will fluctuate and continue to change seasonally. Currently there is steady flow through the Regan Drain.
How often is the dam at Washago Pond inspected?
Washago Pond dam is inspected every 5 years and has an emergency action plan on file, as required by the state. Our Last inspection was in 2017. A small leak in the control structure was noted in previous inspections and has been monitored while staff developed a plan for how it should be addressed. The condition had remained unchanged in the last inspection, and the dam was reported as "fair overall condition" by the inspector.
GRANTS
More information coming soon!
PARTNERS
More information coming soon!