Pandemic Disc Golf Operations Require Creative Solutions to Better Serve Visitors
The Covid-19 pandemic has disrupted and changed services and operations in all businesses, and even still we are continually monitoring and changing the way we operate to better serve our visitors. The Metroparks have worked hard to provide a safe place for our communities to enjoy outdoor recreation during the pandemic.  Although some amenities and activities were (and remain) temporarily closed, others were able to remain open with creativity, patience and ingenuity.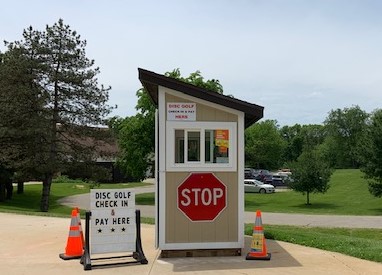 Disc golf, a favorite activity for many, was able to reopen after Metroparks staff got a little creative.  To ensure proper social distancing and quality service were provided, picnic tables were removed throughout the courses, six-feet social distancing lines were painted at tee boxes and baskets, temporary social distancing signage was placed and sneeze guards were installed between visitors and Metroparks check-in booths.  But the real ingenuity came at Hudson Mills Metropark (one of our busiest disc golf locations) when figuring out how to interact with disc golfers while the park office remained closed and get photos of golfers for their annual bag tags.
Staff at that location suggested re-purposing a temporary toll booth structure that doesn't get much use most of the year. This toll booth was placed near the disc golf parking lot to allow staff to serve visitors without opening the entire office building. The next issue was how to get photos for the annual bag tag ID cards when the booth did not have the bandwidth and capability to create them on site. After much thought, the selfie system was born!  For golfers who had previously purchased an annual bag tag, their photo was on file and could easily be pulled, but for new annual bag tag holders we needed their photo.  And what better way than for the person to send us a selfie! This allows staff to receive a request for an annual bag tag at the booth and then receive their selfie via email, create the annual bag tag inside the office, bring it to the booth and have it ready when the golfer finishes their round of golf. The process has been such a success that it will become a best practice moving forward.
This is just one example of how your Metroparks staff has thought outside the box to provide services to our guests.  We look forward to continuing to serve you and hope to see you in the parks soon!
Explore your Meroparks disc golf courses by clicking here.