Natural Resources Staff Keep Rivers Safe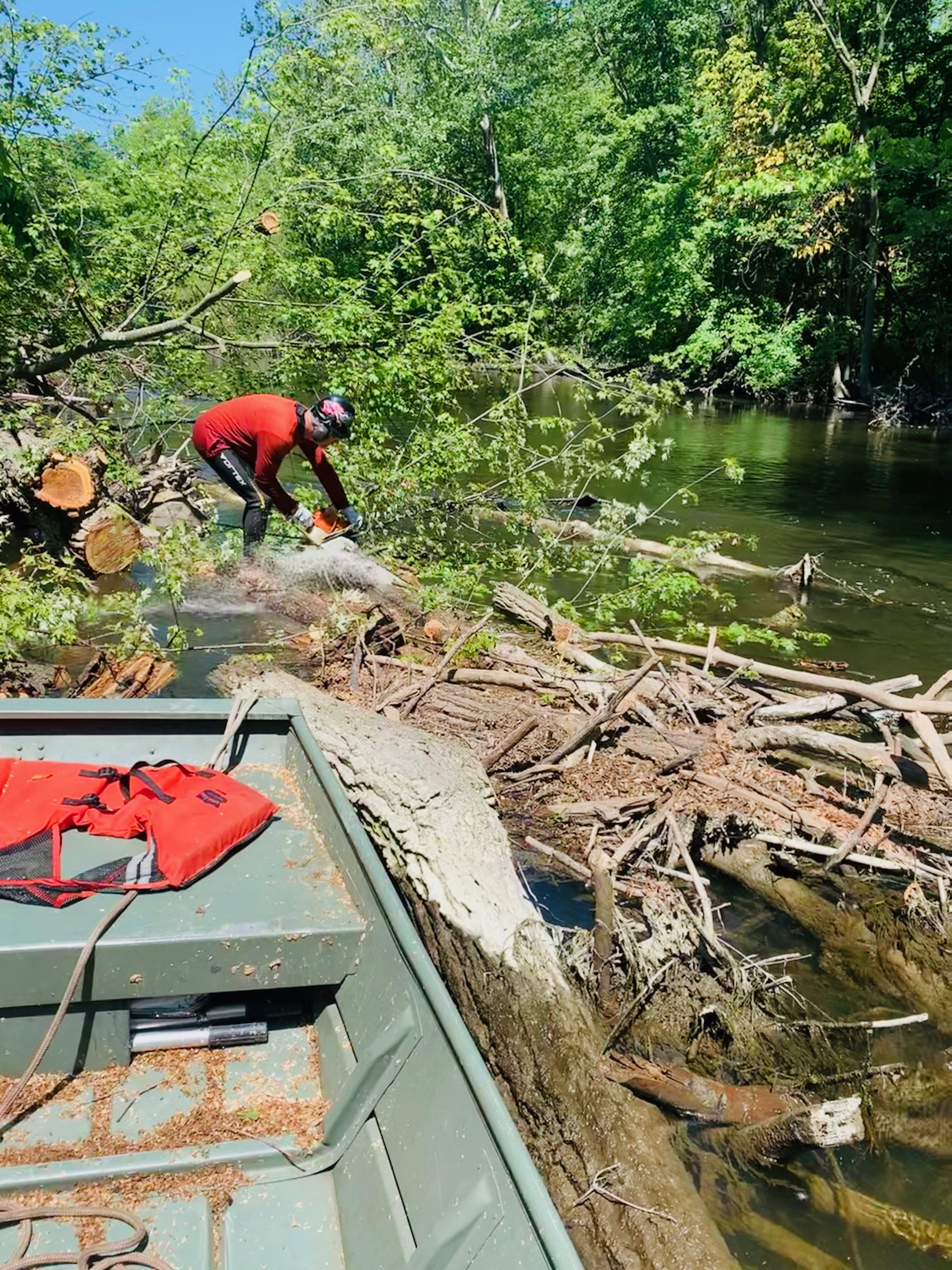 July is Parks and Recreation month, and this year the focus is on showcasing the talented workers at parks. Your Metroparks have many skilled staff, performing a variety of tasks that keep the parks safe, maintained and ready for visitors. You might not be aware that we have a skilled Natural Resources Department that is hard at work all year keeping the natural spaces of the park as well managed as possible.  From prescribed burns to invasive species control to oak wilt remediation, shoreline softening and marsh restoration – our staff's special skills, knowledge, talent and grit are unparalleled.
In spring and summer, the Natural Resources crew responds to reports of major debris and blockages in the both the Huron and Clinton Rivers. The Natural Resources tree crew is a team of experienced arborists and foresters, who utilize specialized equipment to clear the rivers of hazardous debris. Each year the crew will clear approximately five blockages and safety issue areas in the rivers.  River conditions do impact when the work can be done, as work can only be done when water conditions safely allow. While they're in the river, they will also survey the river and remove any potential future blockages as well.
One key tool that the crew uses to remove blockages is a flat bottom steel boat, equipped with an air cooled outboard motor and specialized  "gator tail", which is a large piece of iron that extends from the bottom of the motor and protects the prop from collisions with rocks, logs, and other debris at the river bottom.
The special skills this team has and the equipment they use helps the Metroparks keep the rivers clear for all paddlers and anglers to enjoy.  The next time you hit the river to enjoy a day of paddling or casting a line, remember the Natural Resources crew who made it safe for you to enjoy!
---
Encompassing about 25,000 acres across five counties in southeast Michigan, the Huron-Clinton Metroparks contains some of the largest and most diverse greenspaces in our area. Open prairies, shady forests, and lively wetlands are home to an incredible array of plants and wildlife and provide prime opportunities for hiking, fishing, wildlife viewing, nature study, and a host of other outdoor activities.
The Metroparks Natural Resources Department oversees and manages undeveloped land throughout the 13 Metroparks. The goal of the Natural Resources Department is to protect and restore significant elements of natural diversity while balancing ecological stewardship with compatible recreational uses.