Teachers are Prepared to Shape Future Leaders This Year Through These Metroparks Programs
September 2022
It's more important than ever for our students to learn to connect with their natural environment, especially in Michigan where environmental resources play a valuable role in Michiganders' lives and the statewide economy. But in order to do that, teachers need to be equipped with green knowledge and resources they can take to the classroom. That's why the Huron-Clinton Metroparks have joined forces with community partners throughout Metro Detroit to give teachers the tools they need to help build the stewards of our future.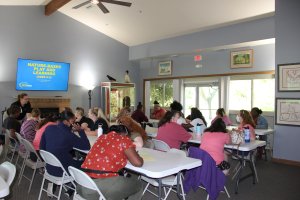 This year, the Metroparks partnered with Macomb County Head Start, a federally funded full-spectrum
educational program for teachers of children ages zero to five from at-risk backgrounds, to host multi-day environmental training sessions for 200 teachers at Lake St. Clair Nature Center. The program focused on training educators how to teach outside and investigative ways to engage with nature. The Metroparks hosted four, two-hour sessions. Macomb County estimates a total of 2,100 students will be reached through this teacher training program and plan on increasing training enrollment in 2023.
"One of the greatest impacts we can make toward a green future is investing in our students'
education, and we can't do that without investing in our educators," said Metroparks Director
Amy McMillan. "Educators have one of the most important jobs in the world, and it's all of our
responsibility to help them succeed."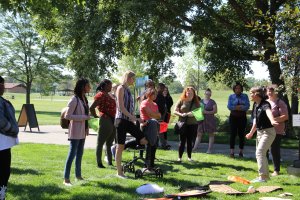 Over the summer, the Metroparks teamed-up with Macomb Intermediate School District and offered workshops that taught educators different environmental learning projects they can do with students year-round in any sized-space. Teachers who attended earned State Continuing Education Clock Hours (SCECHs), an accreditation of 150 hours they're required to complete every five years. The workshops focused on how to engage students with hands-on outdoor learning. They were hosted two weekends in July at Lake St. Clair, Oakwoods and Stony Creek Metroparks.
Metroparks also worked with a teacher from Lapeer County Intermediate School District last spring to host a vocational high school student at Wolcott Mill Metropark Farm Center, a fully functioning farm, through a program designed to give students practical farming experience. This is part of a year-round program designed to give students real hands-on learning experience of a farmer.
"The Metroparks are rich in environmental resources, and we're always thinking of creative ways to use them to uplift our youth," shared Metroparks Chief of Interpretive Services, Jennifer Jaworski. "Our future is in their hands, and when we equip them with the right knowledge, we're making our future brighter."
The Metroparks also supports teachers through the following organized programs:
Free field trips
Free experiential field trips to public schools in select townships of Clair County, Lapeer County, Macomb County and Oakland County funded through a grant from the Four County Community Foundation (4CCF). https://www.4ccf.org/
Trips include free transportation to Stony Creek or Wolcott Mills Metroparks for hands-on activities related to agriculture, history, nature and science.
The program will run through the 2022-2023 school year.
Get Out and Learn
Scholarship program funded by the Metroparks that offers free field trips or inschool programs for schools in Southeast Michigan, including transportation and programming fees.
To qualify, schools must have at least 50% of students eligible for the federal free and reduced lunch program.
Teachers can learn more or apply by visiting https://www.metroparks.com/education/#EDUCATIONALGRANTS.