Pedal on, Scouts! – The Metroparks Teach Bike Safety to Local Scouts Groups
Your Huron-Clinton Metroparks encourages all bikers to ride safely – and ride often. Biking is a great way to stay active and enjoy all the beauty that nature has to offer, and recently our staff partnered – with scout programs to teach bike safety and encourage participation in the sport.
Metroparks Police Officers were invited to join the Bike Rodeo hosted by Cub Scout Pack 477 at Anchor Elementary school, located in Dexter. Our police officer spoke to the cub scouts (aged kindergarten through 5th grade) about road safety and then scouts rotated through different biking-related stations.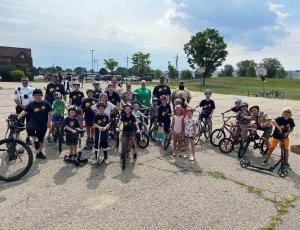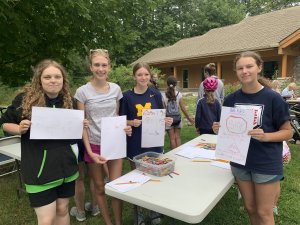 Concurrently, over at Stony Creek Nature Center, 31 Girls Scouts gathered to learn how to safely and confidently ride a bike for better health, fun, and transportation. In collaboration with multiple community biking organizations and volunteers, girl scouts visited multiple stations and earned their Bike Pro patch. Girls that day learned about:
Bike Basics – The scouts were taught the different types of bikes and how to choose the right bike
Bike Safety – How to fit and wear a helmet, how to put air in tires and fix a flat, learn hand signals for turning and more
Riding Rules – The Metropark riding rules and mountain biking trail rules
Benefits of Biking for the body & the planet
To reinforce their learning, girls went on a bike ride in the park, which included an optional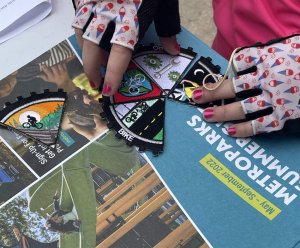 scavenger hunt.
We would like to thank the Clinton River Area Mountain Biking Association (CRAMBA), the CRAMBA- National Mountain Bike Patrol, and the mom/son volunteer team of Aditya and Kanchan Kandage for leading the biking stations and helping to make the Bike Pro Patch Program fun and informative!