Metroparks Working with Partners to Offer Free Swim Lessons for More Than 1,000 Children Southeast Michigan this summer
After results of regional survey showed cost of lessons as one of the largest barriers – Metroparks is partnering with organizations across the region in an effort to improve water safety.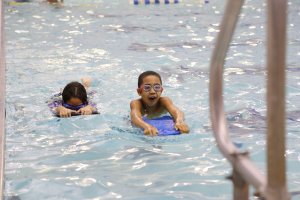 May is National Water Safety month, a time to revisit and reflect on water safety practices. Every summer, more than 25 people drown in Michigan, and that number has nearly doubled over the last year. Teaching children to swim is essential to decreasing the likelihood of water-related injuries and deaths.
In 2021 the Huron-Clinton Metroparks worked with consultant, Counsilman-Hunsaker, to conduct a regional survey to identify the barriers to swim instruction and the gaps in water safety. The results showed that one of the biggest barriers to more people in the region learning to swim were the fees of swimming lessons being too high, particularly for people of color and for city of Detroit residents, where studies have shown that 70 percent of children have little to no swim experience.
The Metroparks are partnering with other organizations in the region to begin filling some of those gaps so all children in the 5 counties we serve can safely enjoy the pools, lakes, rivers, and ponds that make summer living in Michigan so great.
"Southeast Michigan has some of the best water recreation opportunities available, and we want everyone to have full access and feel safe when they visit the parks, so we are grateful for the opportunity to partner with organizations throughout the region to improve swim safety for the children who live here," shared Amy McMillan, director of the Huron-Clinton Metroparks. "We can accomplish more together than we can by working individually."
We have currently confirmed four partnerships and are working to confirm at least three others throughout the southeast Michigan region. Metroparks is providing funding to help our partners cover the costs of equipment and instructors as well as to provide suits and goggles to students. All of the confirmed partnered locations are accessible by public bus routes for easier access.
Last year, we partnered with the City of Detroit Parks and Recreation and the Detroit Riverfront Conservancy to start addressing gaps in water safety. The Swim in the D program registered over 500 Detroit children for free swim lessons at City of Detroit pools.
This year, the Swim in the D partnership continues by offering lessons to an additional 578 children in Detroit. Lessons will be taught by American Red Cross certified instructors in 4 pools (Brennan, Heilmann, Butzel & Patton) throughout the summer, and participants will also receive a free swimsuit, goggles and bag. Registration opened Monday, May 23 on the Detroit Parks and Recreation website at https://detroitmi.gov/departments/parks-recreation.
Metroparks is also partnering with Macomb Family YMCA in Mount Clemens to offer swim lessons at their location to 175 students. Swimmers are evaluated on first day of class and placed into 4 different groups based on swim level, and will follow the YMCA National Swim Lesson Curriculum. Each swimmer receives a swim suit, goggles, swim cap and bag. Registration is not yet open, but those interested can call (586) 468-1411 for more information.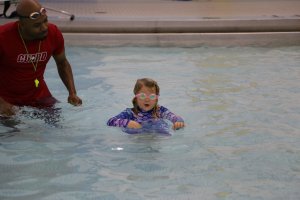 To serve families in Washtenaw county, a partnership was forged with Friends of Rutherford pool in Ypsilanti. Their location is offering free swim lessons to 300 youth in the 48197 or 48198 zip codes. Swim programs are based on the American Red Cross curriculum. Each swimmer will receive goggles, swim cap, and swim suit (upon need). Registration is now open with information on their website at https://www.forpool.org/
To serve families in Wayne County, the Metroparks are partnering with Wayne County Parks at Chandler Park. Details are still being finalized.
We are still working to finalize details of at least three other partnerships to serve youth in Pontiac, Detroit and Livingston County with details of those coming soon.
"It's really great to join forces with so many extraordinary organizations to address a long-standing safety disparity in our community," said Amy McMillan. "Everyone deserves to enjoy their summer in a safe and fun way."
We will continue to share stories on our website and social channels as new partnerships are formed around water safety. It's important we all continue working together to address this need in our communities.