Your Summer Starts This Weekend. And Your Metroparks Are Ready.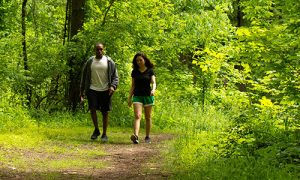 Everyone knows Memorial Day Weekend is the unofficial kickoff of summer fun. Here at your Huron-Clinton Metroparks, we're committed to helping the people of Southeast Michigan welcome summertime while staying safe and healthy.
With a near-perfect weather forecast in store for us this holiday weekend, we'll be excited to welcome you back to the Metroparks for fresh air, green trees, sunshine and fun. Beaches will be open starting this weekend (pending water quality tests; we'll post updates regarding test results later this week). Golf is in full swing. And our restrooms are in the process of reopening.
But, to protect visitors and Metroparks staff, everyone visiting one of the 13 Metroparks is required to follow established COVID-19 safety guidelines. That includes giving others six feet of safe space. Our ability to remain open relies on all visitors practicing social distancing.
What you CAN do this weekend:
Play a round of disc golf.
Hit the greens and fairways of your favorite Metroparks golf course.
Walk, hike, bike or run the trails – consider taking the trail less traveled.
Paddle our lakes and rivers.
Drop a line and catch some fish
Swim at one of our beaches. Beaches at Kensington, Lake St. Clair and Stony Creek Metroparks will be open (pending water quality tests; we'll post updates regarding test results later this week) – However, Baypoint Beach in Stony Creek Metropark is closed for construction and Maple Beach in Kensington Metropark is undergoing improvements; please obey all construction signage and fencing.
Picnic with your family. But be sure to practice social distancing. Our grills and picnic shelters are available for use, but we've removed 50% of picnic tables beneath shelters to discourage large groups from congregating.
What you CAN'T do this weekend:
Our boat rental facilities, as well as canoe and kayak liveries that operate within the parks, remain closed to abide by Governor Whitmer's executive orders. Metroparks staff are working to prepare those facilities so we can reopen them as soon as possible.
All programming and events are canceled through June 15. We're planning on resuming some programming starting June 16 (this date is subject to change), but any events will include strict social distancing rules.
Our Nature Centers, Farm Centers and Marshland museum all remain closed. We're taking care of the animals and working on plans to re-open soon. When we reopen, there will be some operational changes related to safety.
Our playgrounds are still closed, as it is challenging to ensure children are a safe distance apart and that equipment is properly sanitized.
Pools, splash pads, the Turtle Cove Aquatic Center and the slide at Stony Creek Metropark are closed. At this time, we don't have a forecast for when they will reopen.
Our Metroparks team is continuing to monitor attendance in the parks. Metroparks Police and park staff are now performing parking lot counts three times a day to ensure that total parking spaces within each park do not exceed 60% of their full capacity. When overcrowding occurs, we may use temporary closures to specific areas within the parks – or entire parks. Depending on the time of the day that capacity is reached, the park may reopen as visitors leave. Those visitors already in the park when a closure starts are welcome to enjoy the rest of their visit.
Please check the website or Facebook for updates on closures before heading out.
And remember: They're your Metroparks. Come on by, but stay apart.
For full details of all of our Covid-19 Precautions visit: www.metroparks.com/covid