STONY CREEK METROPARK
NATURE CENTER
Stony Creek Metropark Nature Center is situated along the Stony Creek, within the Clinton River Watershed. The watershed and its history are explored through interpretive exhibits focusing on landforms carved by the last Glacial Age, the First Peoples and Settlers who called this area home, live native animals and taxidermy examples of local wildlife. Explore trails shaped by ice sheets 10,000 years ago as you walk through wetland areas, hardwood forest, restored prairie, old fields, along ponds and Stony Creek. The Nature Center also offers self-guided nature trails, Interpreter led programming and other unique educational opportunities, including guided hikes, opportunities to paddle a 34-foot Voyager canoe, animal encounters, nature investigations and more.   
Visit the Stony Creek Metropark Nature Center to learn about local wildlife and natural history.  Explore trails that give you opportunities to view eagles, owls, osprey and other birds.  Attend programs and events throughout the year too!
Our Displays
Conservation and Management
The Nature Study Area focuses on protecting and conserving a variety of habitats. Invasive species are managed through controlled burns and removal by staff and volunteers. Old fields have been transformed into native prairies. Several uncommon species are found in the Nature Study Area, including Bald Eagle, Osprey, Henslow's Sparrow, Eastern Massasauga and Large-flowered Trillium. Enclosure pens and control sites reflecting the browsing effects of the White-tail Deer are monitored to determine deer impact on woodland forbs. Stream studies assist in keeping Stony Creek healthy for future generations.
History
Visitors are introduced to the rich history of Stony Creek Metropark through displays of artifacts and local First Peoples, and early Settlers. History Wagon Tours bring to life landowners who once lived in the Park. The Great Lakes Fur Trade era is reenacted on Voyageur Canoe trips where visitors experience being a French Voyageur of 300 years ago.
Wildlife
Live displays of Southeast Michigan reptiles, amphibians, fish and arthropods are on exhibit for visitors to view. Fine taxidermy mounts of mammals and birds introduce visitors to local wildlife. Large windows offer excellent views of the variety of bird species that visit the feeders year-round. Just outside the Nature Center are native plant gardens, and a formal Butterfly Garden, highlighting examples of native plants as food and shelter for local wildlife.
Our Trails
Stony Creek, Reflection Pond, woods, fields, woodland edges, and small wetlands all placed in a landscape formed ages ago by glaciers provide the backdrop for the miles of trails that course through the moderately hilly terrain. Look for a variety of birds, including wild turkeys. A moderate one-mile hike leads to the Eagle Observation Platform where visitors can view nesting Bald Eagles. An active Osprey nest is nearby to. Visitors may be fortunate to see an Eastern Massasauga on the trails, a Federally Threatened species.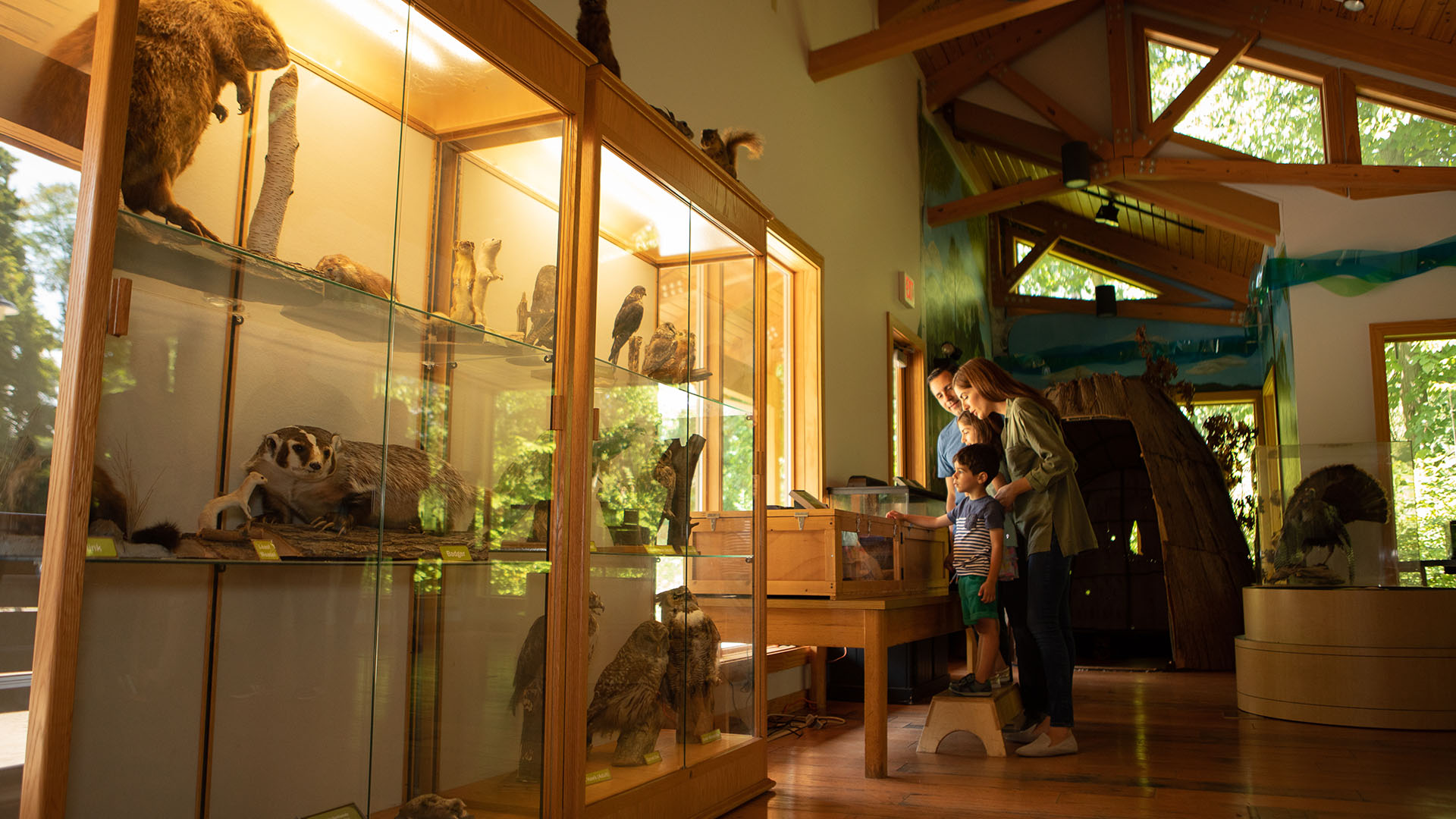 Educational programs and activities allow you to interact with nature and learn about the world around us in fun new ways. In-school programs, fields trips to the Metroparks, homeschool programs and scout programs can all be found at your Metropark interpretive centers.
What topics do we cover? Wildlife, natural science, environment, ecology, climate, farm life, regional history. And that's just to start. Most Metroparks programs support the Common Core Science, Technology, Reading, Engineering, Arts and Math (STREAM) and Michigan Science Standards curriculum in content, methodology and technology use.
Learn more about educational programs and activities by clicking on the buttons below.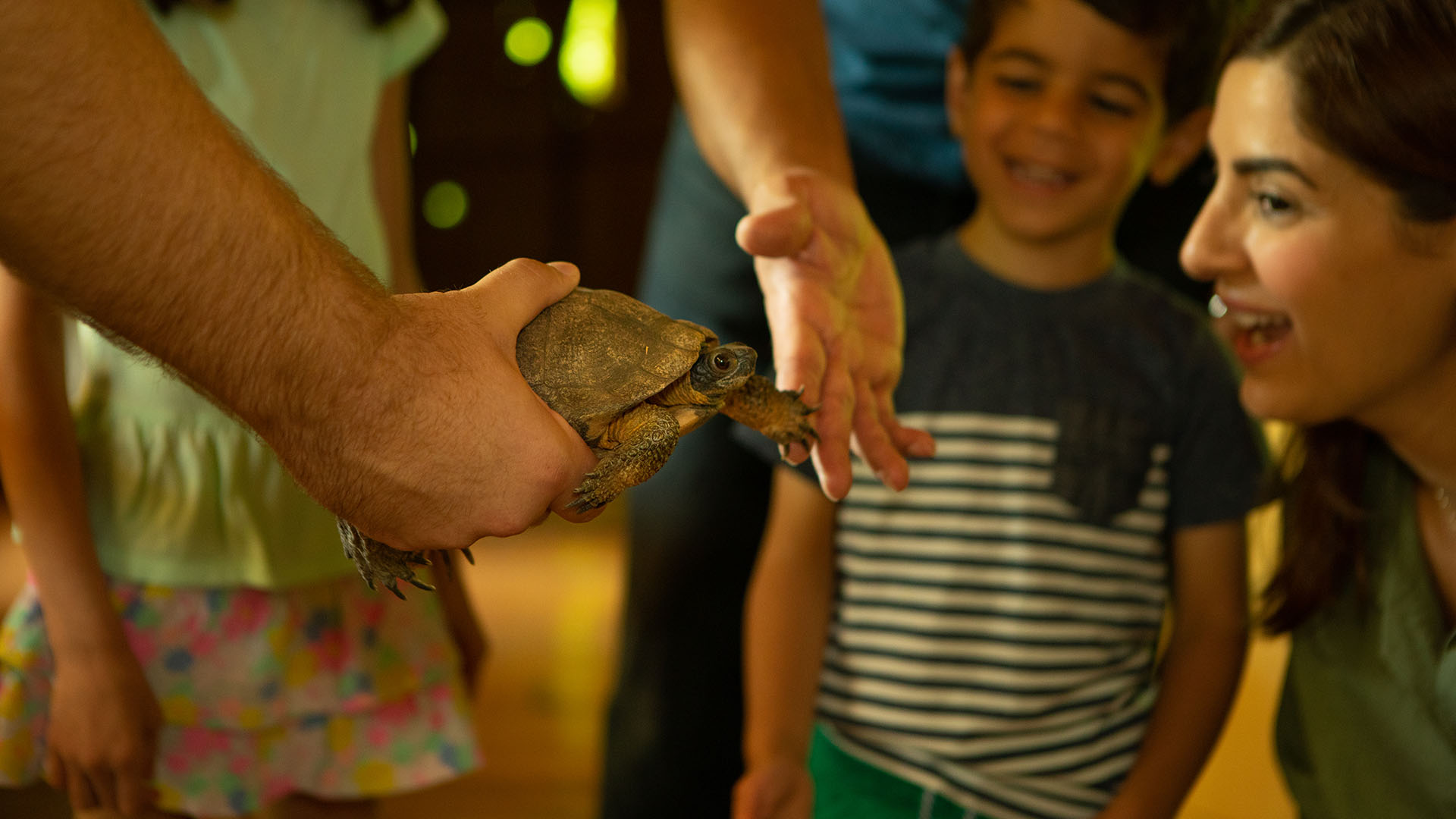 The Metroparks are committed to removing barriers, creating and improving access, and increasing recreation opportunities for all.
Displays
Our Nature Center displays were designed with accessibility in mind for our visitors to observe and interact. The Exhibit Room has wide spacing between exhibits, providing easy access to all nature displays. Waterhog mats, tile and hardwood floors and low pile carpeting allow for easier movement of transport chairs. Exhibits are placed at eye level for the convenience of youngsters and those in transport chairs. Accessible restrooms are available inside. Accessible van parking is available in the main parking area. A long, paved walkway leads from the parking lot down a hill to the Nature Center.
Sensory-Friendly Backpacks
Stony Creek Metropark Nature Center offers Sensory-Friendly Backpacks for those with sensory sensitivities. These backpacks include communication cards, noise cancelling headphones, sunglasses, a liquid timer, and additional fidget items. These can be checked out and returned to the front desk.
Sensory-Friendly Facility Map
Trails
The nature trails are comprised of areas of compact gravel, bare soil and mowed grasses. Many stretches of the trails have a marked increase in elevation with steep inclines and slopes. The trails cross over three wood bridges, and a wooden plank bridge with no side rails.
EAST LAKE TRAILS – 3.5 MILES
The East Lake Trails consist of four connected trails marked with directional arrows. They provide a less traveled, more rustic walk.
REFLECTION TRAIL – .5 MILE
This is a short picturesque trail that explores Stony Creek's valley and reveals the underwater worlds of pond and stream.
LANDSCAPE TRAIL – 1 MILE
Featuring the natural forces that shaped the character of the area, this trail will lead you over an ancient glacial landscape.
HABITAT TRAIL – 2.5 MILES
Along this winding course you will see a panorama of forest edge, broad fields, dense woods and small wetlands.
Know before you go: Occasionally woodland trails may be blocked with debris such as fallen tree limbs. Nature trails are not cleared or salted in the winter and may be snow-covered, slippery or muddy. Pets, bicycles and running are not permitted on the nature trails.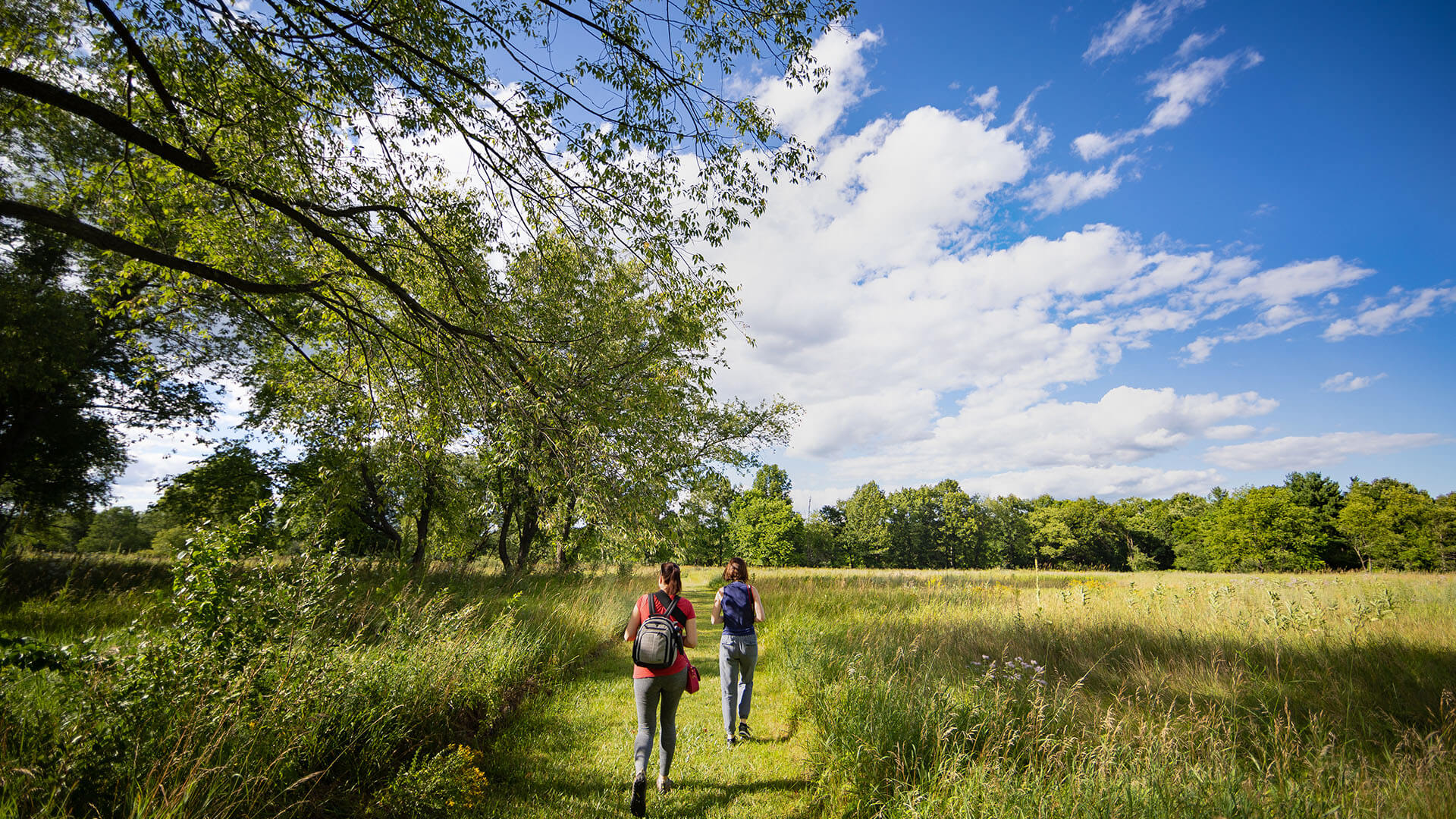 NATURE CENTER PHOTO GALLERY