Southeast Michigan's Oldest Known Osprey, C09, Turns 20
Southeast Michigan's osprey population was once in doubt. Today 50-60 nests are in the region.
MILFORD, Mich. – More than 20 years ago, the future of ospreys was unclear in southeast Michigan, but a lot has changed in that time. This year, southeast Michigan's oldest known osprey, C09, turns 20. C09 was originally brought to Kensington Metropark as a chick in 1999 as part of the Metroparks' Osprey Reintroduction and Hacking Project, which was done in partnership with the Michigan Department of Natural Resources, Detroit Zoological Society and DTE.
In 1998, the Metroparks began work to save Michigan's osprey population with a focus on reintroducing osprey into the southern half of the Lower Peninsula. The program was created to combat a significant decline in osprey population that began in the 1960s. Several factors contributed to the population decline, including habitat destruction, indiscriminate shooting and later the widespread use of pesticides like DDT.
DDT was banned in the United States in 1972, followed by a slow rise in osprey reproduction rates. But as a threatened species, the osprey needed some extra help to restore their population.
That's where the hacking and reintroduction program came in.
Today, the majority of ospreys living in southeast Michigan were offspring that started their lives at Kensington Metropark as a part of the initiative, including C09. C09 was the first osprey known to nest and raise young in southeast Michigan since the DDT era. He has continued to support growth in Michigan's osprey population by raising 2-3 young birds a year. Today, he nests safely at a water tower near Kensington Metropark with his mate.
"There was a time when we thought there might never be ospreys in southeast Michigan again, which is why it's such a thrill to know that C09 is turning 20 this year," said Amy McMillan, Director at the Huron-Clinton Metropolitan Authority. "It's truly a testament to what a group of committed partners and volunteers can achieve. Everyone who was a part of this project should be proud that they helped support the comeback of the osprey in Michigan."
The goal of the Reintroduction and Hacking Project was to introduce 30 nesting pairs into southeast Michigan by 2020. With the dedicated support of many volunteers, site managers and employees, the goal was reached in 2010 – a decade ahead of schedule.
C09 was originally brought to the area through hacking – an integral part of the Metropark's program to increase population. Hacking is the process of transplanting young osprey from northern areas to "hacking towers" in southeast Michigan to be hand fed and raised.
The osprey population has continued to steadily increase thanks to the help of staff, partners and volunteers. Recently, two Metroparks police officers assisted Barb Jensen, Director and Bird Bander for the Michigan Osprey Association, with the urgent rescue of two osprey chicks that had tumbled from their nest into the water at Kensington Metropark.
"The park police really went the extra mile," said McMillan. "Without them, the rescue would not have been possible. I'm thankful to them and the entire team of people that has gone above and beyond to restore and protect the osprey population."
"Without actions like these, the osprey would likely still be a rare species in southeast Michigan. The positive intervention of these officers helped ensure the next generation of osprey is safe and protected," said David Kirbach, Deputy Director at the Huron-Clinton Metropolitan Authority. "These efforts are an extension of the longtime work of passionate people in and outside the organization to restore the species. Thanks to them, Michigan is well on its way to having a large, stable osprey population that can survive and thrive on its own."
Southeast Michigan's osprey population has continued to steadily grow with about 50-60 nests currently in the area.
Although great strides have been made, the osprey is still listed as a species of special concern. The Metroparks continue work to restore and protect the population for the health and cleanliness of our ecosystems. To learn more about these efforts, including how you can help, please visit Metroparks.com/Osprey.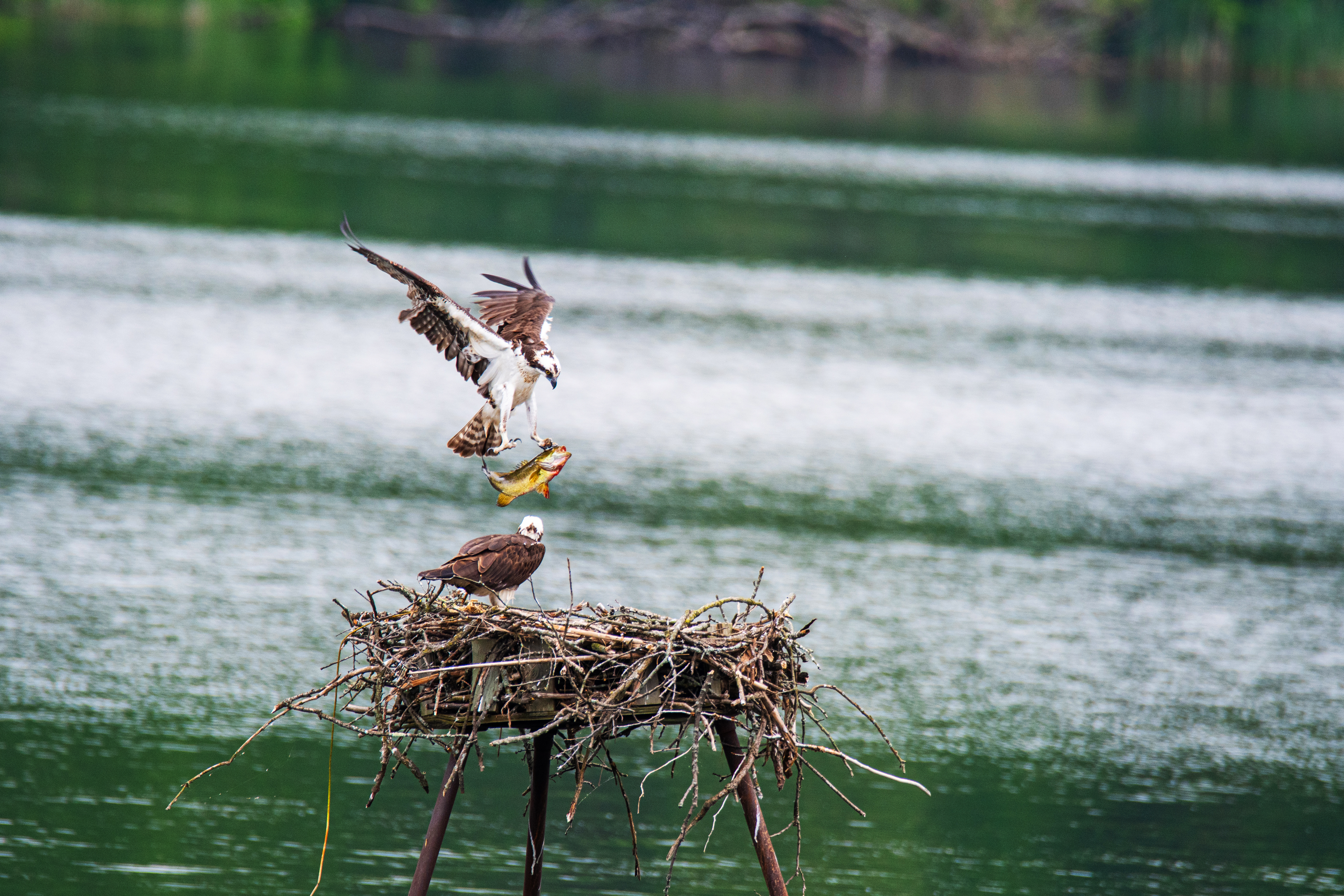 Photo Credit: Philip VanHagen