Solomon G. Brown: First African American Employee at the Smithsonian Institute
February 14, 2023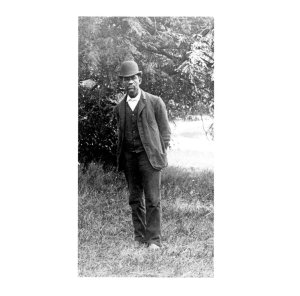 The Smithsonian Institute has long been a pillar in our nation for research, culture, and education, and Solomon G. Brown is remembered as the first African American employee there.  Solomon G. Brown was born on February 14, 1829, in Washington D.C.  He was the fourth of six children born to Isaac and Rachel Brown, both ex-slaves.   
Although Solomon did not have a formal education, he began working at the Washington, D.C. post office where he was assigned to assist Joseph Henry and Samuel F.B. Morse on the installation of the first Morse telegraph line in the nation.  Despite his youth, Brown was one of the technicians who helped set up the telegraph line between Baltimore and Washington, D.C.   
Beginning in 1852, when Joseph Henry became the first secretary of the newly opened Smithsonian Institution, he hired Brown as a general laborer.  By 1864, Brown was a museum assistant, and by 1869, he was the registrar in charge of transportation, registry and storage of animal specimens and materials received by the institution.  He also assisted in preparing maps and drawings for virtually all Smithsonian lectures between 1870 and 1887.   
While at the Smithsonian, Brown educated himself in the field of natural history.  His association with the Smithsonian provided him with a plethora of information, which he passed on to scientific societies in Baltimore, Washington, D.C. and Alexandria, Virginia.  
Brown was also an activist, volunteering in various civic and educational programs aimed at advancing African Americans.  In 1866, Brown was elected president of the National Union League, an important political organization for African Americans across the South.  From 1871 to 1874, he served three consecutive one-year terms in the legislature of the District of Columbia. 
On February 14, 1906, after 54 years of service at the Smithsonian Institute, Solomon Brown retired.  He passed away in Washington, D.C. only a few months later, on June 24, 1906. 
Sources: 
https://siarchives.si.edu/history/featured-topics/stories/solomon-brown-first-african-american-employee-smithsonian-institution 
https://www.blackpast.org/african-american-history/brown-solomon-g-1829-1906/