Shelton Johnson: Park Ranger and Advocate for Diversity in the National Parks
February 27, 2023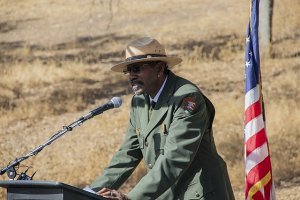 Shelton Johnson (born 1958 in Detroit, MI) is a Park Ranger at Yosemite National Park. During his childhood, Johnson developed a deep love and appreciation for the outdoors. Today, he is one of the most well-known advocates for diversity in the National Parks.  
Johnson attended the University of Michigan where he studied English and poetry. He also spent time with the Peace Corps, teaching English in Liberia. Once he returned home, he applied for a job at Yellowstone's Old Faithful Inn as a dishwasher. It wasn't much, but it was the start of his journey, bringing him closer to the wilderness.  
In 1987, he secured a job as park ranger. He started in Yellowstone, then went to the Grand Tetons, and then a few others before landing at Yosemite where he has currently worked for over 28 years. Becoming a park ranger sparked his interest in advocating to increase the diversity of visitors in the national parks.   
While working at Yosemite, Johnson discovered a photograph from 1899 that showed five Black U.S. Army infantry soldiers. He learned more about these men, discovering that they were known as the Buffalo Soldiers. These soldiers were some of the original stewards of national parks such as Yosemite and Sequoia. Johnson focuses on retelling the story of these soldiers to visitors, emphasizing the impact they had on the beginning of the national parks.  
Johnson has written books, created a podcast, and narrated multiple documentaries about the national parks and their stories. However, to him, there is no greater story than the Buffalo Soldiers. Their stories inspired him to create a podcast called A Buffalo Soldier Speaks which is told from the perspective of Sergeant Elizy Boman who served from 1903 to 1904. He also wrote a novel about a sharecropper's son who became a Buffalo Soldier called Gloryland.  
In 2022, Shelton Johnson received the American Park Experience Award which honors an individual or group that has made extraordinary efforts to enhance the awareness and appreciation of our nation's public parks, lands, and waters.  
Journalist James Edward Mills once said, "Shelton is a national treasure." This statement shows true as Johnson is currently eligible to retire, but he says his work is still needed and there are still people and communities he wants to reach with his stories. Each day, he continues to advocate for diversity in the parks, helping to make sure families from all backgrounds feel welcome to explore these magnificent places. 
Ranger Shelton Johnson Speaks about Black History Month
Sources: 
https://www.outsideonline.com/culture/essays-culture/shelton-johnson-park-ranger-yosemite/ 
https://parktrust.org/news/national-park-trust-honors-national-park-service-ranger-shelton-johnson-with-american-park-experience-award/