Kensington Metropark
Kensington Metropark
(Formerly known as Kent Lake Metropolitan Park)
Opened 1947.
Kent Lake Metropolitan Park was re-christened Kensington Metropolitan Park early in its development, in honor of the original pioneering settlement that once thrived in the area. Although Kensington was the second Metropark project launched, it was the first to open to the public.
By late 1945, the HCMA had acquired 2,600 of the eventual 4,481 acres of forested hills, broad meadows, tamarack swamps, bogs, sloughs, and spectacular rural views that roll around Kent Lake and along both sides of the winding Huron River in Oakland and Livingston counties. Engineers quickly formulated plans to expand the sixty-acre lake into a 1,200-acre lake by clearing the land, then damming the river. They designed twenty miles of shoreline and scenic islands. When Kent Lake was completed late in 1946, it became the second largest inland lake within the five-county region. Swimmers flock to its two beaches, Martindale and Maple.
The park opened in 1948, offering picnicking, hiking, biking, horseback riding, play fields, nature study areas, and sledding hills. Depending on the season, the lake offered guests the chance to swim, boat, fish, ice fish, and ice skate. Two remodeled farmhouses provided camp facilities for groups and organizations. That first year, more than three thousand children slept within their walls, and three hundred secluded acres were set aside for organizations participating in camp programs. During the first summer, five thousand Boy Scouts gathered for "The Gold Rush of '48" area-wide camp-out. During the first two years, the camp site was used every weekend except for Easter and Christmas.
In its eighth year, Kensington offered rides on the Island Queen, a sixty-passenger paddle wheel excursion boat. Two years later, the Authority's first nature center opened here. By its tenth anniversary, Kensington had welcomed its ten millionth visitor.
School groups and families have flocked to the Kensington Farm Learning Center ever since it opened in August 1976, as the Children's Farm and Village. Here, on one hundred acres bordering the Huron River, they can pet and feed farm animals, tour the reconstructed barn, climb aboard a hay wagon or sleigh for a leisurely tour, and see, smell, and feel what farm life is all about. In the early years, a narrow-gauge railroad offered rides around the farm. The year after the farm center opened, the Authority's 1977 biennial report explained, "City children especially are discovering the joys of country life in the new Children's Farm and Village." Originally operated by a private concessionaire, the farm was turned over to the Metroparks in 1980. At that time the Authority decided to abandon the railroad and the concessionaire's plans for ten additional rides; the area was renamed the Farm Learning Center and its focus became educational.
Nowadays, Kensington's nature center and seven trails also offer year-round adventures in learning. Labels along the trails point out the heron rookery and other birding highlights. The building features exhibits about the region's natural history.
The forty-six-passenger Island Queen II offers tours of Kent Lake in the summer. Kensington's eighteen-hole golf course is rated one of the top ten publicly owned courses in Michigan. Swimmers, canoeists, kayakers, and paddle boaters enjoy Kent Lake in the summer. A new water play area has been designed for children.
In the winter months, the park becomes a winter wonderland, as visitors climb up and hurtle down toboggan runs and sledding hills or soundlessly cross-country ski along groomed and marked trails. Skaters play hockey or glide around the two ice skating ponds. To ward off the chill, winter enthusiasts can gather around indoor fireplaces located in several buildings, or stop in at the Cross Country Ski Touring Center which in the summer months functions as a golf course starter building.
Kensington's planners had originally estimated that the park would need to accommodate fifty thousand people on peak summer holidays, with two-thirds that number of people on weekends throughout the rest of the year. Six decades later, Kensington Metropark hosts 2.3 million visitors each year, making it the most popular year-round park in Michigan.
Opening dates:
1946 – Kent Lake increased from 60 acres to 1,200 acres.
1956 – Island Queen (a sixty passenger paddle wheel put into operation)
1961 – 6,345-yard, Par 71 Golf Course
1976 – Kensington Farm Center (formerly known as Childrens' Farm and Village)
1996 – Mobile Learning Center
2000 – Wildwing Lake Board Walk
2007 – Splash 'N' Blast
2007 – Farm House Grille
Lower Huron Metropark
Lower Huron Metropark
Opened to the public 1947 as Lower Huron Metropolitan Park.
Officially dedicated in 1953.
At the time of its founding, the HCMA decided to locate large recreational parks at strategic points along the river valleys, where different parks could provide different types of recreational opportunities. In 1946, the four-hundred-acre Kiskadden Farm went on the market. Located in the river valley halfway between French Landing and New Boston, it sat twenty-five miles away from Detroit and spanned both sides of the Huron River, an ideal setting for a large park in Wayne County.
This stretch of the Huron River meanders picturesquely through the old farmlands. Ravines and the tiny scenic streams emptying into the river are among the attractions for environmentalists, as are the rare and fascinating assortments of trees and shrubs that thrive here far from their core habitat; among them are the paw-paw and Kentucky coffee trees. Visitors flock to the park in the spring to see acres of redbud trees in bloom.
With plans to purchase more land in the area, the Authority opened the farmlands to the public almost as soon as the property was acquired, responding to the urgent post-war demand for recreation. By the spring of 1948, picnic sites and parking lots were available in Lower Huron. A local Boy Scout troop reconstructed an old cable suspension bridge across the Huron River, which gave visitors access to both riverbanks. Skating and fishing were encouraged along the river.
The Authority realized that this site was "possibly the last location for a major park in the lower Huron River area." Within one year, 1,100 acres had been acquired and builders began constructing roads, sewers, and water systems on the former farmlands. By 1953, the original 425-acre park was preparing for its grand opening and first full season; park officials expected to double the number of the previous year's visitors (425,000) as the public discovered the brand new picnic grounds, play areas, group camping, and nature trail.
Over time, the park has grown to encompass 1,258 acres of wooded hillsides, ravines, small springs, and streams. The HCMA's first swimming pool opened here in 1958; later, the Metroparks' first water slide joined the complex. A camp site for youth groups was carved out of the property; fifteen miles of bike-hike trails were designed to connect Lower Huron, Oakwoods, and Willow Metroparks; two nature trails were laid and labeled; a children's play area was constructed; ball fields, tennis and basketball courts took over former agricultural fields.
Anglers can still find isolated shore-fishing sites where they can drop a line, bikers and hikers enjoy touring the park, and golfers tee off on the eighteen-hole, par-three golf course, which covers fifteen acres. In the winter, ice skaters glide across the park's three natural ponds.
The park's fifty-year-old swimming pool has been relegated to the past, replaced by an $8 million Family Aquatic Center.
Opening dates:
1961 – Par 3 Golf Course
1999 – Willow Connector Trail
2008 – Turtle Cove Family Aquatic Center
Lake St. Clair Metropark
Lake St. Clair Metropark
(Formerly known as Metro Beach Metropark)
Opened on August 19, 1950. Dedicated 1951.
At its first meeting, in 1942, the Huron-Clinton Metropolitan Authority's Board of Commissioners pinpointed the need for swim facilities, noting, "even though Detroit and its environs are located on the shores of the greatest fresh waterway in the world, satisfactory public bathing facilities have not been provided." Metro Beach was designed as a premier swimming facility; in time it would encompass seven hundred seventy acres and stretch for more than a mile along Lake St. Clair.
Plans for Metro Beach were authorized as soon as World War II ended. The HCMA authorized surveys of the Detroit River and Lake St. Clair, and eventually spent $150,000 on the purchase of the first five hundred fifty acres at Huron Point on Lake St. Clair.
The site offered 7,500 feet of lake frontage, but a massive dredging project was required to transform swampland into the beach that would outline the park, which lies five miles south of Mt. Clemens and twenty-two miles northeast of downtown Detroit. Shortly after the war ended, the HCMA contracted for the removal of 2,200,000 cubic yards of sand from the lake for fill and beach-building, at a cost of $459,500. The following year, construction crews began work on a four-lane divided parkway and the facilities that were considered "ultra modern" at the time. Noted landscape architect Hugh Lamley designed the park, modeling it after Jones Beach in New York.
By the late 1940s, members of the public had the opportunity to study a model of the proposed two-million-dollar project and what was planned for different phases in the future: a beach six thousand feet long, with an average width of three hundred feet; a beach walk thirty feet wide; deck games; an eighteen-hole putt-putt golf course; a twenty-five-acre picnic area on a point surrounded by water on three sides; parking for five thousand automobiles; a boat dock and marine facilities, roller skating rink, a large swimming and diving pool complete with bleachers for exhibitions and competitions; a central administration building; and a bathhouse with lockers that would accommodate seven thousand visitors a day, plus food concessions and first aid stations.
"A half-century ago, parks offering swimming had to offer many amenities we no longer need to provide," explained Jim Pompo, who once served as superintendent of Metro Beach. "People came fully—and often formally—dressed. They expected to be able to rent bathing suits, dress in fully-equipped changing rooms, and store their clothes in lockers. Because of this, at the time Metro Beach opened, we needed a huge changing-room complex. Six thousand lockers were built to accommodate visitors eager to change and head to the beach." When times and social customs changed, the massive changing-room facility was torn down.
On June 23, 1951, shortly after the finishing touches were made to the parkway entrance, Metro Beach officially opened with speeches, a day-long program, sports events on land and water, fireworks, and dancing under the stars. That summer, 100,000 visitors used the bathhouse facilities, which included a room equipped with baby bottles, food warmers, and "other furnishings for the convenience of mothers with infants." The food bar served sandwiches, candy bars, soft drinks, and snacks to as many as ten thousand hungry visitors a day. Two inland boat basins invited all but the largest sail and power boats to stop for a visit. Months later, during the first winter of this Metropark, more than four thousand ice fishermen could be seen during frigid Sundays, and more than two thousand ice skaters would glide across the lake shore on a winter weekend day.
Because of its enormous popularity, Metro Beach expanded its facilities later in the 1950s, adding a marina, boardwalk, boat launch, Par-3 golf course, tot lot, outdoor roller skating rink, and dance area. In 1964, an Olympic-sized swimming pool opened to the public. In 1977, a thirty-six-hole putt-putt golf course was added. In 1985, a generous donor, Harry Fuller, bequeathed $50,000 and three dozen wildlife game mounts to the Authority, to be used as a nucleus for a nature center at Metro Beach. In 2001, the "Squirt Zone" water spray park opened.
A trackless train still brings visitors from the parking lots to the picnic areas on Huron Point, which offers scenic views of Lake St. Clair. People in-line skate, walk, or bicycle along the one-mile-long paved hike-bike trail along Huron Point. Swimmers can choose between Lake St. Clair and an Olympic-size pool. Boaters can use the boat-launch ramp on Black Creek to enter the Black Creek, which leads out to Lake St. Clair, and then on their return trip, they can pull their boats into a slip in one of the three marinas. Parents bring their children to enjoy the playground, while other visitors stroll along the 1,700-foot boardwalk, get in shape on the walking fitness course, play a round of golf, or visit the nature center. On the weekends, music lovers enter the park for evening concerts and dances. In the winter, ice fishing, ice skating, and cross-country skiing keep the park busy.
Opening dates:
1959 – South Marina
1962 – Tot Lot and Play Area
1964 – Olympic-sized swimming pool
1977 – 18-hole, Par-3 Golf Course
1989 – Nature Center
1993 – Shipwreck Lagoon Adventure Golf Course
1996 – Thomas S. Welsh Activity Center
2001 –"Squirt Zone" a zero-depth water spray park
2003 – Huron Point Shoreline Trail
Marshbank Metropark
Marshbank Metropark
Opened 1950. Transferred to West Bloomfield Township on October 8, 1987.
A civic-minded philanthropist who believed in the HCMA's mission and served on its board, Howard B. Bloomer donated one hundred fifteen acres to the Authority as soon as the war ended in 1945. Located on Commerce Road southwest of Pontiac, this land had been his personal estate. It included two thousand feet of frontage on the western end of Cass Lake and eight hundred feet of frontage on Orchard Lake.
When the Authority acquired the land, maintenance crews immediately began a tree-planting program to provide shade trees for picnic areas. Two years later, bulldozers prepared the property for entry roads, parking lots, and playing fields. Marshbank was designed as a picnic site, with tables and shelters and boating access to the water.
Recognizing that the small, locally used park didn't fit its mission, the Authority donated Marshbank to West Bloomfield Township in 1987, for one dollar and deed restrictions, ensuring that the park would remain a public facility throughout the ages.
Dexter-Huron Metropark
Dexter-Huron Metropark
Opened 1952.
The Washtenaw County Road Commission transferred ownership of four tracts of land in Washtenaw County along the Huron River to the HCMA in the early 1950s. These two hundred twenty acres, which were the first acquisition on the Huron River between Belleville and Kensington Metropolitan Park, were divided into three Metroparks: Dexter-Huron, Delhi, and Hudson Mills. All three were originally intended for "passive recreation," as places that would encourage an appreciation for nature, environmental restoration, and land preservation along the area's ancient highway. In fact, Dexter-Huron already existed as an informal picnic area.
The one hundred twenty-three acres that created Dexter-Huron Metropark were redeveloped to offer picnic grounds, a fishermen's Mecca, and launch sites for canoes. This park offers a scenic picnic spot on the river, shelters, playground equipment, and a ball diamond.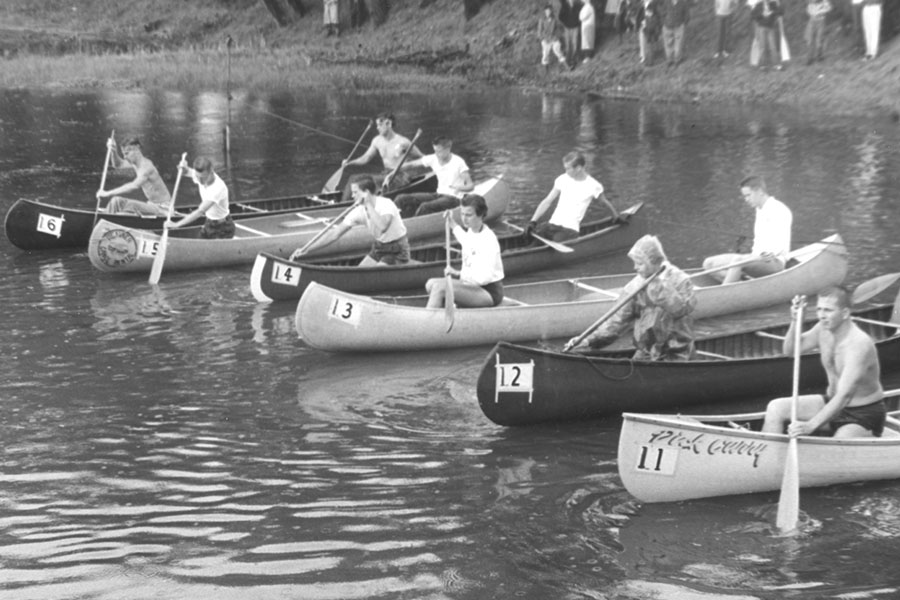 Delhi Metropark
Delhi Metropark
Opened 1957.
"Dexter-Huron, Delhi, and Marshbank certainly didn't fit into the original planning and development scheme as envisioned by the founding fathers, and later the HCMA Board," Deputy Director Dave Moilanen explained. "Although all three were very small, ranging in size from fifty to one hundred twenty-five acres, the Board decided that politically it would be best to accept these parks."
The Authority's original plan had called for a string of roadside parks ranging along the Huron River, linking Delhi with Scio and Foster, two other sites where pioneer settlements once flourished, but the fifty-acre Delhi was the only one of the three to become a park. Because Delhi and Dexter-Huron are located along the Huron River near Hudson Mills, the Authority realized that the same staff could efficiently administer all three Metroparks in Washtenaw County as a unit.
Delhi Metropark was once the site of an early and thriving river settlement; sharp-sighted visitors can still see the foundations of old mills once powered by the Huron River. In the mid-nineteenth century, the hamlet of Delhi also boasted a livery stable, store, homes, outlying farms, and several other businesses.
Continuing the development of recreational space along the Huron River, this mini-Metropark opened to visitors interested in picnicking, photographing, canoeing, kayaking, or just relaxing in a lovely and fairly remote natural setting. The Delhi Rapids rush past the banks of the river at this spot and trees shelter riverbank picnics and a large playground. For decades, a canoe livery has taken canoe enthusiasts from this spot upstream to Hudson Mills, where they can start a leisurely paddle along a beautiful stretch of the Huron River.
Opening dates:
2000 – Helen's Adventure Park Playground
Hudson Mills Metropark
Hudson Mills Metropark
Opened 1957.
In the early nineteenth century, a small community flourished on the grounds of what would a century later become Hudson Mills Metropark. A grist mill, cider mill, plaster mill, saw mill, and small village known as Hudson Mills stood at the junction of the Huron River and North Territorial Road, just beyond the village of Dexter. Although the mills, shops, post office, barns, and several houses disappeared long ago, the name remained and was conferred on this park, the largest Metropark in Washtenaw County.
The land had originally been considered for the site of a metropolitan forest rather than a park, thanks to its magnificent stand of trees. However, the public asked for active rather than passive recreation, and the plans were changed. The 1,549-acre park opened with "activities suited to a relaxed pace."
Along with the two other Metroparks in the county, Hudson Mills offers a popular stretch of the Huron River for canoeing. The park's Acorn Nature Trail meanders for two miles, guiding hikers along shady areas and woodlands adjacent to the Huron River. Labels point out interesting plant life.
A three-and-a-half mile hike-bike trail now winds along the Huron River, through woods and open fields. Picnic grounds offer four shelters for group use. An activity center/administration building rents bicycles and skis, depending on the season, and provides food service during the summer months. Several years after the park opened, tennis courts, soccer fields, a play area, and four miles of groomed cross-country ski trails were added. The eighteen-hole, par-seventy-one golf course is open year-round, based on course conditions, and disc golf is especially popular in this park. Players have two twenty-four-hole courses where they can play. Organized youth camping is available; so are accommodations for canoeists and kayakers.
People come from miles around to Hudson Mills to view the Fourth of July fireworks, make maple syrup, view antique tractors, watch soccer tournaments and track-and-field meets, as well as to participate in other special events scheduled throughout the year.
Opening dates:
1991 – 18-hole, Par 71 Golf Course
Stony Creek Metropark
Stony Creek Metropark
Opened on July 6, 1964.
Stony Creek vies with Kensington for the title of the largest of the Metroparks; they are within three acres of being the same size. Its history as a Metropark dates back to 1957, when the Authority began acquiring land in Oakland and Macomb counties for a new "full-sized" metropolitan park (at that time envisioned as 2,800 acres) patterned after Kensington. Stony Creek was launched by combining one hundred twenty-four parcels of purchased lands plus one hundred seventy-nine acres donated to the Authority and an additional four hundred fifty acres that were held in a life estate for several years. Stony Creek now offers 4,461 acres of scenic views, picnicking, swimming, fishing, boating, biking, hiking, golfing, ice fishing, ice skating, sledding, cross-country skiing, and tobogganing.
As was the case at Kensington, a lake expansion project was planned from the beginning. Engineers and landscape architects carefully analyzed the property, recognizing that a slight change in the crest elevation of the proposed dam would make dramatic changes in the size and shape of the new six-hundred-acre lake. Eventually, they decided to build two dams, creating two lakes where swimmers and boaters could enjoy the wide open spaces while anglers catch walleye, pike, perch, small mouth bass, bluegill, and crappie.
Before the land was flooded for the lake, the Authority salvaged 100,000 cubic yards of topsoil, which was stored and used for future landscape projects. Baypoint Beach, with a shoreline eight hundred feet long, opened just before Eastwood Beach. Visitors can borrow fishing poles or rent paddleboats, kayaks, and rowboats to enjoy the lake's waters and views.
Thousands of years ago, glaciers formed Stony Creek, Reflection Pond, and the surrounding rolling terrain, which is now covered with dense woods, broad fields, and small stretches of wetlands. These provide the backdrop for six miles of nature trails that course through the area surrounding the nature center. An additional thirteen miles of trails intended for mountain bikers, hikers, and cross-country skiers are found in the southwest corner of the park; this is the only mountain bike trail system within the Metroparks. Another bike trail enters the park and loops around Stony Creek Lake for more than eight miles. Sledders, snowboarders, and tobogganers can choose between seven winter sports hills.
In the early 1960s, the commissioners decided to convert a large home on the property into a nature center. "That was supposed to be a short-term solution," Moilanen pointed out, but ground wasn't broken for its replacement until after the turn of the century. "The old home served us well for many, many years."
The Macomb County Road Commission selected nineteen remote acres of this Metropark for a mitigation project. The land was transformed into a wetland that has become a habitat for birds, turtles, frogs, and native wetland plants. When it was completed in 2003, the $1.3 million project became the largest artificially made wetland within the Metropark system. Adjacent to the mitigation site, the five-mile-long Inwood Hiking Trail System was developed on seven hundred acres; it includes a long plank walkway spanning dramatic natural scenery.
Opening dates:
1970 – Eastwood Beach
2006 – 6,928 yard, Par 72 Golf Course (concessionaire's 36 year lease expired)
2007 – New Nature Center Building
Willow Metropark
Willow Metropark
Opened June, 1970.
Stretching across 1,531 acres ranging along the Huron River, south of Lower Huron Metropark and northwest of Oakwoods Metropark, Willow became the ninth Metropark in the system. Like Lower Huron, this park opened almost immediately after the first land acquisitions in order to meet public demands for recreation; initially, only play equipment and a few picnic areas were available.
A $100 million bond program approved by Michigan voters in 1968 granted funds for an Olympic-sized swimming pool at Willow and a game area that officially opened on June 8, 1976, with courts for tennis, shuffleboard, and basketball, and a children's play area near the pool, bathhouse, and food bar. More than twenty-five years later, the tennis courts were converted into a skate park offering in-line skaters, skateboarders, and bicyclists a half-pipe ramp and other challenges. Dancers enjoy weekend programs and special events at the open-air dance pavilion, and when they get hungry, food service is available.
Washago Pond is a particularly scenic spot for picnics and a favorite site for fishing. Visitors can borrow fishing poles or rent rowboats, paddleboats, and single-speed bicycles here.
The park stays active year-round. An eighteen-hole regulation golf course and driving range are located in the southern part of the park. Disc golfers play year-round at the park's eighteen-hole course. A four-and-a-half-mile hike-bike trail connects all the major facilities within the park; the trail's extension brings bicyclists and hikers to Oakwoods and Lower Huron Metroparks. In the snowy winter months, sledders and cross-country skiers make use of the hills and trails, and whenever the ice is thick enough, skaters glide across the pond.
Opening dates:
1976 – 6,378 yard, Par 71 Golf Course
1976 – Willow Pool
2003 – Skate Park
Oakwoods Metropark
Oakwoods Metropark
Opened on May 8, 1975.
Oakwoods Metropark covers 1,756 acres northwest of Flat Rock in southern Wayne County. This area is rich in Native American history; in the early 1800s, it formed part of the Wyandot Indian Reservation.
A 1968 bond program provided funding for the Oakwoods Nature Center, which opened to the public in 1975. The 6,800-square-foot facility offers hands-on exhibits and seasonal displays, an indoor turtle pond, and auditorium. Outdoors, the nature study area covers four hundred acres and features an ancient sandbar, backwater trails for canoeists, five nature trails, a three-acre pond, and a butterfly garden.
Interpreters lead visitors on nature tours and voyageur canoe adventures past the nesting grounds and feeding territories of egrets, herons, turtles, and the other wildlife that make their homes on or near the backwaters of the Huron River. Four nature trails guide visitors through the land's important natural features: the Split Log Trail (a woodland experience), the Big Tree Trail (featuring trees, wildflowers, and birds), the Long Bark Trail (where a post-glacial beach line can be identified and the various stages of lake development are pointed out), and Sky-Come-Down Trail (which wanders over long-abandoned farm fields and past a three-acre pond created for aquatic life studies).
Oakwoods is the flattest of the Metroparks, which makes its trails particularly appealing to beginning joggers, hikers, and bicyclists; the land features tall trees, wonderful woodland scenery, and the Huron River's backwaters. Equestrians enjoy the five miles of horse trails—and, speaking of trails, Oakwoods is one end of the hike-bike trail that stretches to Lower Huron Metropark.
Opening dates:
Lake Erie Metropark
Lake Erie Metropark
Opened on June 28, 1980.
Located in Wayne County's Brownstown Township, the land that now comprises Lake Erie Metropark was seen as an ideal location for a large metropolitan park because of its access to Detroit, the Detroit River, and one of the Great Lakes. This Metropark preserves sensitive natural areas, including hundreds of acres of wetlands and three miles of Lake Erie shoreline, while also providing a wide variety of recreational activities. The 1,607-acre complex is one of the best bird-watching sites in the state. The area teems with waterfowl and wildlife; the park lies beneath the migration route for butterflies, raptors (birds of prey), and other winged visitors.
Nearly three-fourths of the park was purchased outright in 1975; five years later, visitors were first welcomed for shoreline picnicking and fishing. Soon afterwards, a marina at the southern end of the site was acquired from a private owner; this provided boating visitors with access to and from Lake Erie and the Detroit River. A $2.5 million special activities area was constructed in 1982, but the park's visitation skyrocketed in 1985, when the "Great Wave" pool opened. The 453,000-gallon wave action swimming pool generates three-foot waves and can accommodate 1,400 visitors at a time. Adjacent to the pool is a bathhouse, games area, playground, and food bar.
Lake Erie Metropark's nature interpretive area helps preserve a very valuable and endangered portion of the Great Lakes Marsh. The nature study area covers two hundred acres of marshes, hawthorn thickets, old canals, and a reconstructed boathouse, all of which offer views of wildlife and the coastal marsh habitat. Visitors flock to see raptors migrating in the autumn, while thousands of waterfowl can also be observed in the offshore waters and marshes. Tundra swans swim here in winter. Muskrats and rare fox snakes make their homes here, and huge beds of American lotus plants bloom late in the summer. The Trapper Run Trail explores the marsh and shoreline, and the Cherry Island Marsh Trail journeys through coastal marshes, past Lake Erie and the Detroit River.
Construction began on the $1 million William E. Kreger Marshlands Museum and Nature Center in 1992; three years later, it opened with the help of a $750,000 grant provided by the "Protecting Michigan's Future" Bond Program. The museum houses exhibits and displays relating to the area's rich history of duck hunting, Native American culture, and marshland life. A 1,300-gallon aquarium houses regional fish species and the "Muskrat Club" offer small children interactive environmental activities.
For those who want to enjoy a leisurely afternoon—or week—of boating, duck hunting, or viewing the Lake Erie shoreline and its waterfowl from the lake or river, a $522,000 boat launch facility opened in the early 1990s. On the south end of the park, golfers enjoy the eighteen-hole, par-seventy-two course, which is surrounded by natural wetlands and encompasses twenty acres of ponds.
Opening dates:
1993 – 6,472 yard, Par 72 Golf Course
1985 – Great Wave Pool
1995 – Marshlands Museum and Nature Center
Indian Springs Metropark
Indian Springs Metropark
Opened June, 1982.
This Metropark spreads across 2,217 acres northwest of Pontiac in Oakland County, at the headwaters of the Huron River. Its "Andersonville Swamp" (now known as Huron Swamp) was the largest undeveloped natural area remaining in southeastern Michigan when the Authority began acquiring the land in 1974. Within a year, 1,037 acres had been purchased. The Authority's goal for this property was to preserve the wetlands, grasslands, Timberland Lake, and prairies in their original condition, in order to focus on interpretive opportunities and public education about the natural environment. Its facilities do, however, include an eighteen-hole golf course, hike-bike trails, cross-country ski trails, a nature center, Spray 'n' Play, and a state-of-art Environmental Discovery Center that provides twenty-first-century adventures in the natural sciences.
Indian Springs calls its official opening the day in 1982 when the nature center first opened its doors. The 2,400-square-foot center was a leader in environmental education at the time; it was solar heated, to demonstrate how the sun can be utilized to provide heating, cooling, lighting, and food production throughout four seasons of the year without polluting or altering the natural environment. Within three years, a 3,000-square-foot addition offered expanded exhibit space, a classroom, and multi-purpose room.
The Authority developed plans for a magnificent Family Aquatic Center at Indian Springs in the mid-1990s, but local communities pointed to an existing water park nearby and the Authority changed its plans. Engineers and naturalists designed and developed an Environmental Discovery Center unlike any other facility in the state; it opened in 2005. Adjacent to a 1.7-acre constructed kettle lake with viewing areas below its surface, on the surface, and above the surface, the center houses a fully equipped biology laboratory.
"This interpretive center is very different from anything else we've ever done," Moilanen explained. "It allows us to move into the twenty-first century with our interpretive program. We tie in with science benchmarks at the schools. Our labs are interactive, with hands-on activities and state-of-the-art technology."
Indian Springs' eighteen-hole, par-seventy-one golf course includes a driving range. The Spray 'n' Play features a water play area, a maze, a rock-climbing wall, and a special play place for tots. The park's nature trails and hike-bike paths lead visitors through swamps, across meadows and fields, into woodlands, and past rejuvenating prairie lands. Interpretive labels provide local history and information about native plants and wildlife. In winter, skiers take over the ten miles of trails.
Opening dates:
1988 – 6,688-yard, Par-71 Golf Course
2005 – Environmental Discovery Center
2006 – Spray 'N' Play
Huron Meadows Metropark
Huron Meadows Metropark
Opened June, 1984.
Covering 1,566 acres south of Brighton in Green Oak Township, Huron Meadows in 1984 became the first Metropark to be solely located in Livingston County. Dense woods and rolling meadows follow the flow of the Huron River. Maltby Lake is a magnet for visitors who come to picnic, fish, and enjoy a leisurely hour—or day—boating; a fishing pier attracts anglers of all ages, and paddleboats and rowboats can be rented for use on the lake. Metroparks founding father Henry Curtis, who decried the use of motor boats on rivers and lakes, would be pleased to know that no gasoline engines are allowed on this lake. Veteran canoeists and kayakers often start long treks along the Huron River from this park.
In 1984, the eighteen-hole, par-seventy-two golf course opened with a 5,700-square-foot- combination golf/activities center building, which offers food service and a meeting room. In the late 1980s, the building was named for former Commissioner Clifton W. Heller, who served Livingston County on the Authority for many years. In winter months, the golf center becomes the Cross Country Ski Touring Center, offering ski equipment rentals, food, and maps for the Metropark's seven miles of groomed trails. Skiers weave through the park while ice fishermen drop their lines in Maltby Lake.
Opening dates:
1984 – 18-hole, Par 72 Golf Course
1984 – Golf/Activities Center Building
Wolcott Mill Metropark
Wolcott Mill Metropark
Opened July, 1989.
"When I was director, my biggest challenge was acquiring Wolcott Mill," James Pompo recalled. "[Former Director] Dave Laidlaw had once been thrown out of the township office when he tried to discuss the acquisition. Then [Commissioner] Tom Welsh tried. We had a debate on the radio and one of the township officials told us, 'If either that Laidlaw or Welsh comes into the township again, they'll duplicate John the Baptist—their heads will be served on a platter.' Later on, I met with township supervisor Don Martens five times before the park issue came to a vote—and it passed with all but one in favor. By that time, township authorities were afraid that McDonald's and other fast-food businesses would be buying up the land."
A grist mill built in 1847 loaned its name and fame when it was selected as the historical interpretive center for this Metropark in Macomb County. The mill preserves an important and bygone era in the state's history. At the time the grist mill was built, Michigan had thousands of small mill operations and most local farms grew winter white and red wheat; nowadays, only five gristmills still operate in the state and most winter white wheat is imported from Ontario. Wolcott Mill remained in continuous operation by several generations of one family until 1967.
When the Authority purchased the 225-acre property in 1979, the grist mill came complete with all its grain-grinding machinery, power source, mill pond, dam site, delivery truck, and adjacent buildings. It took ten years for the mill and its property to be restored and opened to the public; now, the mill is open to visitors seven days a week May through October, and Wednesday through Sunday, November through April, with interpreters available to give programs or show visitors the workings of the mill.
Over time, the park has grown to encompass in excess of 2,800 acres along the North Branch of the Clinton River. This park consists of four sections: the mill, Farm Learning Center, golf course, and Camp Rotary. The Authority plans to connect these four sections into one large Metropark when all necessary land acquisitions are completed. The group camp facility and its lodges, activity center, observatory, and tent camp sites were acquired from the local Rotary Club in 1996. The park's Equestrian Center offers ten miles of trails, while model airplane enthusiasts take to the skies, making use of the Metropark's model airplane airport on the grounds, operated in partnership with the Romeo Model Airplane Club.
Horses, dairy cows, beef cattle, goats, and sheep graze at the nearby 250-acre Farm Learning Center on Wolcott Road, which opened to the public in the fall of 1997. Chickens, ducks, and turkeys lay eggs in the farmyard and hen houses and 160 acres of crops are planted each year. A modern working farm with twenty-two dairy cows, the Farm Learning Center sells milk to a dairy processor and demonstrates farming techniques, including an automated milking system and state-of-the-art agricultural waste-handling system. The farm's original dairy, sheep, and horse barns were salvaged and renovated; they are in daily use. A new farmhouse was built after the park opened, to serve as an exhibit area, classroom, and staff office.
Opening Dates:
1997 – 6,266-yard, Par 72 track Golf Course (formerly known as Northbrook Golf Course)
1997 – Camp Rotary
1997 – Farm Learning Center
2000 – Equestrian Trail