Metroparks Working with Partners to Offer Free Swim Lessons for More Than 1,300 Children in Southeast Michigan Again this Summer
May 17, 2023
Metroparks continuing efforts started in 2022. Partnerships offer opportunities for youth to learn to swim and be safer around water.
May is National Water Safety month, a time to reflect on water safety practices ahead of peak swimming season here in Michigan. Every summer, more than 25 people drown in Michigan, and that number has nearly doubled over the last years. Teaching children to swim is essential to decreasing the likelihood of water-related injuries and deaths.
In 2021 the Huron-Clinton Metroparks worked with consultant, Counsilman-Hunsaker, to conduct a regional survey to identify the barriers to swim instruction and the gaps in water safety. The results showed that one of the biggest barriers to more people in the region learning to swim were the fees of swim lessons being too high, particularly for people of color and for city of Detroit residents, where studies have shown that 70 percent of children have little to no swim experience.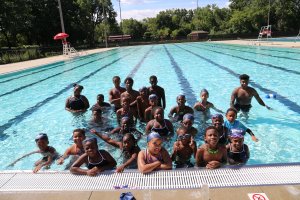 The Metroparks partnered with other organizations in the region in 2022 to begin filling some of those gaps so all children in the five counties they serve can safely enjoy the pools, lakes, rivers, and ponds that make summer living in Michigan so great. Partnerships taught more than 1,000 youth to swim in summer of 2022. Metroparks continued partnerships in the winter of 2023 with additional lessons, and today announced confirmed partnerships for summer 2023 as well.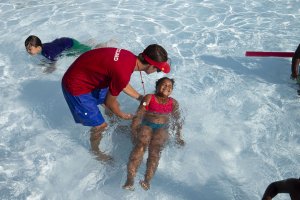 "Southeast Michigan has some of the best water recreation opportunities available, and we want everyone to have access and feel safe when they visit the parks, so we are grateful for the opportunity to partner with organizations throughout the region to improve swim safety for the children who live here," shared Amy McMillan, director of the Huron-Clinton Metroparks. "We can accomplish more together than we can by working individually."
The Metroparks are once again providing funding to help its partners cover the costs of equipment and instructors, as well as providing suits and goggles to students this summer. In total, the Metroparks will be investing just over $143,000 to support these summer lessons. Additionally, $25,000 in grant funding was awarded to the Huron-Clinton Metroparks Foundation from the Ralph C. Wilson, Jr. Legacy Fund for Youth Sports at the Community Foundation for Southeast Michigan to support this effort and remove barriers to water safety and swim education by expanding free water safety and beginner swim lessons to youth in Livingston, Oakland and Washtenaw counties.
Most lessons start in early June and registration is already open for some. Registration is open now for some locations and will continue to open over the next few weeks. Additional dates and classes may be added throughout the summer. The best place to find all the information is on the Metroparks website here. Some registrations are facilitated through the partner locations, so it is important to read the information associated specifically with the location you are most interested in.
The current list of partners and locations the Metroparks are working with this summer are:
Michigan Department of Natural Resources – Belle Isle
City of Detroit Parks and Recreation and Detroit Riverfront Conservancy – Brennan Pool
Wayne County Parks – Chandler Park
Friends of Rutherford Pool and Washtenaw County Parks – Rutherford Pool
Oakland County Parks, Oakland County Sherriff PAL and City of Pontiac Parks & Recreation – Waterford Oaks
Macomb Family YMCA
Howell-Highlander Pool
Ann Arbor YMCA – Birkett Lake – details to be determined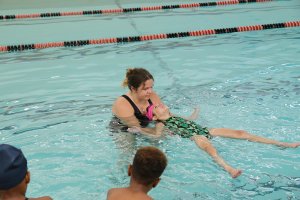 "Next year we hope the swim program is bigger than this year's, and bigger the year after that," said McMillan. "Our biggest hope is that every single child who lives in southeast Michigan learns how to swim and will be safe in the water for their entire lives."
Metroparks will continue to share stories and updates on their website and social channels as new partnerships are formed around water safety. It's important we all continue working together to address this need in our communities.