Improving Water Safety in Southeast Michigan
Metroparks partners on swim lessons and regional programming plan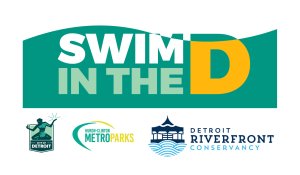 Studies have shown 70 percent of Detroit children have little to no swimming ability, which demonstrates a dire need to reduce water-related injuries and drowning deaths. In a united effort to expand free swim lessons and increase water safety among Detroit youth, a new program has been collaboratively launched by the City of Detroit's Parks and Recreation Department, the Huron-Clinton Metroparks and the Detroit Riverfront Conservancy. The Swim in the D initiative kicked off in June 2021 with the goal of teaching more than 500 Detroit children to swim and to help them become more confident and safer in and around the water.
Registration quickly filled just hours after the new program was announced, but unfortunately the storms and flooding that hit the region in July caused damage to pools that were going to be used to deliver the program.  The partners pivoted to find alternate solutions that would still allow for the program to move forward in a different way and benefit the community. Partners created an alternate solution where those 504 registered youth could still learn how to swim and be safer around water. Those students were split into smaller classes of around 27 students and will continue to attend 5-week courses throughout the fall and winter. Classes are held twice a week in an indoor rec center pool, and it's anticipated that all 504 participants will complete the program throughout the winter.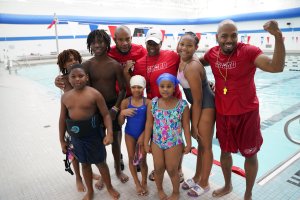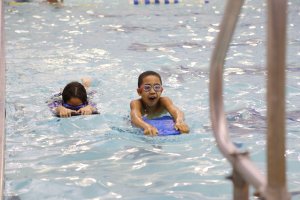 The Swim in the D program looks different than intended when it was announced back in May, but the important thing is that 504 Detroit youth are still receiving valuable swimming and water safety instruction.
"For the city of Detroit to be able to offer free swim lessons to kids citywide is very important, said Brad Dick, group executive, Detroit Services & Infrastructure. "I learned to swim as a child, and if kids learn the basics, it will prevent unnecessary drowning deaths. Access to swim education is paramount, and we are excited to start and grow this program in the coming years."
The Swim in the D program includes:
Free swimming lessons for Detroit residents ages 6 to 17 (5-week sessions offered)
Swim lessons and water safety education are taught by certified swim coaches.
Every child receives a free swim bag complete with swimsuit, t-shirt, and swim cap.
The program also includes pre- and post-program skills assessments and parent satisfaction surveys to help ensure the effectiveness of the program.
"Metroparks is thrilled to collaborate in a program that helps meet a real community need, teaches an important lifelong skill, increases access to a healthy, fun recreation activity, and helps us more equitably serve the city," said Huron-Clinton Metroparks Director Amy McMillan. "This is a great example of what we can accomplish working together."
The Metroparks and Detroit Riverfront Conservancy each provided $25,000 to support the cost of supplies and equipment while the city's Parks and Recreation Department ran the registration process and is providing the lesson instruction.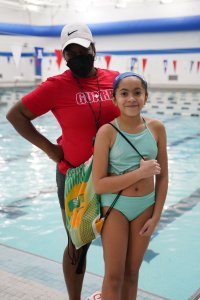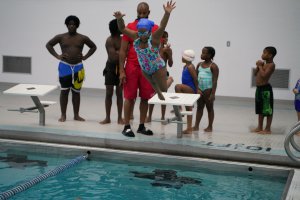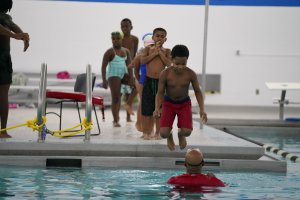 "We are excited that this program will help many Detroit children gain the skills they need to enjoy spending time in the water safely," said Mark Wallace, president and CEO of the Detroit Riverfront Conservancy. "We are proud to partner with the City of Detroit Parks and Recreation Department and Huron-Clinton Metroparks on this important life-saving and life-changing initiative."
Going a Step Further
The effort to improve safety around water doesn't stop with Swim in the D. The Metroparks hired a consultant over the summer to complete a regional survey and develop a programming plan that would holistically look at the needs and gaps within our communities.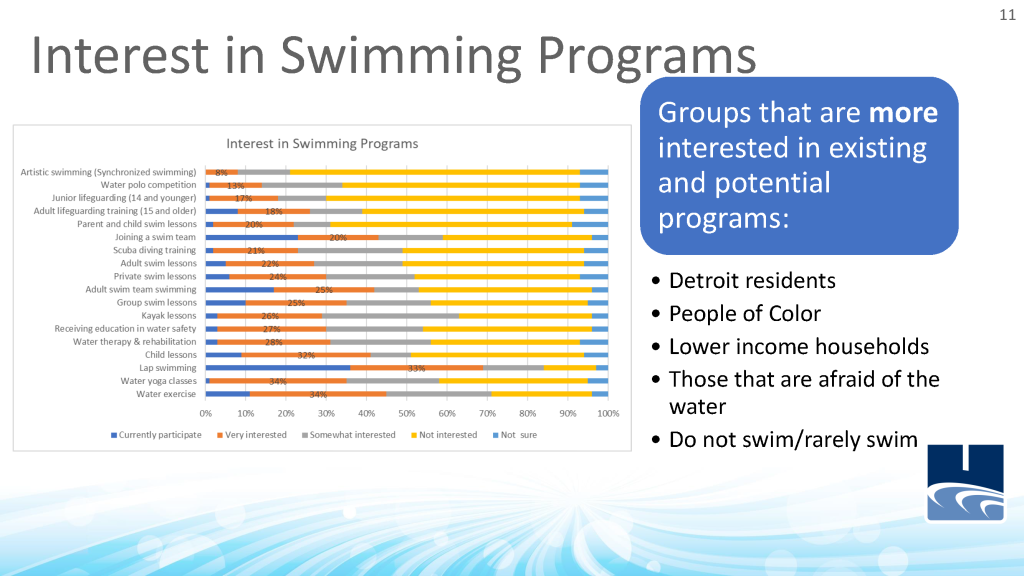 Counsilman-Hunsaker completed the regional survey and shared results at the November Metroparks Board of Commissioner meeting. The results showed that Detroit residents and people of color self-reported being less proficient swimmers than others and that they are more interested in learning to swim than others. Results also showed a high interest for both adult swim instruction (68% very interested or somewhat interested) and child swim instruction (77% very interested or somewhat interested) and even those individuals who were afraid of water said that swimming provides a pleasant way to cool down and spend time with family and friends.
The biggest reasons respondents aren't participating in current opportunities are the hours at swimming opportunities do not work into their schedules, water venues are too far from their homes and the fees are too high.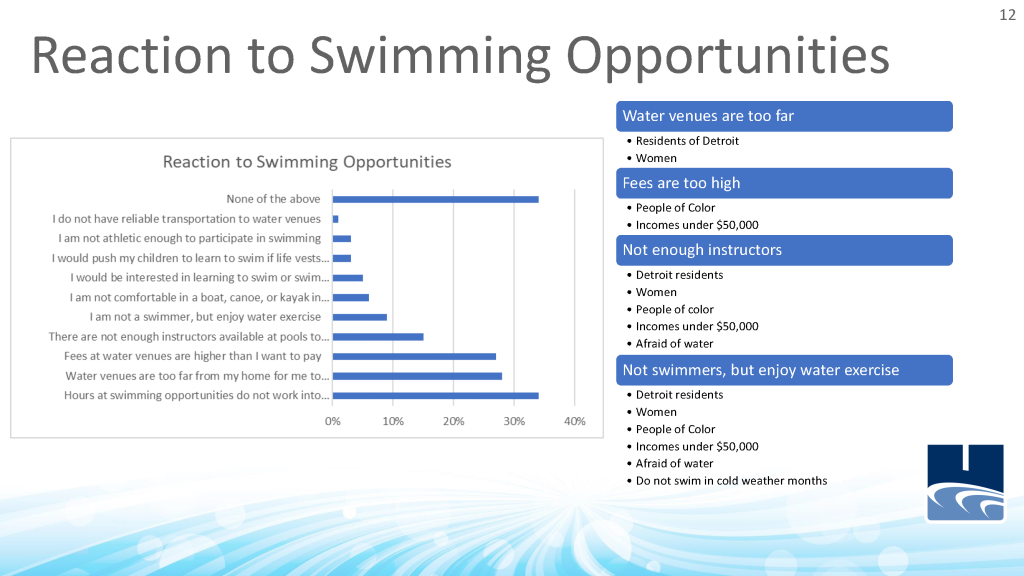 Partners in the region, including the Metroparks, Detroit Riverfront Conservancy, Detroit Parks and Recreation and others, will now continue working with Counsilman-Hunsaker to develop swimming related goals and objectives for the region and develop an action plan. This means the region will likely continue to see new and continued programs, like Swim in the D, in the future as partners work together to address water safety.
In Southeast Michigan you're never far from lakes and ponds, rivers, streams, pools, and splash pads. That's why it is so important for those who call our community home to feel comfortable enjoying those opportunities. Together, we can start reversing those staggering drowning statistics.
If you are an organization or agency interested in partnering as part of these efforts, please contact Jason Bibby at jason.bibby@metroparks.com for information on the action plan being developed.
*Photos thanks to Eric Hobson and Video thanks to Metroparks staff