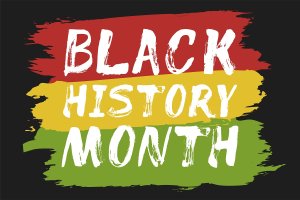 In 1926, The Association for the Study of African American Life and History first sponsored a national Negro History Week, choosing the second week of February to coincide with the birthdays of Abraham Lincoln and Frederick Douglass. It wasn't until in 1976 that Black History Month was officially recognized by President Gerald Ford. In recognizing Black History Month, President Ford said:
"In the Bicentennial year of our Independence, we can review with admiration the impressive contributions of black Americans to our national life and culture. To help highlight these achievements, Dr. Carter G. Woodson founded the Association for the Study of Afro-American Life and History. We are grateful to him today for his initiative, and we are richer for the work of his organization.
Freedom and the recognition of individual rights are what our Revolution was all about. They were ideals that inspired our fight for Independence: ideals that we have been striving to live up to ever since. Yet it took many years before ideals became a reality for black citizens.
The last quarter-century has finally witnessed significant strides in the full integration of black people into every area of national life. In celebrating Black History Month, we can take satisfaction from this recent progress in the realization of the ideals envisioned by our Founding Fathers. But, even more than this, we can seize the opportunity to honor the too-often neglected accomplishments of black Americans in every area of endeavor throughout our history.
I urge my fellow citizens to join me in tribute to Black History Month and the message of courage and perseverance it brings to all of us."
The Metroparks are proud to celebrate Black History Month. This year, tune into our social media channels where we will be sharing information about the African-American history of our region and highlighting the accomplishments of African-Americans from our area. In addition, see below for a list of Black History Month events and resources in our area.
Black History Month Events
75 years ago, a 24-year-old African American secretary was denied a seat on the segregated Boblo boat, SS Columbia. Like Rosa Parks, she refused to back down, taking her fight for integration all the way to the United Stated Supreme Court. Represented by fabled NAACP lawyer Thurgood Marshall, Ray won her case. Scholars argued that she paved the way for the seminal 1954 Brown v. Board of Education, which found that separate was inherently unequal.
Join Detroit History Tours on Zoom for a virtual presentation of Detroit's Underground Railroad, as we explore the people, places, and moments in Detroit's history as they relate to the national movement to aid escaped freedom seekers to Canada.
Let local historian and Howell native Lindsay Root take you on an exciting historical journey of Howell through the treasures he's discovered in Howell's Black History story. Learn the untold stories of Black citizens' contributions to the Howell community.
Celebrate 2022's Black History Month's theme Black Health and Wellness with Malik Yakini, Executive Director of Detroit Black Community Food Security Network, for a conversation on community health and care.
The Detroit Institute of Arts invites you to celebrate Black History Month with free online and in-person programs for people of all ages.
The National Museum of African American History and Culture is holding a number of virtual events and programs for all ages in honor of Black History Month.
The Charles H. Wright Museum will be hosting virtual programs including weekly glimpses into their world renowned And Still We Rise! Exhibition.
The Library of Congress, National Archives and Records Administration, National Endowment for the Humanities, National Gallery of Art, National Park Service, Smithsonian Institution and United States Holocaust Memorial Museum join in paying tribute to the generations of African Americans who struggled with adversity to achieve full citizenship in American society. The website features events, exhibits and collections put together by these organizations.
Join the City Institute for Live Virtual Tours to learn more about the past and present of the city of Detroit.
Step back in time to 19th-century America and retrace the steps of freedom seekers on this remarkable journey through Midnight (code for Detroit) as they escape the horrific shackles of bondage in search of freedom across the Detroit River. On this remarkable journey, actors provide added drama by taking on the personas of significant historical figures of this era such Frederick Douglas or Sojourner Truth.
Visit the Detroit Historical Museum's signature exhibition, Doorway to Freedom – Detroit and the Underground Railroad to learn more about the history of the underground railroad in the city of Detroit.
Learn More About Black History Month – Informational Resources:
A long list of selected exhibits and collections regarding Black History Month and Black history put together by the Library of Congress, National Archives and Records Administration, National Endowment for the Humanities, National Gallery of Art, National Park Service, Smithsonian Institution and United States Holocaust Memorial Museum. Featured is the National Museum of African American History and Culture's Searchable Museum.
Presented by the Association for the Study of African American Life and History, this list features audiovisual materials on Black health and wellness.
"The Tuskegee Airmen National Historical Museum is the dream of many individuals to capture the history of the exceptional aviators known as the Tuskegee Airmen – the first all African American fighter pilot squadron. The museum looks back to honor the Tuskegee Airmen while recognizing the importance of looking forward to inspire the next generation of aviators." Learn more about the Tuskegee Airmen by visiting the Museum's website or visiting one of their Detroit locations.
Watch the top 25 black history movies.
Learn about 12 Black American pioneers who changed the course of global health.
Learn more about Sarah E. Ray, her work as a civil rights activist in the city of Detroit and the fight to register her home as a historical landmark.
Detroit native, Lt. Col. Alexander Jefferson is a retired Air Force officer who fought in World War II as a member of the Tuskegee Airmen. For his time in the military, he was awarded the Purple Heart, Air Medal, Air Force Achievement Medal and World War II Victory Medal. Learn more about his bravery by watching the video put together by the American Veteran's Center.
There were many routes and stops along the Underground Railroad around the areas the Metroparks now stand. Between the 1820s and 1865, there were estimated to be 200 stops on the Underground Railroad across the state of Michigan. Learn more at the link above.
Elijah McCoy was an inventor who was cited as having more patents than any other African-American inventor of his time. His most well-known invention was an automatic lubricating oil cup that helped the steam engines of locomotives and ships move faster, saving time and money. Read more about McCoy at the link above.
Fannie Richards was the first Black public-school teacher in the City of Detroit. She was also influential in the desegregation of the Detroit Public Schools. Learn more about how Fannie Richards helped reform our education system at the link above.
#DidYouKnow two months before the March on Washington, the largest civil rights demonstration of its time happened in the streets of Detroit? The Detroit Walk to Freedom, organized by the Detroit Council for Human Rights and led by Martin Luther King Jr. and many other prominent African-American leaders in Detroit, saw 125,000 people march from Adelaide and Woodward to what was then, Cobo Arena. Learn more about this event and more Black history in Detroit at the link above.