Activities
The 13 individual Metroparks that comprise the Huron-Clinton Metroparks each offer a variety of acitivities that are tailored to families and individuals throughout the year.
For more information on the wide array of activities available at your local Metropark, please click the options below.
Birding
Birding
Click here for a Bird Checklist for the Lake Erie Metropark and the Pointe Mouille State Game Area.
Bring your binoculars and scan the sky for a red-tailed hawk or bald eagle soaring above. One of the premiere hawk-watching sites in North America, Lake Erie Metropark is host to migrating waterfowl in the spring and fall, and birds of prey in the fall. Typically, tens of thousands of migrating birds of prey, comprised of 16 species, are recorded during the autumn months. Hawkfest, an annual festival, celebrates the birds of prey migration in September. Interpreters maintain a park bird species list with more than 300 recorded in this diverse habitat. Resident bald eagles and long-eared owls are regular features. Common wetland and big water species include red-winged blackbird, long-billed marsh wrens, common and caspian terns, cormorants and wood ducks. The spring migration season typically features a healthy warbler & passerine population, while the fall season hosts awe-inspiring numbers of migrant raptors. Visitors are occasionally treated to rare appearances from non-indigenous species like a white pelican or glossy ibis from Florida. Birding programs go beyond bird identification and walks, with educational and informative reviews on art and history as well.
Contact (734) 379-5020 for more information.
Visit Detroit River Hawk Watch for more information.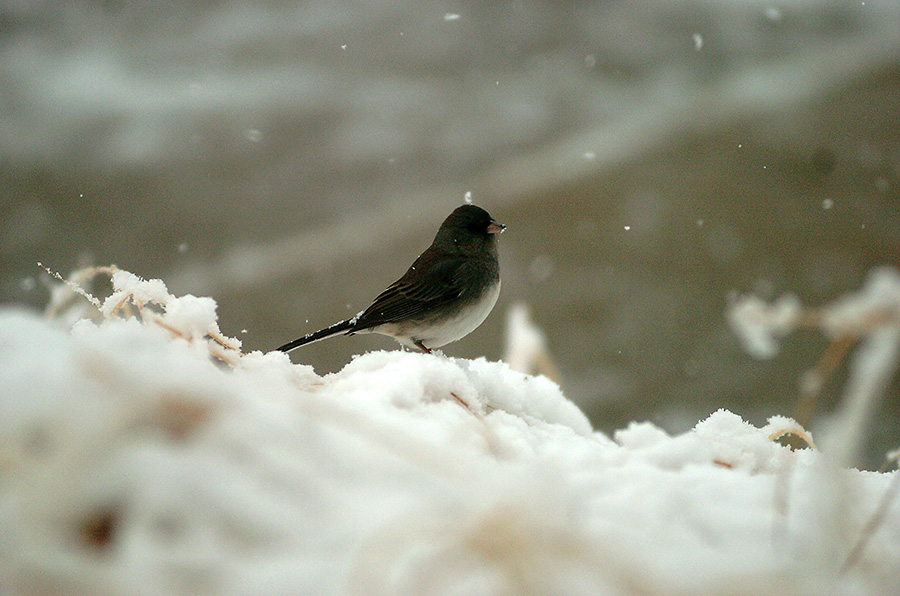 Boating and Launching
Boating
Marina:
The Marina features more than 100 wells complete with water and electricity for season dockage, and operates between April and October. Daily transient dockage is also available for boats up to 35 feet in length (call in advance for availability). Located at the end of Lee Road, dry storage is available May through October.
Launching from the Marina is reserved for Marina patrons only.
Marina seasonal dockage
Daily (24 hours) all lengths: $30
Weekly – 25 foot: $56
Weekly – 30 foot: $66
Weekly – 35 foot: $76
Weekly – 40 foot: $81
Daily yard storage: $49/Week
Dry storage w/ramp use-May-October: $600
Pump out holding tank: $6
Weekly – West Shore Trailer Storage: $10
Vehicle permit required for parking at the Marina. Obtain pass from Marina office.

Boat Launch:
Make some of your best moments on the large, open waters of Lake Erie and the Detroit River at Lake Erie Metropark. A 12-boat ramp offers quick access to the Detroit River and Lake Erie, considered "prime walleye country". Enter the park through the main entrance on West Jefferson, just north of Huron River Drive to access the boat launch.
Open 6 am to 10 pm: Metropark Vehicle and Boat Launch permits required
Vehicle Permit
Annual – $35
Seniors (62+) – $21
Daily – $10
Boat Launch Permit
Annual – $35
Seniors (62+) – $21
Daily – $10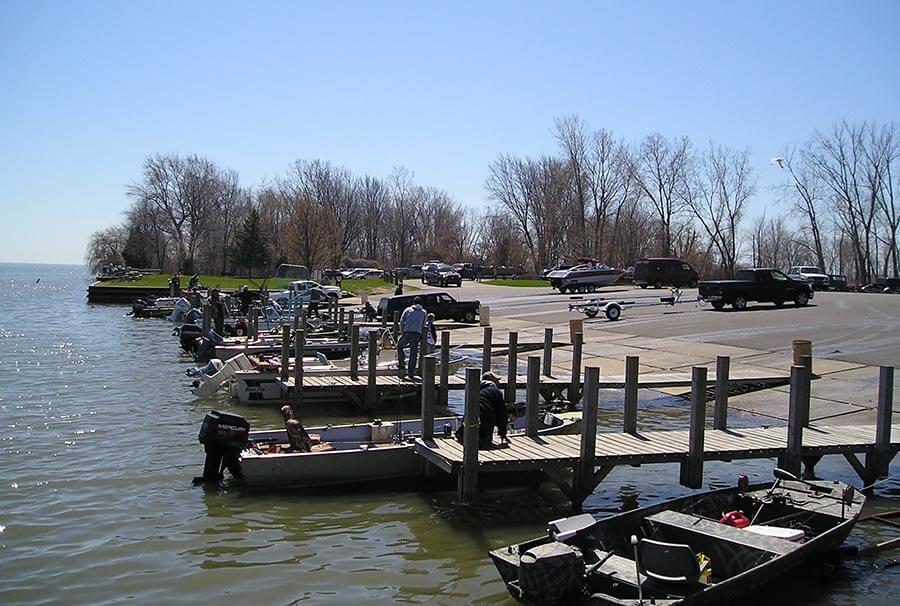 Canoeing and Kayaking
Canoeing and Kayaking
Explore a new route every time you canoe or kayak at Lake Erie Metropark. Paddle along coastal wetlands, river backwaters and downstream along Lake Erie. Take in the magnificence of a bald eagle flying above as you coast along the water's surface. Rest amidst the wetlands and observe exceptional vistas of great blue herons, long-billed marsh wrens and other waterfowl wading in the water. Travel past areas not easily accessed by foot as you observe an area teeming with wildlife. The canoe and kayak launch is located at the boat launch.
Court Games
Court Games
Round up the family or a few friends and enjoy a pick-up game of basketball or volleyball. No matter what your favorite activity, we have the perfect location for you. A softball diamond, basketball, tennis and volleyball courts are located near the pool area.
Cross Country Skiing
Cross-Country Skiing
Bring out your skis to Lake Erie Metropark and enjoy 4.25 miles of trails. Give us a call for conditions at the Lake Erie Metropark Park Office at (734) 379-5020 as park conditions are subject to change. Be sure to ask for a copy of our Winter Activites Brochure at the Toll Booth or Metropark Office.
Education Opportunities
Education Opportunities
Explore the rich cultural and natural heritage of the Downriver/Lake Erie shore region through exhibits and interpretive programs at the Marshlands Museum and Nature Center. The history of waterfowl hunting is brought to life with artifacts and photos featuring all phases from boats to decoys.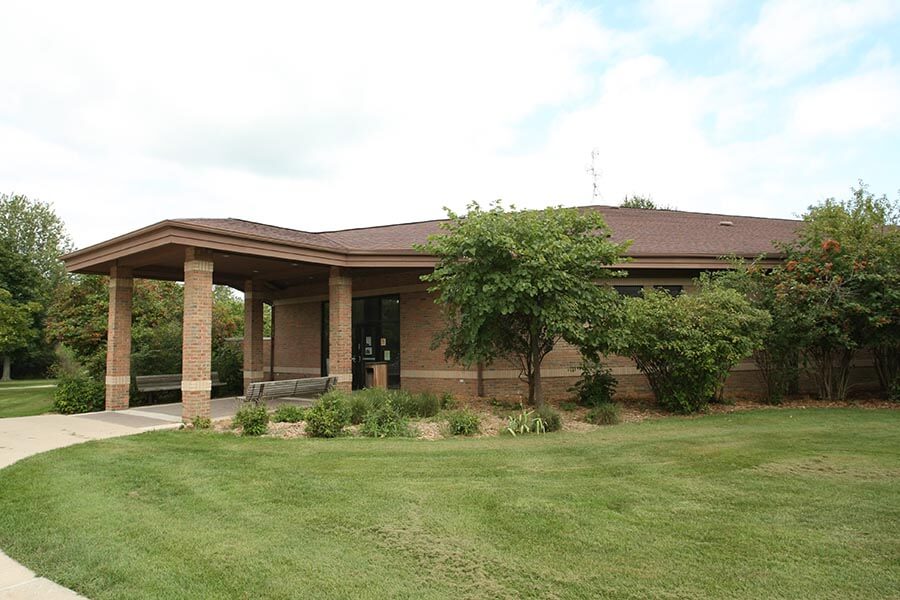 Fishing and Ice Fishing
Fishing and Ice Fishing
Often called the walleye capital of the world, the deep, open waters of Lake Erie and the Detroit River are a magnet for recreational anglers from afar. Fishermen will appreciate the shoreline and bridge-fishing opportunities to catch panfish, perch, bass, and bullhead. An extensive fishing bridge crosses one of the main lagoons. Shoreline fishing is available throughout the Metropark. Free fishing poles are available for loan at the Marshlands Museum and Nature Center. Spearing or bow and arrow fishing are prohibited.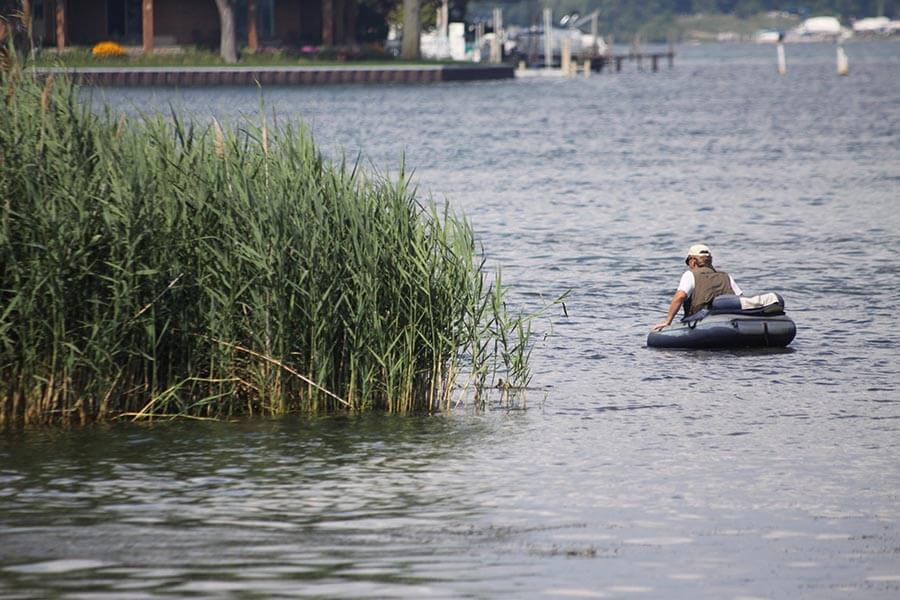 Ice Fishing
Bundle up, pack a few extra layers and step onto the frozen water of Lake Erie for a day of ice fishing. Fishermen will appreciate the shoreline and bridge-fishing opportunities to catch panfish, perch, bass, and bullhead. An extensive fishing bridge crosses one of the main Metropark lagoons. Ice fishing is permitted at the marina November through March, as ice conditions permit. Due to warm water currents, ice fishing along the Lake Erie shoreline is not recommended.
The Marina is open in the winter for ice fishing 7 am – 8 pm weather permitting. Use Lee Rd to enter Marina.
Park entry fees apply. All park facility conditions are subject to change. Call the park office at (734) 379-5020.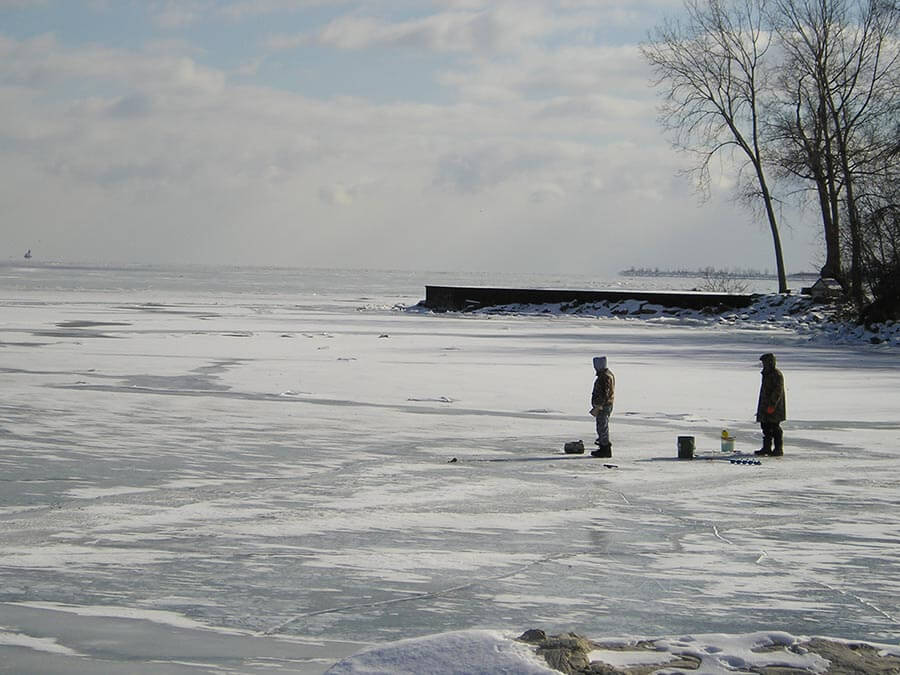 Golf
Golf
This 6,472-yard, par-72 course surrounded by natural wetlands, features gently rolling, bunkered fairways and 20 acres of ponds. The course entrance is on Lee Road, east of Jefferson, one mile south of Huron River Dr. Senior rates are available for guests age 55 and older. Junior rates are available for guests age 20 and younger. Lake Erie Metropark golf course is one of ten Huron-Clinton Metropark courses in southeast Michigan.
Hiking
Hiking
Rediscover nature and enjoy a serene setting with an invigorating hike through Lake Erie Metropark. Almost three miles of flat terrain winds along the eye-catching Lake Erie and Detroit River shoreline, past dense hawthorn thickets and cattail marshes. A long boardwalk and several scenic outlook points offer spectacular views of the natural setting and long Canadian shoreline. Nearly six miles of trails course through the Huron Swamp, open fields, meadows and woodlands. Observe abundant wildlife and waterfowl like deer, great blue herons, muskrat, wood ducks, and mink along the way. Vibrant palettes of fall color and hundreds of migrating birds add beauty to the footpath each autumn. Spectacular vistas and abounding flora and fauna accompany your trek year round.
Picnicking
Picnicking
Scenic Lake Erie Metropark provides a perfect backdrop for your next picnic, reunion or company outing. This island-dotted waterscape presents Sturgeon Bar with distant profiles of Sugar Island, Grosse Ile and Celeron Island. The long low Canadian shoreline forms a background to this scene on the far eastern shore. On a clear day, view the historic Detroit River Lighthouse which has stood guard over the river mouth since 1885. Large freighters move up and down the water to the children's delight. Picnic areas, playgrounds and picnic shelters are conveniently located near the Wave Pool and at Cove Point Picnic Area. Lakeside picnic areas feature picnic tables, grills and a wooded playscape. Groups of 50 or more are requested to register in advance. Shelters may be reserved for a fee. For reservations and more information, call (734) 379-5020.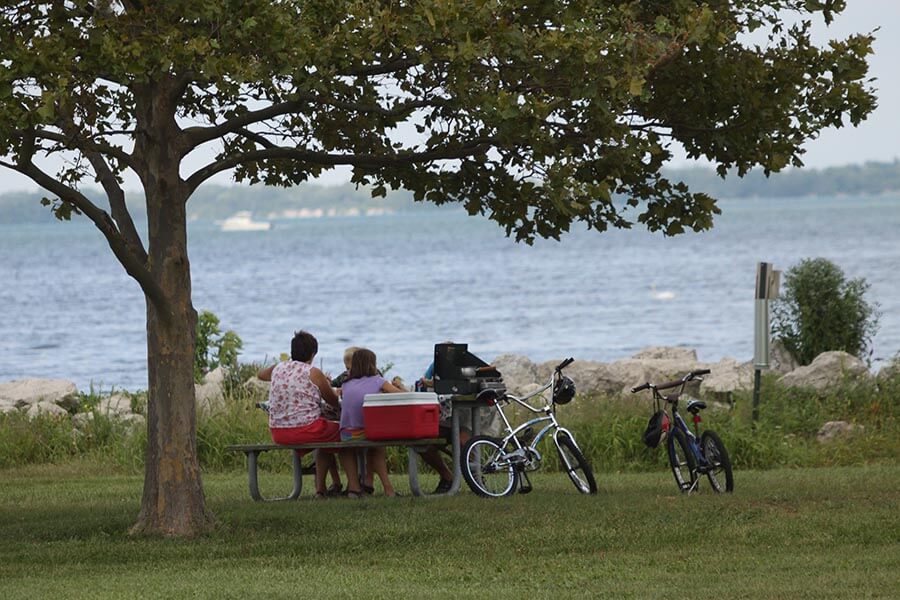 Sledding and Tobogganing
Sledding and Tobogganing
Celebrate a "snow day" off school or winter weather by sledding at Lake Erie Metroparks. Bundle up, bring extra mittens and a few friends, and dash down a large hill near the wave pool complex for hours of outdoor fun. Toboggans and snowboards are not permitted.
Summer Discovery Cruise
Summer Discovery Cruise
Learn local lighthouse lore, explore one of the world's largest freshwater deltas, discover your artistic side or take a trip on one of the other various themed-tours on the Schoolship Clinton while learning about the ecosystem of the Great Lakes in the 14th year of the Summer Discovery Cruises.
Sponsored by Michigan Sea Grant Extension and the Huron-Clinton Metroparks, the "Clinton" will be docked at Lake Erie Metropark for two- and four-hour cruises on the lower Detroit River and Lake Erie and at Lake St. Clair Metropark for two and one-half- and four-hour cruises on Lake St. Clair and the St. Clair Flats area. While on these Summer Discovery Cruises, discover first-hand the natural and historic wonders of these unique areas. All cruises are led by Metropark interpreters or Schoolship staff.

Registration
Registration Required for All Cruises (payment required at time of registration)
Registration can be done on-line with credit card (Visa or MasterCard) at www.discoverycruises.org or through Lake Erie Metropark Museum in person (cash, check or charge) or by calling (734) 379-5020. For questions call (734) 379-5020
FEES (for most cruises): Adults – $20.00; Children (6 to 17 years old) – $10.00; or  Adults – $30.00; Children (6 to 17 years old) – $15.00 for each 4-hour cruise
*Vehicle Entry Fee Required: $35 Annual, $21 Seniors, $10 Daily
Types
RIVER OF TIME HISTORY
Explore the human stories and events that shaped the history of these storied waters and islands.
WHISKEY RIVER
Learn why the Detroit River was known as the "Whiskey River" during National Prohibition.
EAGLE'S EYE NATURE
Take a naturalists tour of the lower river and its islands to discover the rich variety of natural life.
GREAT LAKES SCIENCE FOR TEACHERS
(Active educators only)
This cruise for teachers will focus on the Great Lakes from a science education perspective. Learn how to relate biology, chemistry, geology and physics to your lessons on the Lakes.
HANDY BILLY
Join us on this one-of-a-kind cruise! Handy Billy is a group of folks who love our Great Lakes and its related music. Their songs have much to teach about shipboard life and the Lakes.
SUGAR ISLAND
Discover the dark past of Sugar Island and the story behind the sinking of the passenger vessel "SeaBreeze".
JOURNEY THROUGH THE STRAITS
Board the E/V Clinton for a fantastic five hour voyage. As the Clinton travels in the wake of both the early Great Lakes voyageurs and present day sailors, we'll explore the Straits of Detroit from several perspectives.
BIG RIVER MEANDER
Enjoy an extended 4 hour nature and history cruise around the north tip of Grosse Ile and down to the river mouth.
WARFARE ON THE WATERFRONT
Join us for an in-depth look at how the region was impacted by multiple wars spanning over 200 years.
MICHIGAN MYSTERIES
Set sail on an adventure to solve some of the mysteries surrounding the Great Lakes; from unexplained occurrences to mythical beasts.
NIGHT WATCH
This enjoyable, evening cruise seeks to discover the night life of the river including navigation lights, star observation, nocturnal creatures and more.
SHIPPING OUT
Sign on for a voyage into the world of Great Lakes shipping with former sailor and author, Patrick Livingston.
BOB-LO ISLAND HISTORY
Explore the rich history of Bois Blanc Island, better known as Bob-lo Island, on an "around the Island" route.
ROV ADVENTURES
Explore the underwater world using "Little Ricky" DTE Energy's Remotely Operated Vehicle.
WIND, WAVES AND WEATHER
The Great Lakes influence our weather, and the weather can have a great influence on the Great Lakes. Join NOAA National Weather Service meteorologists on a cruise that explores the "why?" behind the wind, waves, and weather around us.
Swimming
Wave Pool
Escape the hot days of summer and take a plunge into the "Great Wave" wave action pool at Lake Erie Metropark. Hold steady and practice your balance against three foot waves for hours of fun.
Pool hours and fees (2016) Hours may be reduced from mid-August through Labor Day.
5/28 through 6/10

10:00 AM to 6:00 PM Weekdays
11:00 AM to 8:00 PM Weekends and Holidays

6/12 through 9/5

11:00 AM to 7:00 PM Weekdays
11:00 AM to 8:00 PM Weekends and Holidays
Rafts are included with admission to the Wave Pool.They will be available on a first come – first served basis.
Wave Pool Rates – Rafts included – First come First Served
Adults: $ 8.00
Children (15 and under) & seniors (62+): $ 6.00
Children less than 30″ in height: Free
Locker Fee: $ .50
Organized Youth Group (minimum 20), Mon – Fri only: $ 4.00 per person preregistration
Twilight rate – 5 pm till closing
Children (15 and under) & seniors (62+): $ 5.00
Adults: $ 5.00
The Wet Shop carries an assortment of suntan products, goggles, swim caps, towels and swimsuits.
2016 WET SHOP ITEMS
Boy's Bathing Suits: $15
Men's Bathing Suits: $15
Towels: $10
Swim Caps: $3
Swim Diapers: $1
Goggles: $3
Bottled Sunscreen: $5
Lil Drug Store: $.50
Souvenir Coins: $.25
Sorry, no refunds are available for any products sold.
WAVE POOL RULES AND REGULATIONS
A pool entrance fee is required for everyone whose height exceeds 30 inches.
Children under 10 years of age must be under adult supervision.
Only persons attired in appropriate and approved swimwear will be permitted to use the pool.
Shower before entering the water.
Patrons with cold symptoms, skin ailments, cuts, blisters, bandaged injuries, excessive sun burn, inflamed eyes, diarrhea or similar infections will be refused admittance.
Unruly and inappropriate behavior and language will not be tolerated.
Swimming accessories such as beach balls, face masks, floats and soap are prohibited inside the pool enclosure.
Only USCG approved life jackets are allowed inside the pool enclosure.
Bottled water is permitted, however, no other food or drink is allowed.
The use of gum, tobacco, drugs, or alcohol are prohibited.
A lifeguard will clear the pool when threatening weather conditions occur.
Management reserves the right to administer any additional rules, either printed or verbal, as necessary for the safe and orderly operation of the facility.