Fall Bird Migration Fills the Skies at Your Metroparks
At the Huron-Clinton Metroparks, September is known as Bird Migration Month and at Lake Erie Metropark it is known as Raptor Month. As the summer winds down and fall takes over animals start preparing for the winter and birds start their migration.
Less than half the bird species in the United States are year-round residents of their home range. For animals to survive the winter migration is key. It is a common assumption that migration is solely due to the weather, but there are several factors that determine migration. Some animals migrate to breed, some to find more favorable living conditions, but most migrate to find food.
Some species are migrating short distances, from county to county or from higher elevation to lower elevation, such as the Red-winged Blackbird. Some species migrate moderate distances, from state to state, such as the Eastern Bluebird. But the truly impressive species are those migrating great distances from country to country, such as the Ruby-throated Hummingbird and our raptors, like hawks, eagles, osprey and turkey vultures.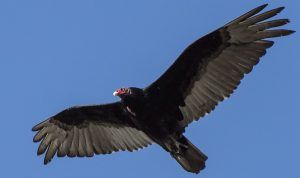 At Lake Erie Metropark, you can view the great migration, as a designated watch site for raptor migration. Influenced by geography, weather, and other factors the numbers of raptors streaming over the watch site have ranged from as low as 30,000 birds for the three-month season, to over 600,000 birds. Although Broad-winged Hawks and Turkey Vultures often make-up the largest percentage of these numbers, there are a total of 16 different species that can be seen with some consistency. These include such birds as Bald Eagles, Osprey, Sharp-shinned Hawks, Peregrine Falcons, Golden Eagles and others.
For over 35 years, the Detroit Hawk Watch has been conducted in one form or another at Lake Erie Metropark; and the boat launch in the park has been the primary site for over 20 of those years. A paid counter, sponsored by the International Wildlife Refuge Alliance, Detroit River International Wildlife Refuge, and the Hawk Migration Association of North America, along with numerous volunteers can be found at the watch site seven days a week from September 1st through the end of November. The site is opened to everyone, and information is provided by the volunteers; as well as an interpretive kiosk provided through donations from Hawk Watch volunteers.
Huron-Clinton Metroparks Interpreter, Paul Cypher said, "The fall signifies a special time at Lake Erie Metropark, we gear up for our Raptor programs, where we can share the beauty, strength and pure awesomeness of raptors.  This year, we were able to restart outdoor programming so we can get out there and enjoy the season's migration."
Be sure to add your Metroparks to your fall bucket list and experience the wonder of the fall bird migration! Explore raptor and programs at https://www.metroparks.com/events/list/?tribe-bar-search=raptor.