Virtual Programs & Activities
Your Metroparks are excited to share our knowledge and love of nature, animals and science with you through our virtual resources page. Explore videos about animals in nature and those at our Nature and Farm Centers, along with fun worksheets, DIY crafts, science experiments and more.
Read our Nature Blog
Get to know nature and your Metroparks through the eyes of our Interpreters. Take a walk down a trail, identify an interesting plant or take a journey through time and learn some history. Visit our Nature Blog
Learn about our Birds of the Week
Quarantine got you feeling birdy? Your Metroparks are here to help! Birding is a hobby you can certainly do in the parks, but you can also have birding adventures in your own backyard. That's why each week we will be sharing a #BirdOfTheWeek. Follow us on social media or read our Bird of the Week Blog where we'll feature different species each week that you can find in our region. Learn a bit about them and then go on a birding search yourself. We challenge you to share your sightings by tagging us and using #BirdOfTheWeek. Visit our Bird of the Week Blog
Outside programs are back!
From family wagon rides to guided hikes to campfire talks, there are outside programs for everyone! Visit the Events Calendar to see all programs
Dear Kevin…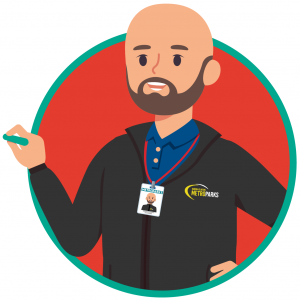 You may have heard of "Dear Abby", or maybe you haven't, but your Metroparks have a new spin on it. We have "Dear Kevin". Our Interpretive Centers are closed right now, and our interpreters miss your questions as much as you miss visiting. If you or your family have nature, science, agriculture or regional history questions, you can still ask Kevin and get an answer!
Maybe you have a question about the frogs and birds you're seeing in your backyard right now or your kids want to know why frogs croak or who used to live in the area that is now Oakwoods Metropark. Whatever your question is, write into Dear Kevin by emailing us at marketing@metroparks.com or sending us a private message on Facebook or Instagram. Kevin will post questions and answer back in our Facebook and Instagram stories, so be sure to follow our accounts and check our stories for the day's answers.
P.S. – Parents, this could be a great way for kids to practice their typing and letter writing skills!
Read our Nature Blog
Get to know nature and your Metroparks through the eyes of our Interpreters. Take a walk down a trail, identify an interesting plant or take a journey through time and learn some history. Visit our Nature Blog
Learn about our Birds of the Week
Quarantine got you feeling birdy? Your Metroparks are here to help! Birding is a hobby you can certainly do in the parks, but you can also have birding adventures in your own backyard. That's why each week we will be sharing a #BirdOfTheWeek. Follow us on social media or read our Bird of the Week Blog where we'll feature different species each week that you can find in our region. Learn a bit about them and then go on a birding search yourself. We challenge you to share your sightings by tagging us and using #BirdOfTheWeek. Visit our Bird of the Week Blog
Educational Programming Video Series
Animals
Bird Feeding
Birds
Crafts
Earth Day
Nature
Trail Adventures