History of the Shelden Trails
… it is a considerable consolation to me to know that after my death the property will be used for park purposes for which it is already so beautifully adapted." – Elizabeth Shelden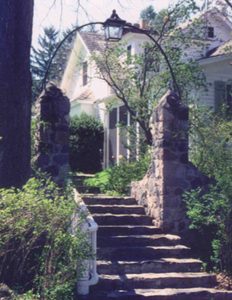 The area, formerly the Shelden Family Estate: Greenhill Farm, is now occupied by Stony Creek Metropark's golf course, West Branch Picnic area and the presently named Shelden Trails, was once an 844-acre getaway of a renowned Detroit family, the Sheldens.
Owned by Elizabeth Buhl Shelden and Allan Shelden II, the Sheldens spent summers in Massachusetts, but autumns were spent at Greenhill Farm riding horses and shooting pheasants with friends.
The purchasing of the land that became Greenhill Farm was completed in 1927. It reflected Elizabeth's love of gardening nicely landscaped grounds. Mr. Wilcox, the groundskeeper, lived on the property for over 50 years.
Elizabeth Shelden (1894-1982) was the great granddaughter of Hiram Walker (of whiskey fame) and the granddaughter of Theodore Buhl (hardware and real estate tycoon; namesake of the Buhl Building in Detroit). Elizabeth was only six when her mother, May Caroline Buhl passed away. Her father, William Warren (General Manager of Park Davis Pharmaceuticals) died when she was nine. She was raised by the Buhls (her mother's parents) and married Allan Shelden II at age 20.
Allan Shelden was the grandson of General Russell Alger, former governor of Michigan and United States Secretary of War. His father was very successful in the wholesale dry goods business. Sadly, Allan died of pneumonia in 1935 at the relatively young age of 45. Elizabeth was also preceded in death by one of her two children, Allan Shelden III.
Elizabeth Shelden made an agreement with the Huron-Clinton Metropolitan Authority in 1959 to buy her property for $377,000 upon her death, although she both sold and donated some areas of land before this time. In 1981, Elizabeth and her heirs served notice that she wanted the deal closed by June 1st, which increased Stony Creek Metropark's size to 4,435 acres.
The Shelden family has always been very generous, both donating and purchasing works for the Detroit Institute of Arts. Their philanthropic legacy continues today through the Shelden Foundation, which has provided funding for hospitals, schools and other organizations. We are thankful to Bill Shelden and the Shelden Foundation for a $30,000 contribution towards the construction of the exhibits within the Stony Creek Nature Center.