The natural areas within the Huron-Clinton Metroparks are home to an incredible diversity of plant life. Throughout the year you can observe fascinating plants in a variety of habitats, from woodlands to prairies and wetlands. Although you will see many common plants throughout the parks, several plant species in the Metroparks are very rare and unique. Other plant species pose a hazard, both to humans and the health of the ecosystems within the parks. Use the links below to learn more.
Learn more about:
Unique Plants
Unique Plants
The Huron-Clinton Metroparks' natural areas are home to hundreds of unique plant species, many of which are listed as special concern, threatened, or endangered in Michigan. Through careful monitoring and management, the Metroparks seek to protect these species to ensure their survival for future generations.
Forbs
Forbs (wildflowers) are herbaceous flowering plants that are not grasses or sedges. Hundreds of forb species can be found growing at the Metroparks, and several are listed as special concern, threatened, or endangered in Michigan.
Learn more about these special forbs from Michigan Natural Features Inventory:
For more information about the Metroparks' unique plants, contact the Metroparks Natural Resources Department at (810) 227-2757.
Grasses And Sedges
Grasses and sedges are herbaceous, narrow-leaved plants in the plant families Poaceae and Cyperaceae, respectively.   Hundreds of grass and sedge species can be found growing at the Metroparks, and three are listed as special concern, threatened, or endangered in Michigan.
Learn more about these special grasses and sedges from Michigan Natural Features Inventory:
Trees, Shrubs, and Vines
Hundreds of tree, shrub, and vine species can be found growing at the Metroparks, and five are listed as special concern, threatened, or endangered in Michigan.
Learn more about these special trees, shrubs, and vines from Michigan Natural Features Inventory:
Harmful Plants
Harmful Plants
Some of the plants in the Metroparks can be considered dangerous to humans because they are either poisonous when eaten, or because they cause skin reactions when they are touched. Although these plants may be obnoxious, they play an important role in the ecology of the Metroparks. For example, the berries that grow on poison ivy are an important food source for birds. Look below to learn more about some of the dangerous plants you may encounter, as well as how to identify them, and what to do if you accidentally come into contact with them.
Poison Ivy
Poison ivy is most commonly identified by its "leaves of three," however, these three leaves are actually three parts of one leaf. These parts are called leaflets. On poison ivy, the middle leaflet is on a longer stem than the two leaflets on either side of it. The leaflets may have notches or large teeth, but they may also be smooth. If the leaflets do have notches, the side leaflets are often notched differently than the middle leaflet. The middle leaflet will have symmetrical notches, while the side leaflets often have notches on the margin that faces the stem, and the margin facing the middle leaflet will look smoother (see photo below). The leaves of poison ivy are also arranged alternately along the stem.
Poison ivy grows as a low shrub or a climbing vine. Vines can grow very thick and are covered with hairy roots that help attach the vine to the surface it is climbing. Clusters of white berries appear on the plant in the summer.

Poison Sumac
Poison sumac can be identified partly by where it's growing. It only grows in high quality wetlands, though it may occur near trail edges or boardwalks that cut through wet areas. It has large leaves that are composed of 9-13 leaflets attached to an arching red stem (called the rachis). The leaflets are smooth and shiny with no teeth, and they are matched in pairs that point upward in a v-shape off the rachis. The leaves are alternately arranged, and are usually grouped in tufts on the ends of the branches. They turn a very bright, attractive red in the fall, which can tempt people to pick them. When you are walking the nature trails, be careful of what you grab!
Poison sumac grows as a small shrub or small tree with smooth, gray bark. The limbs are not very branchy and do not have many twigs. In the spring and early summer, groups of small, light green flowers appear on the tree, followed by drooping clumps of white berries.

Poison Hemlock
Poison hemlock is a tall-growing perennial herb in the carrot family. Its leaves are triangular in outline and are 3-4 times pinnately compound, having many small triangular leaflets that are 4-10mm long. In general, the leaves resemble the leaves of a fern. In early summer, small white flowers appear on the plant in umbrella-like clusters and appear similar to the flowers of Queen Anne's lace. The stem of poison hemlock is its most distinctive feature – it is smooth, hollow, and covered with purple blotches. The entire plant gives off a disagreeable "mousy" odor, which intensifies when a stem or leaf is crushed. Poison hemlock is commonly found along roadsides, in ditches, along field margins, and in other moist, shady habitats.

Stinging Nettle
Stinging nettle is a medium-to-tall perennial herb in the nettle family. It has egg-shaped or triangular leaves with a rounded base and many teeth. The leaves are arranged opposite each other along the stem, which is slightly square in cross section and can grow up to 6 feet tall, usually without branching. Both the stem and the leaves are covered in hairs. Green to yellow flowers appear on the plant between June and September and grow in clusters along the stem between the leaves.

Giant Hogweed
Giant hogweed is a large perennial or biennial herb in the carrot family that is commonly found along roadsides, in ditches, along field margins, and in other moist, shady habitats. As its name implies, it can grow to giant sizes – up to 8-14 feet tall. Its leaves are sharply lobed, arranged alternately along the stem, and are generally triangular in shape. They can grow up to 5 feet wide. The stems of giant hogweed are thick and hollow, and like poison hemlock, they are covered with purple spots. Unlike poison hemlock, however, they are also covered with coarse white hairs which are especially visible where leaves join the stalk. The plant flowers in late June or early July, producing thousands of tiny, white flowers arranged in a flattened umbrella shape. This inflorescence can be up to 2.5 feet across.

Cow Parsnip and Wild Parsnip
Cow parsnip and wild parsnip may cause the same photosensitivity as giant hogweed, so it's good to be aware of these plants as you explore the Metroparks.
Cow Parsnip
Cow parsnip is often confused with giant hogweed, but unlike giant hogweed, cow parsnip is native to Michigan. The two plants can be distinguished by their stems – cow parsnip's stems are entirely green or slightly purple, they are ridged, and they are covered with fine hairs (rather than coarse hairs, as with giant hogweed). Cow parsnip's leaves also have a very broad wing at their base that clasps the stem, while giant hogweed's leaves do not have a wing.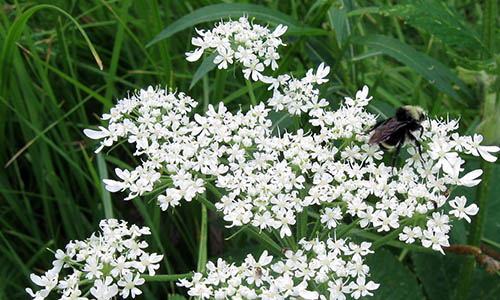 Wild Parsnip
Wild parsnip is in the same family as cow parsnip and giant hogweed, so it shares similar characteristics. The main differences are that it is much smaller than the other two plants and its flowers are yellow. Wild parsnip may be confused with the common (but not harmful) golden alexanders, but the leaves of golden alexanders are not as deeply toothed as wild parsnip's, and its flowers are more loosely clustered.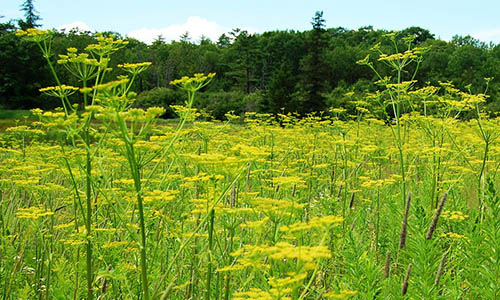 Invasive Species
Invasive Species
An invasive species is an organism that does not naturally occur in a specific area and whose introduction causes ecological or economic harm. Invasive species can be plants, animals, or other organisms, and are usually introduced to an area by humans, either intentionally or unintentionally. That is, they are not native to the area. Not all non-native plants are invasive, however, and some native plants can be invasive. Invasive species are one of the greatest threats to the biodiversity and ecological health of the Metroparks' natural areas. In fact, invasive species are the second-leading cause of global species extinction behind habitat destruction.
Invasive species are not inherently "bad" species, but because they do not have natural predators in their new environment, they are often able to spread rapidly and outcompete native species for precious resources such as sunlight and water. These are some of the negative impacts associated with invasive plant species.
Invasive plant species form dense thickets that shade out native plants and prevent them from growing. When nothing grows on the forest floor, there is no fuel to carry fire during natural and prescribed burns.
Some invasive plants prevent native plants from growing by releasing chemicals that poison them or disrupt their nutrient uptake.
Invasive plants can totally replace native vegetation, changing the ecosystem and causing wildlife to migrate away in search of a more favorable habitat.
Invasive plants can cause changes to the soil microbial community, disrupting decomposition and nitrogen fixation, which is essential for plant growth. On the other hand, some invasive plants fix too much nitrogen into the soil, which can lead to increased leaching of nitrogen into aquatic ecosystems.
Some invasive plants can change the soil pH, which affects the ability of native plants to take up nutrients and may prevent them from growing at all.
Some invasive plants also change the soil nitrogen content, causing the litter layer on the forest floor to decompose faster, which exposes bare soil that can be eroded away.
Invasive vines kill mature trees by girdling (strangling) them, preventing light from reaching their leaves, or bringing them down under the weight of the vine.
Some invasive plants hybridize with native plants, threatening the genetic survival of the native plant.
In densely invaded areas, wildlife may browse more heavily on native plants, reducing their supply of food and the native plant population.
Some invasive plants use chemical signals to "trick" insects into laying eggs on them instead of on native species, which leads to greater mortality of the young insects.
Learn More:
For detailed information on identification and control of invasive plants in our area, refer to these guides published by the Michigan Natural Features Inventory:
A Field Guide to Invasive Plants of Aquatic and Wetland Habitats for Michigan
A Field Identification Guide to Invasive Plants in Michigan's Natural Communities
For further information, visit the Midwest Invasive Plants Network.