Overview
Learn about the rich natural and cultural history of Southeast Michigan at the Huron-Clinton Metroparks. Whether you're intrigued about a plant or animal, looking for something fun to do with friends or family, or studying a specific topic as part of a group, there are a variety of interpretive programs to help you learn more about our natural, historical and cultural resources.
With 10 full-service interpretive facilities and an extensive mobile outreach program, the Huron-Clinton Metroparks provides one of the largest, most diversified educational programs in the country. The parks cover more than 25,000 acres in Livingston, Oakland, Macomb, Washtenaw and Wayne counties and serves as a "natural classroom".
The Metroparks are committed to improving the environmental and natural science literacy of students. All programs support the Michigan Science Standards curriculum in content, methodology, and technology use.
A wide variety of environmental, cultural history programs, and field trips are offered that support Common Core curriculum, STEM, and Michigan Science Standards. Each of these programs are taught by a professional Interpreter who is knowledgeable in the content and school requirements.
Learn More: Download School Program Guide [PDF]
Testimonials
Our interpreters were knowledgeable and full of energy. They kept the kids engaged and offered many opportunities for the kids to pet and interact with the animals. Great job!
The kids loved their interpreter and they learned a lot about farm animals and farm life. It was a very worthwhile field trip. I was very pleased with the experience
The Interpreters were awesome! They fit the program content, timing and organization to meet our specific needs. They made our field trip fun, interesting and enjoyable!
Awesome visit! Related well with age group. I also took a group to the Farm Center & had the same great experience. Thank you for providing an excellent and affordable learning extension!
The presentation, both indoors and out, was the perfect combination of information and exploration... Listening, observing, exploring hands-on...It was engaging, and EXACTLY what they needed. (Even the rain didn't dampen the fun.) Thank you!
The children had plenty of time to ask questions and get answers. They talked about it for the rest of the week. I thought the program was great
Thank you for teaching us about plants and their life cycle. We learned a lot of new facts... The demonstration helped us to see all the parts of the plant and why each part is important. We hope to visit again!
Thank you so much for the excellent program about maple sugaring. The kids really enjoyed it, and have been talking about it ever since. I really hope we are able to come again next year!
The Mobile Learning Center visit is outstanding. The students are engaged and learn so much. It supports our curriculum very well.
Thank you for providing this...to our community. It is difficult to find reasonably priced programs to help enrich our social studies program. We also like how you come to us...as field trips are limited. We hope to participate in your program for years to come!
Scholarship Opportunities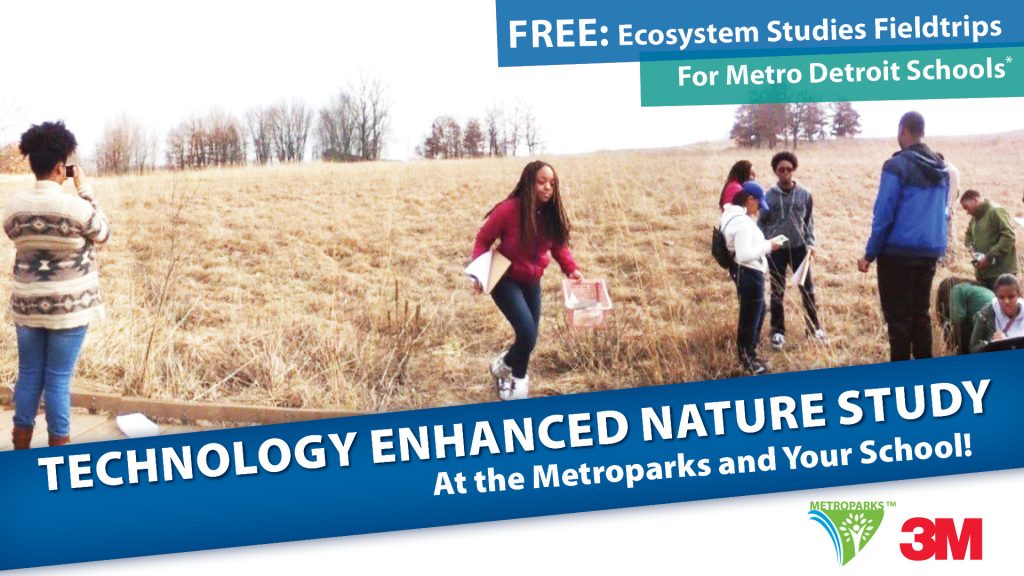 The Huron-Clinton Metroparks is now seeking applicants for the Technology Enhanced Nature Study [TENS] for the 2017-2018 school year.
The TENS program is made possible by funding through 3M and provides free field trips to our park for middle school students in southeastern Michigan. Classes are guided from start to finish over the course of multiple visits through a scientific investigation. They experience nature firsthand as scientists both in their own local schoolyards and at a nearby Metropark and then present their findings to their peers at the year-end symposium.
To apply for a TENS 3M Field Trip Scholarship:
NOTE: Please reference the 3M TENS program when calling or emailing.
---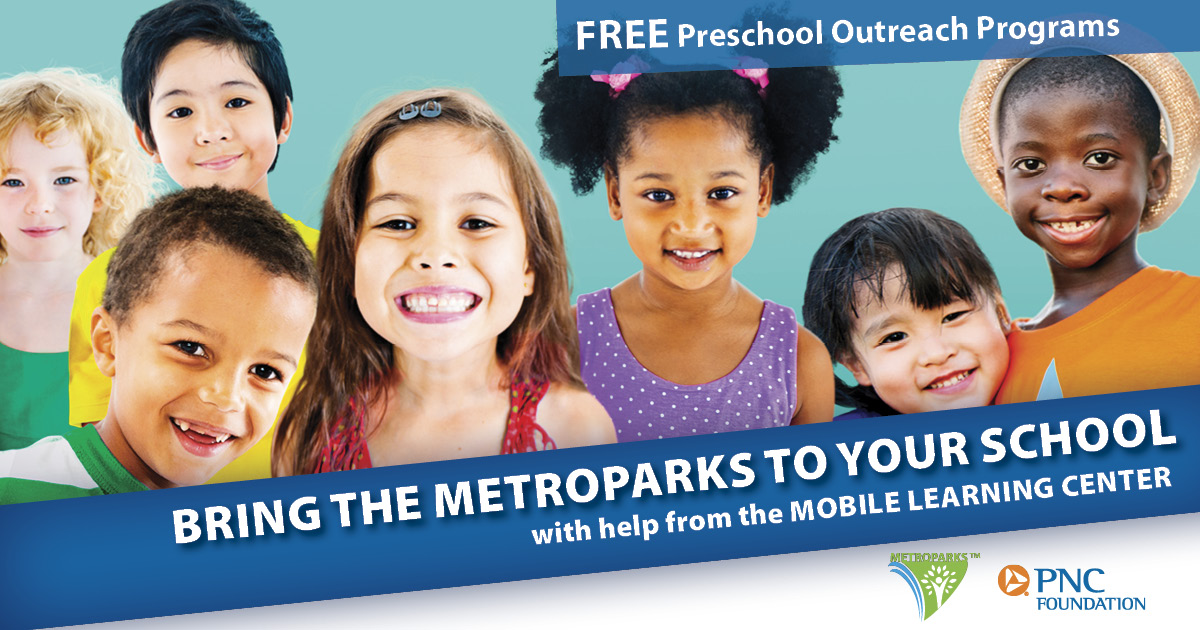 Bring the Metroparks Mobile Learning Center to your group of preschoolers with a scholarship provided by the PNC Bank Foundation's Early Childhood Education grant.
Mobile Learning Center preschool programs are age-appropriate and geared toward the developmental level of early learners.  Each program includes a story, interactions with puppets, songs, and other unique activities. Children are encouraged to use their senses during up-close investigations of furs, feathers, skulls and other animal artifacts.
To apply for a PNC Bank Foundation Scholarship:
NOTE: Please reference the PNC Bank Foundation when calling or emailing.
---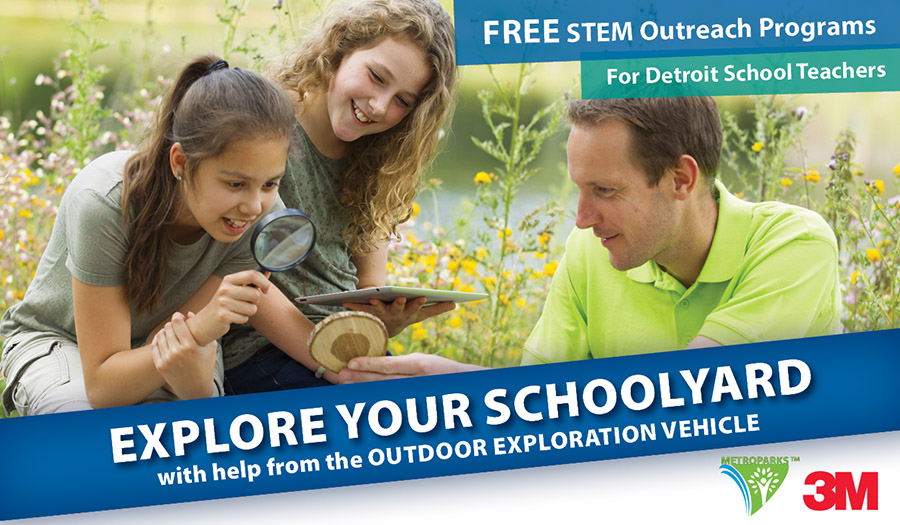 Huron-Clinton Metroparks is proud to be the recipient of an EcoGrant through the 3M Corporation.  This grant provides funding for FREE science-based, schoolyard nature-connection outreach programming from the Metroparks' Outdoor Exploration Vehicle.
The Outdoor Exploration Vehicle is one of the newest additions to the Metropark's outreach program.  With it, students use science and the tools of a scientist to explore the nature just outside their school's doors.  Through games and activities, your class will discover what an ecosystem is.  Then, with handheld data loggers, probes, sensors, field microscopes, portable weather stations and a host of other observation and data-collection equipment, students will measure the ecological parameters of their schoolyard, and then use this information to form hypotheses and answer questions about the environment around them.
The process to register for an outreach program is simple:
Consult the below downloadable flyer to select a program for your students.
Choose a program and date.
Call the Southern District Community Outreach interpreter at (810) 227-2757 ext. 6639 or email justin.smith@metroparks.com
Join us for a fun, STEM-based, FREE outreach program at your school!
NOTE: Please reference the 3M EcoGrant when calling or emailing.
Grant Opportunities
Wheels to Woods
Wheels to Woods provides funding to PreK-12 schools and other youth groups to pay for transportation costs for an educational field trip to a nearby forest or forest products company.  Any PreK-12 school in Michigan is eligible to apply for funds to go on a field trip to a school forest, private forest, public forest or forest products company.  Wheels to Woods reimburses actual transportation costs up to $350 per bus and $1,000 per school.  Applications can be submitted anytime to admin@WheelsToWoods.org.