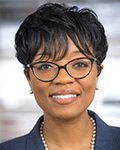 Governor Appointee
Tiffany C. Taylor, of Clinton Township, serves as one of two Governor Appointees on the Huron-Clinton Metropolitan Authority Board of Commissioners for a term expiring on May 2, 2025.
Commissioner Taylor is the inaugural Chief People and Impact Officer at Global Silicon Valley Ventures and ASU + GSV Summit, an education technology-focused venture capital fund. She most recently served as Vice-President and Deputy Chief People Officer at Teach For America and has a background in K-12 education and affordable housing development.
As an active member of her community, Commissioner Taylor currently serves on the board of directors of the Joyce Ivy Foundation, Black Family Development Institute Training, and Boys Hope Girls Hope of Detroit. She is also a community advisory panel member of Detroit Public TV and a commissioner for the Economic Development Corporation of Clinton Township.
Because of her contributions to the education, non-profit, and public sectors, Commissioner Taylor has received numerous awards. Most recently the Walker's Legacy Foundation honored Commissioner Taylor with the national "Women in Economic Development and Civic Leadership" award because of her work to champion policy and programs to advance economic development, entrepreneurship ecosystems, job opportunities, and innovation in education in her community.
A native Detroiter, Mrs. Taylor is a product of the Detroit public school system graduating from Cass Technical High School. She earned her Bachelor of Arts degree from the University of Michigan in Sociology and African + Afro-American Studies, a Master of Science in Education from St. Joseph's University, and Master of Community Planning from the University of Maryland. Most recently, Commissioner Taylor completed the Leading Change and Organizational Renewal program at Harvard Business School.