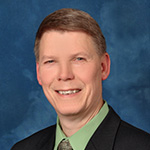 Representing Livingston County
Steve Williams' Huron-Clinton Metroparks experience began with elementary school field trips to Hudson Mills and he has been a fan ever since.  Those outings stimulated his interest in the natural world, resulting in his choosing natural resources management as his academic major at Michigan Technological University and a life-long interest in outdoor activities and the environment.  He was honored to be chosen by the Livingston County Board of Commissioners to fill the vacancy left by the passing of Commissioner Jack LaBelle and represent the county on the Huron-Clinton Metropolitan Authority Board of Commissioners.  Commissioner Williams' term expires in 2021.
A 12 year member of the Livingston County Board of Commissioners, Commissioner Williams was elected Vice Chairman three times and chaired several committees, including General Government, Health and Human Services, Capital Expenditure, Information Technology and Legislative.  Commissioner Williams was a Livingston County delegate on the Southeast Michigan Council of Governments Executive Committee for 10 years and served on several SEMCOG committees.  He also served as a Michigan Counties Workers Compensation Fund trustee for four years and was active with the Michigan Association of Counties.
During his county commission tenure, Commissioner Williams worked to maintain Livingston County's status as one of only five counties with a AAA bond investment rating, while still keeping county tax rates the lowest of Michigan's 83 counties.  Livingston County Commissioners maintained those accomplishments despite going through the worst economic downturn in 35 years and experiencing revenue declines of over twenty percent. Commissioner Williams has also promoted policies which have resulted in Livingston County being consistently named one of the healthiest and safest Michigan counties in University of Michigan and Federal Bureau Investigation annual reports.
Commissioner Williams' national public service began at age 22 when he was commissioned into the United States Army as a Second Lieutenant.  Williams rose to the rank of Lieutenant Colonel before retiring after 28 years of continuous service as a communications officer, political/military intelligence analyst, and counter-terrorism analyst.  Williams commanded five units, was deployed overseas several times, and earned the Army Meritorious Service Medal and two Defense Meritorious Service Medals among other awards.
Commissioner Williams has over 20 years manufacturing industry experience and has worked in dozens of General Motors, Ford, Chrysler and supplier facilities in the United States and overseas.
A long-time community volunteer, Commissioner Williams is a member of Cornerstone Evangelical Presbyterian Church, Livingston County Right to Life, American Legion Post 141, the Reserve Officers Association, Livingston County 4-H, Michigan Farm Bureau and the Fowlerville Agricultural Society
The eldest son of Elton and Mickey Williams, Commissioner Williams is a Livingston County native and proud graduate of Pinckney Community High School, Michigan Technological University, the U.S. Army Command and General Staff College and the Harvard University Kennedy School program for Executives in State and Local Government.
Commissioner Williams and his wife Heather raise a variety of livestock and crops on the Livingston County family farm where he grew up. All of their five children are Huron Clinton Metroparks fans.