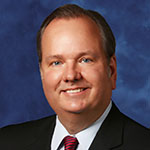 Governor Appointee
Gov. Rick Snyder appointed Commissioner Kurt L. Heise to the Huron-Clinton Metropark Authority in April 2017 to a four-year term. Heise is the Supervisor for the Charter Township of Plymouth, elected in 2016.
Commissioner Heise is married to Wayne County Circuit Court Judge Catherine Heise, and has two college-age daughters, Kate and Claire.
Commissioner Heise is a member of the Plymouth Rotary Club, Plymouth Chamber of Commerce and the Blue Ribbon Commission for the Plymouth-Canton Schools.
A lifetime Wayne County resident, Commissioner Heise graduated from the Dearborn Public Schools in 1984 and the University of Michigan with a bachelor's degree in Political Science in 1988. He earned a Juris Doctorate and a Master of Laws in Labor Law from Wayne State University Law School in 1991 and 1993.  Heise was admitted to the Michigan Bar in 1991, and is licensed to practice in the Federal District Court in Detroit and the Sixth Circuit Court of Appeals.
Commissioner Heise has more than 25 years' experience as a municipal, labor and environmental attorney in southeast Michigan. For nine years, he served as the Assistant City Attorney in Dearborn Heights and Woodhaven and as the Mayor's Deputy in Dearborn Heights.
From 2003 to 2009, Heise served as Director of the Wayne County Department of Environment.  He played a key role in the development of the State Watershed Alliance Act, was a member of the Blue Ribbon Commission for Lake St. Clair and served as co-chair of the Michigan Groundwater Conservation Advisory Council. Mr. Heise represented Wayne County on all matters impacting the Detroit Water & Sewer Department and the Rouge River Watershed before the Federal Court, EPA and MDEQ. He also chaired the Rouge River Remedial Action Plan Advisory Council in the late 1990's and served as an environmental consultant for the Wayne State University Urban Watershed Environmental Research Group, focusing on the Detroit River Area of Concern.
Commissioner Heise has served as an Adjunct Professor at the University of Michigan-Dearborn, Eastern Michigan University and Wayne State University, teaching a graduate-level course entitled "Environmental Politics & Policy of Southeast Michigan."
From 2011 to 2016, Commissioner Heise served as State Representative for the 20th House District, covering Plymouth, Northville and eastern Canton. As State Representative, Heise sponsored 39 laws, served as Chairman of the House Criminal Justice Committee, Vice-Chair of the House Judiciary Committee and Co-Chair of the Michigan Human Trafficking Commission, which he created.