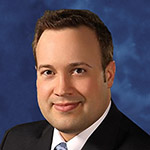 Representing Macomb County
John Paul Rea is highly involved with comprehensive community and economic development initiatives throughout Macomb County. He is an instrumental part of a dynamic team of professional planners and economic developers who are facilitating a wide range of municipal and business assistance services.
During his years of service in Macomb County, Rea has been actively engaged in the Community planning services where he cultivated comprehensive master plans and strategic investment strategies for many of Macomb's local communities. He was also involved in Macomb County's quality of life initiatives including parks and recreation planning, downtown development programs and incorporating "placemaking."
Rea was an integral part of the capital improvement projects targeting infrastructure, transportation networks, non-motorized trails, regional transit and also the economic development services by supporting the county's business retention, expansion and attraction efforts with strategic communications and marketing to promote Make Macomb Your Home and other campaigns. His involvement in the environmental stewardship and natural resource management supported the county's Blue Economy Initiative and agricultural operations.
Rea holds a Bachelor of Science in political science with a minor in public administration and a master's degree in public administration with an emphasis in urban and regional policy and planning from Grand Valley State University. Rea is also a member of the American Institute of Certified Planners, represents Macomb County on the Suburban Mobility Authority for Regional Transit Board of Directors, serves as a board member for Automation Alley and is involved in many committees with the Southeast Michigan Council of Governments.
Rea resides in Washington Township with his lovely wife Roberta and their amazing daughter Amelia Grace.