Representing Livingston County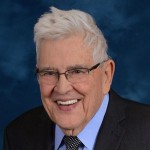 John (Jack) E. La Belle, 10-time chair of the Livingston County Board of Commissioners (member since January 1, 1969), was appointed to represent Livingston County on the HCMA Board for a six-year term ending May 15, 2015. He was first appointed on September 17, 2006, to fill the unfilled term of James Young.
La Belle retired after 38 years of service at the Ford Motor Company as the government sales manager in the Ford Fleet and Leasing Office. He graduated from Michigan State University with a bachelor's degree in accounting. He is a graduate of St. Mary's Mt. Clemens High School. He is a long-time supporter of the Metroparks and is committed to continued improvement of the Metroparks system and its availability to citizens in general.
His involvement in various levels of government service include:
Long-term member of SEMCOG Executive Board
President, Michigan Association of Counties Worker's Compensation Group, which has saved more than $20 million for its county members
Finance and Investment Chairman, Michigan Municipal Risk Management Authority
Member, Washtenaw Livingston Bi-County Substance Abuse Committee
Member, Area Agency on Aging Advisory Board
Past member, Area Agency on Aging Executive Board
Finance Chairman, Livingston County (for more than 30 years)
La Belle's public service includes serving as past president, Nankin Township Jaycees; vice-president, Brighton Township Lions Club; and president, local parish for St. Vincent de Paul Society. Currently, he is the chair of the American Spirit Centre Board of Directors.
La Belle, who has lived in four of the five counties in which the Huron-Clinton Metroparks are located, has been a resident of Brighton Township since 1965. He resides with his wife of more than 50 years, Beverly Strake La Belle. They have three adult children, Aimee, Richard and James, and eight grandchildren.