Activities
The 13 individual Metroparks that comprise the Huron-Clinton Metroparks each offer a variety of acitivities that are tailored to families and individuals throughout the year.
For more information on the wide array of activities available at your local Metropark, please click the options below.
Biking
Biking
Cycle along a winding, 4.5 mile, paved hike-bike path past mature woodlands, Washago pond and scenic views of the Huron River. The flat course connects to Lower Huron and Oakwoods Metroparks for a 30-mile ride, roundtrip. Bike rental is available at Washago Pond. Facility hours and conditions can be viewed Here.
Bicycle Rental
20" or 26" single speed – $6/hour
Tandem – $8/hour
Deposit – $10
Maximum Deposit – $20/family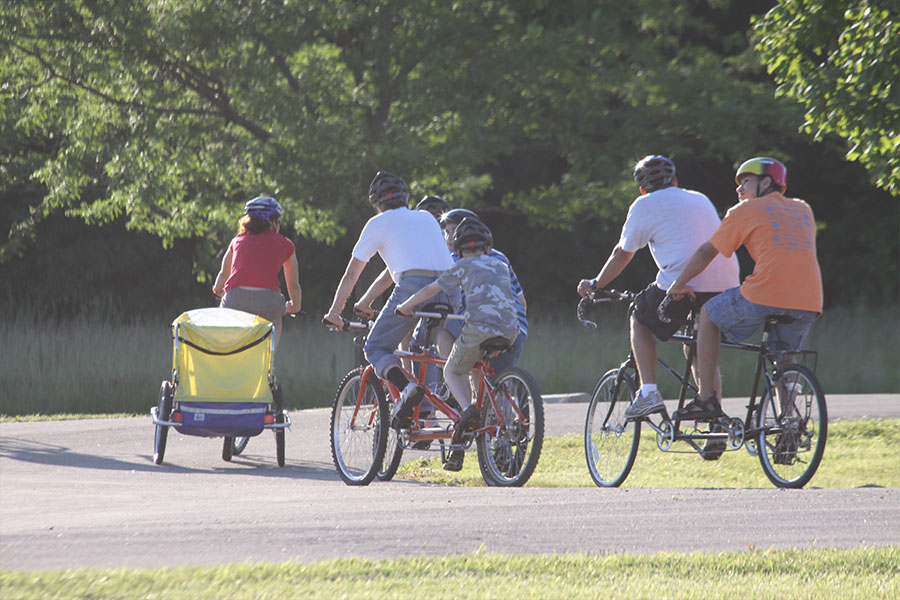 Boating
Boating
Spend an afternoon on the 17-acre Washago Pond at Willow Metropark. Paddleboats and rowboats are available at the rental center. Private and gas boats are not permitted. Facility hours and conditions can be viewed Here.
Boat Rental
Rowboat- Per Hour – $5, $20 max per day
Paddleboat- Per Hour – $10
Dragon Character Paddleboat – Per Hour – $17
Deposit on all craft – $10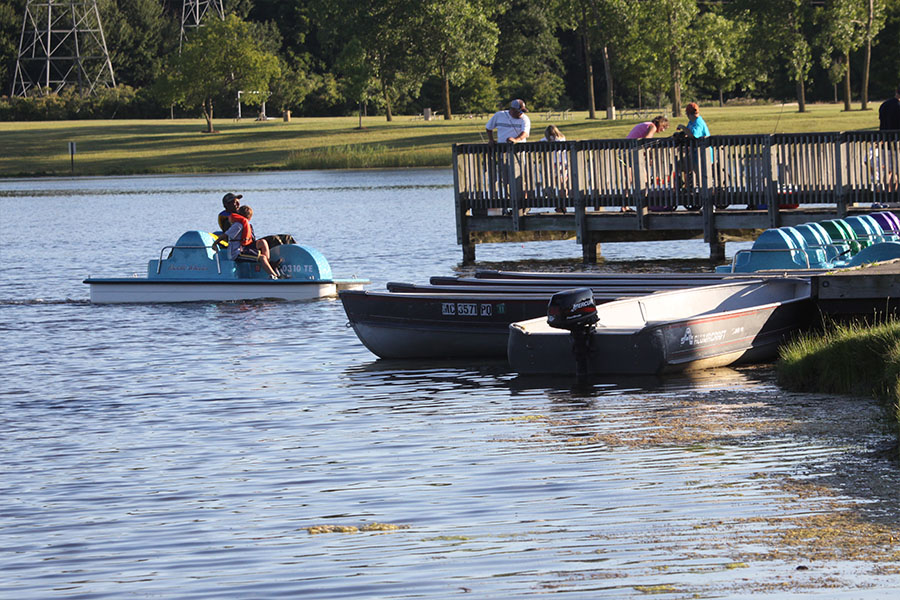 Court Games
Court Games
Play a pick-up game of three-on-three at basketball courts at Willow Metropark. Softball diamonds, volleyball courts and horseshoe pits are available throughout the park.
Disc Golf
Disc Golf
Challenge yourself to a game of disc golf on the 24-hole Willow Disc Golf Course. Play along a flat terrain with the longest hole over 700 feet. The course begins near the Acorn picnic area.
Bringing bug spray during the warmer months is highly recommended.
Entertainment
Entertainment
Relax and enjoy weekend summer entertainment programs and special events at the Willow Pool Activity Center. Activities are held inside during inclement weather. Check the Events calendar for specific programs and dates.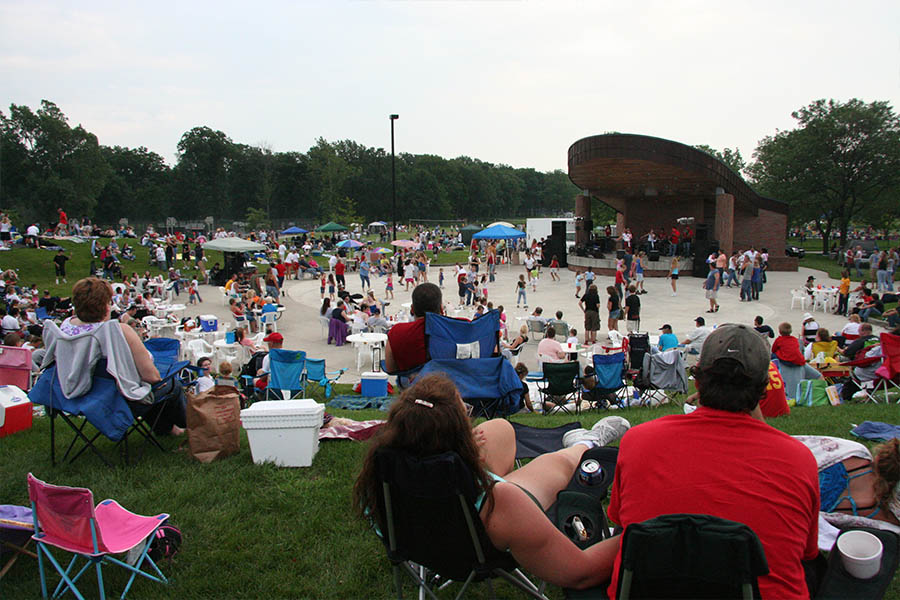 Fishing and Ice Fishing
Fishing
Cast your line in the crisp water as you shoreline fish along the Huron River or Washago Pond. A serene, natural setting and wildlife viewing complete your experience. Common catches include bluegill, bass, perch and sunfish. Free fishing gear is available for loan to Metropark visitors.

Ice Fishing
Enjoy a favorite pastime in the winter months, ice fishing on Washago Pond at Willow Metropark. Popular winter catches include bass and perch. Facility hours and conditions can be viewed Here.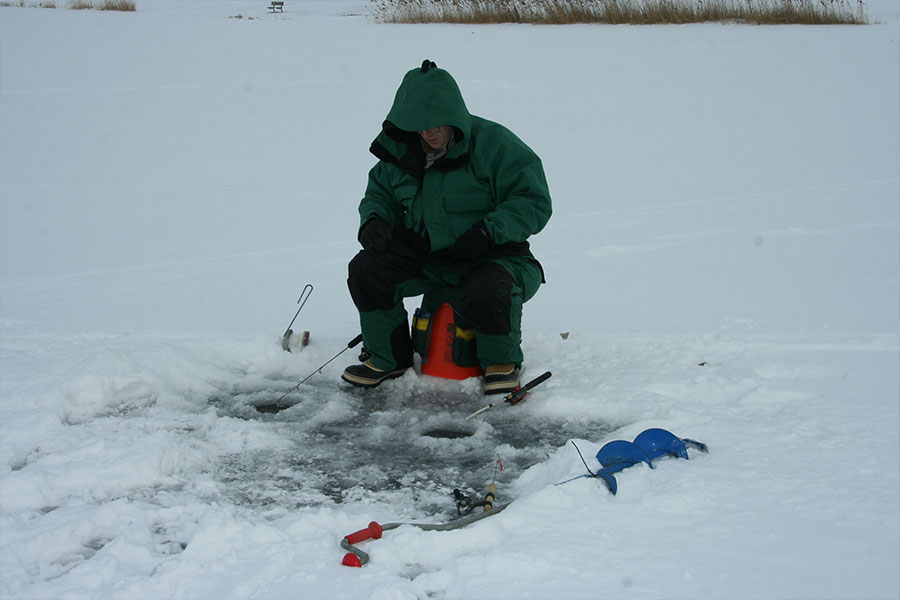 Geocaching
Geocaching
Geocaching is a high-tech treasure hunting game played throughout the world by adventure seekers equipped with GPS devices. The basic idea is to locate hidden containers, called geocaches, outdoors and then share your experiences online. Geocaching is enjoyed by people from all age groups, with a strong sense of community and support for the environment.
Geocaches are located throughout the Huron-Clinton Metroparks. If you wish to place a cache within a Metropark, see the rules, regulations, and site permit application.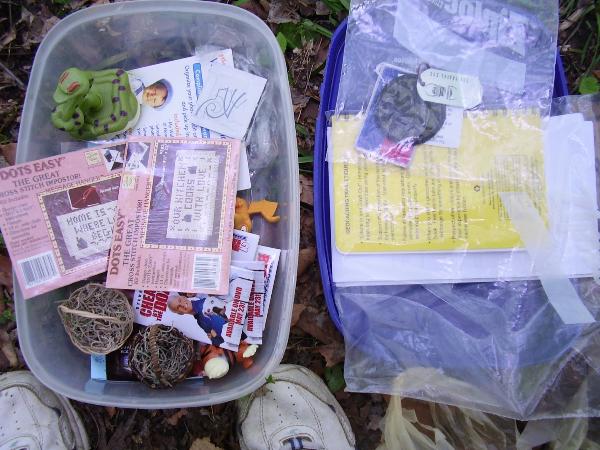 Golf
Golf
Long, narrow tree-lined fairways, water on nine holes and six sharp doglegs will test your skills on this 6,397-yard, par-71 course. Entrance is east of I-275 on Huron River Drive, just north of West Road. Senior rates are available for guests age 55 and older. Junior rates are available for guests age 20 and younger. Willow Metropark golf course is one of ten Huron-Clinton Metropark courses in southeast Michigan
Hiking
Hiking
Discover the sights and sounds of nature as you hike through Willow Metropark. Follow a winding, 4.5-mile paved trail past woods, waters and picturesque Washago Pond. Extend your journey further along the trail, which connects to Lower Huron Metropark to the north and Oakwoods Metropark to the south. The entire paved 15-mile hike/bike trail through woodlands and along the Huron River connects to Lower Huron and Oakwoods Metroparks. The footpath teems with wildlife with a chance to glimpse a white-tailed deer, fox or swans.
Picnicking
Picnicking
The thick woodlands, open fields and Huron River provide a beautiful backdrop and plenty of shady spots for your next picnic, reunion, or company outing. Tables, grills and shelters are located throughout the Metropark. Advanced registration is required for groups of 50 or more. To register or reserve a shelter, contact (734) 697-9181.
Playscapes
Playscapes
The very popular playscape, located near the Foodbar features various slides, platforms, bridges, spinners and climbing structures. The playscape, also, includes seating areas so parents can enjoy park views while watching the kids have fun on all of the different features the playscape has to offer!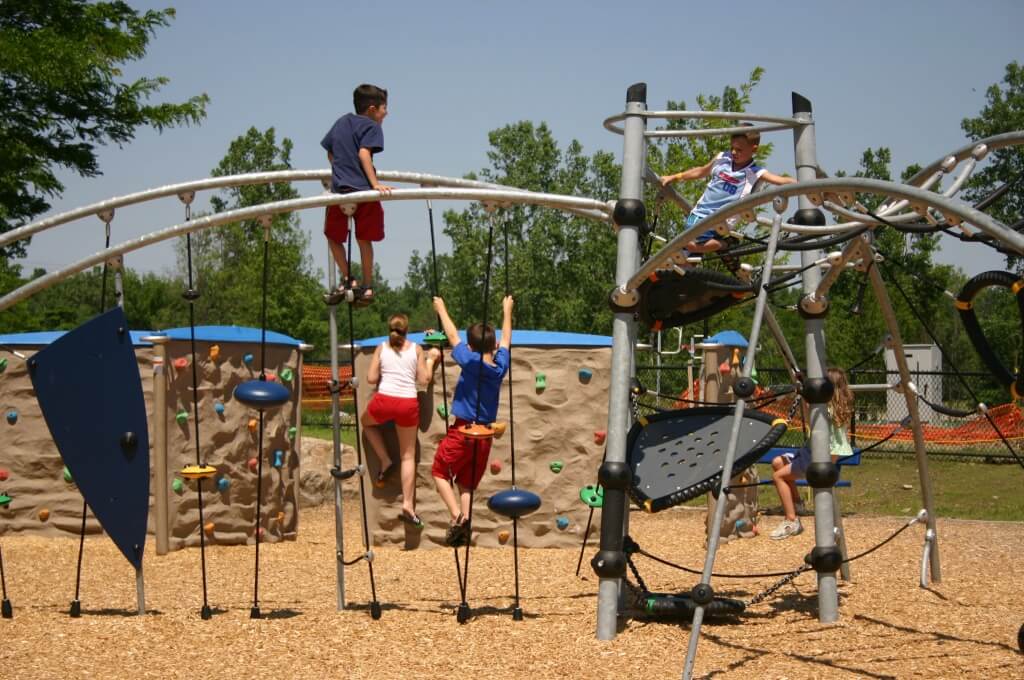 Skatepark
Skatepark
Practice your "180" and push your skills to the max at Willow Metropark skatepark. Perfect your technique on ramps, jumps, rails, stairs, quarter pipes, a grindbox and more.
Helmets are required and kneepads, elbow pads and wrist guards are recommended.
The skatepark is open from 10 a.m. – dusk daily during the summer through Labor Day. From Labor Day through November 1, and from April 1 through Memorial Day, the skatepark is open afternoons on weekdays, with longer hours on the weekend. Facility hours and conditions can be viewed Here.
Separate days are designated for skateboarding/in-line skating or biking:
The Skate park is open to bicycles on Tuesdays, Thursdays, and Saturdays
The Skate Park is open to skateboards/in-line skates on Mondays, Wednesdays, Fridays and Sundays
The park reserves the right to change this schedule at any time to meet the demand of users.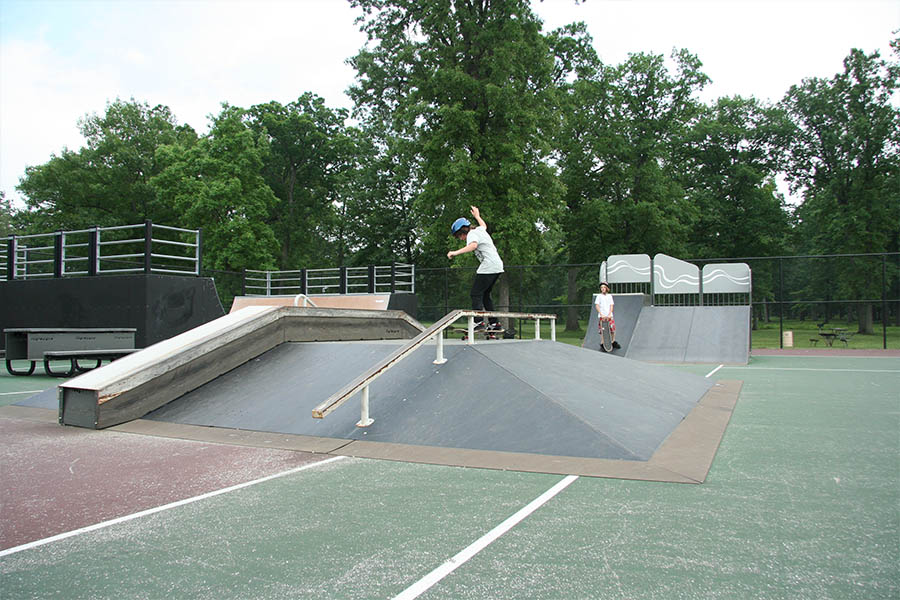 Sledding and Tobogganing
Sledding and Tobogganing
Dash down hills near Washago Pond and the Chestnut Picnic Area for hours of winter fun. Snowboards are not permitted on either sled hill. Facility hours and conditions can be viewed Here.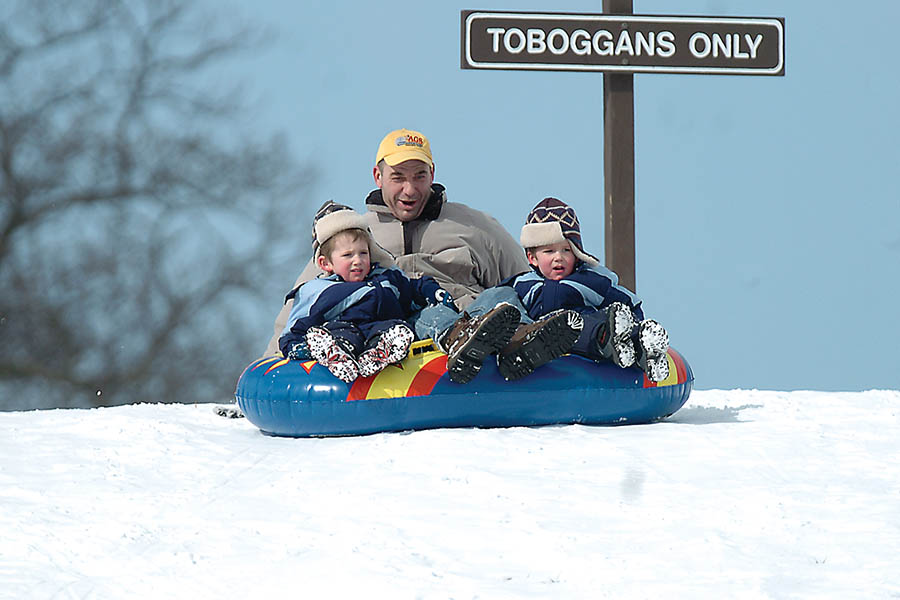 Swimming
Swimming
Cool off at the swimming pool: glide down the family slide, play a game of water basketball or just soak in the shallow area while your kids run through the water.
Pool fee – $4 per person
Twilight rate (after 5:00 pm) – $3 per person
Children under 30″ – Free
Children 10 and under must be accompanied by an adult. Children under 48" need to be accompanied by an adult to ride the slide.  A food bar is located near the swimming pool.
Facility hours and conditions can be viewed Here.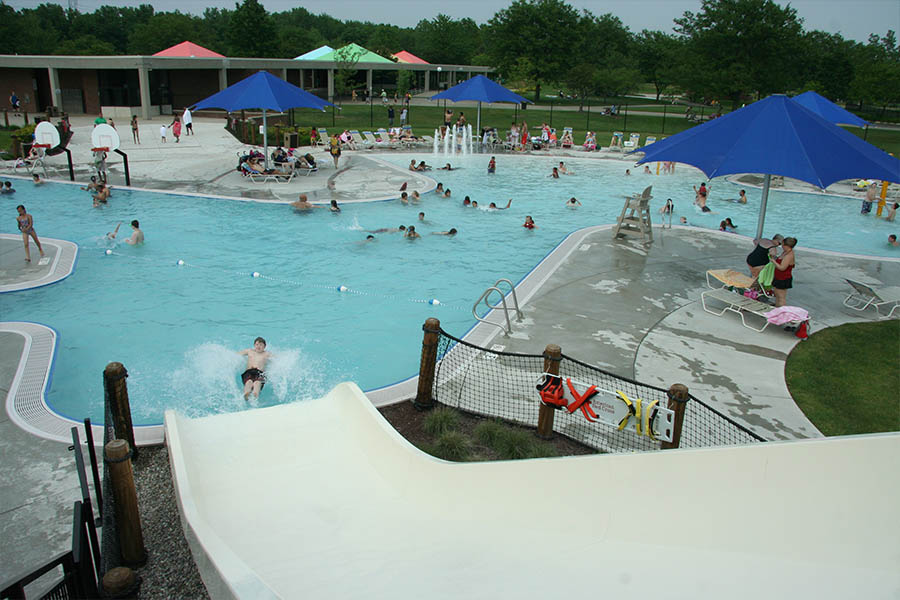 Winter Sports
Winter Sports
Ski more than six miles of marked, groomed trails past snow-glazed fields, picturesque woodlands, and the Huron River. Ski maps are available at the Oakwoods Nature Center and Lower Huron Park Office. Facility hours and conditions can be viewed Here.